Technology-focused funds have struggled since central banks ramped up their interest rate hiking cycle to combat inflation in 2022.
But the anticipation of a peak in interest rates combined with the optimism surrounding AI has provided a recent boost for the previously battered technology sector.
Against this backdrop, FSA shares the five top-performing technology-focused equity funds of the past 12 months that are available for distribution in Hong Kong and Singapore, based on data from FE fundinfo*.
Exchange-traded-funds (ETFs) dominate the list of top performers, with the best returns of the past 12 months coming from the $1.3bn Xtrackers Artificial Intelligence and Big Data ETF, which is up 53.19% over the period.
This ETF tracks the performance of large, mid and small-cap stocks globally that have "material exposure" to AI, big data and cyber security, subject to certain ESG criteria.
It currently has 84 holdings, but it can hold up to 100, and although individual stocks are weighted by market capitalisation, each holding is capped at a 4.5% weighting. Its largest constituents include many of the 'Magnificent Seven' stocks.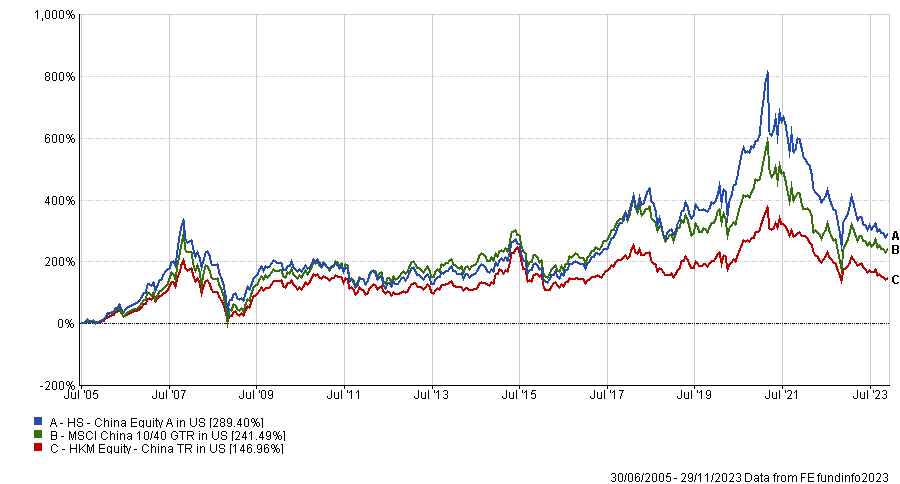 The second highest performer was Blackrock's iShares US Technology ETF, which is up 50.18% over the past 12 months.
This $11bn ETF tracks the Russell 1000 Technology 22.5/45 Capped index composed of US stocks in the technology sector. It has 134 holdings which are weighted by market capitalization, and its largest two constituents, Apple and Microsoft, each make up 18% of the index.
As part of the index rules, individual stocks can't exceed 22.5% of the index and all stocks with a greater than 4.5% weighting in aggregate can't be more than 45% of the index.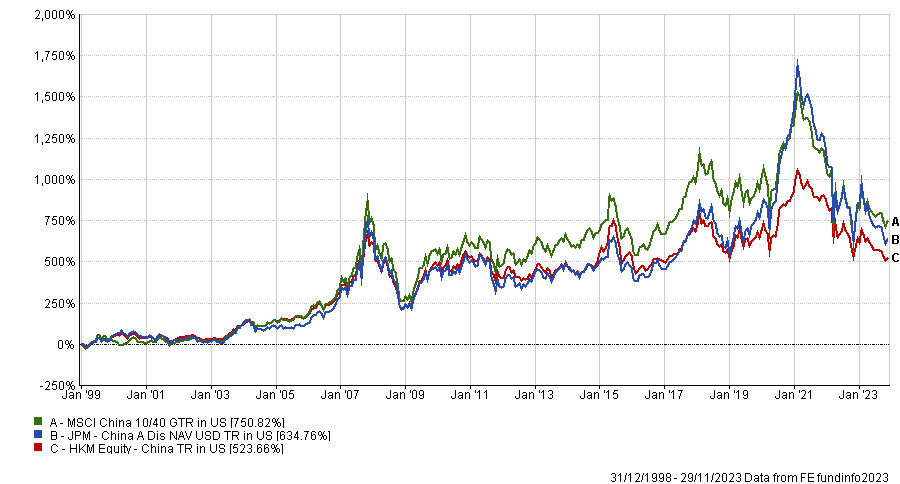 The third highest performer was the $1bn VanEck Semiconductor ETF, which returned 50.73% over the past 12 months.
This ETF tracks the MVIS US Listed Semiconductor 25 Index which is made up of 25 of the largest semiconductor and semiconductor equipment firms.
Its top holdings include Nvidia, Taiwan Semiconductor Manufacturing Company and Broadcom, which make up 20.25%, 12.78% and 6.86% respectively.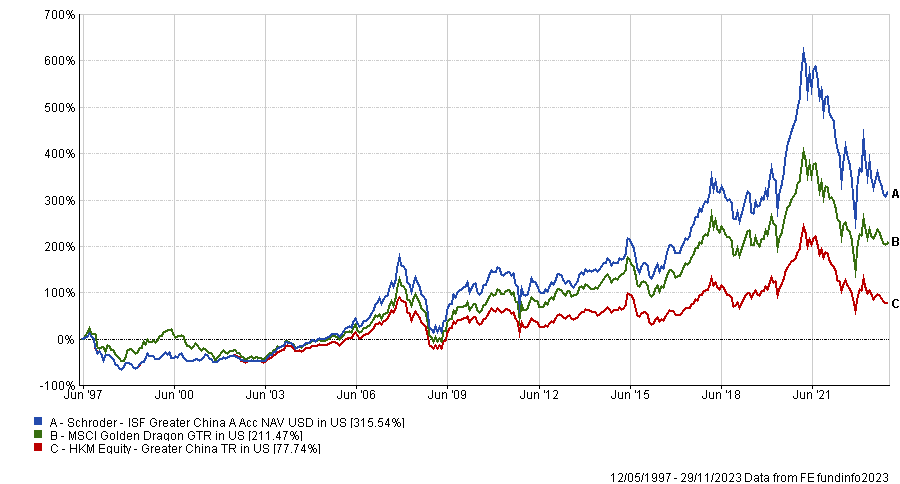 The next highest performer was the $11m Nikko AM Global Internet ETF, with a return of 49.32% over the past 12 months.
This ETF tracks the SGX-owned iEdge-FactSet Global Internet Index, which is made up of 29 global companies in the internet and digital technology segments.
Its top-10 is made up of large US technology companies like Meta, Amazon and Alphabet alongside Chinese-technology companies such as Tencent, Alibaba and NetEase as well as Latin American based MercadoLibre.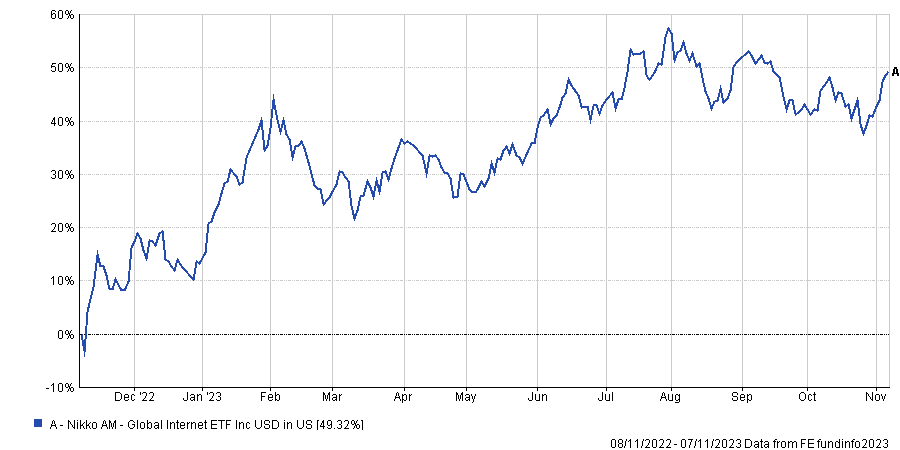 The fifth and final top performer is the Amundi S&P Global Information Technology ESG ETF, with a return of 48.27% over the past 12 months.
This $203m ETF tracks the S&P Developed Ex-Korea LargeMidCap Sustainability Enhanced Information Technology Index.
This index is made up of large- and mid-cap IT companies globally, excluding Korea. It also incorporates specified ESG, environmental and decarbonisation targets relative to its underlying index and weights its holdings accordingly.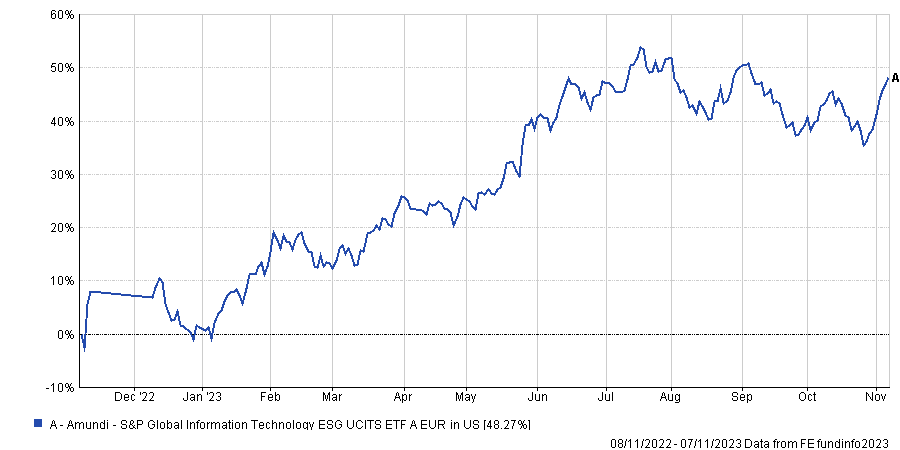 *The top-performing funds were measured in US dollar terms over a 12-month period ending 7/11/2023 based on data from FE fundinfo. The data only includes funds that fall under the relevant Hong Kong SFC Authorised Mutual or Singapore Mutual sectors in the FE analytics platform.