While the shift to a digitalised world due to Covid-19 is a global phenomenon, Asia is different. The evolution and diversity of disruptive tech and applications have driven a level of adoption in younger and older generations alike that has seen the region leapfrog the West to become an innovation powerhouse.
For investors, this trend combined with the early stage of capturing the expanding thematic universe around three key segments of 5G technologies, digital lifestyle trends and industrial innovations, creates compelling opportunities.
Making these even more enticing is that many of the companies across these segments are so-called "small giants" – delivering innovative technologies or applications that are still in the early stage of commercialisation.
Asia at the forefront
Asia's favourable backdrop of a fast-growing middle class, large populations, high mobile penetration rates and increasingly digital economies puts the region at the forefront of 5G and fuels innovation.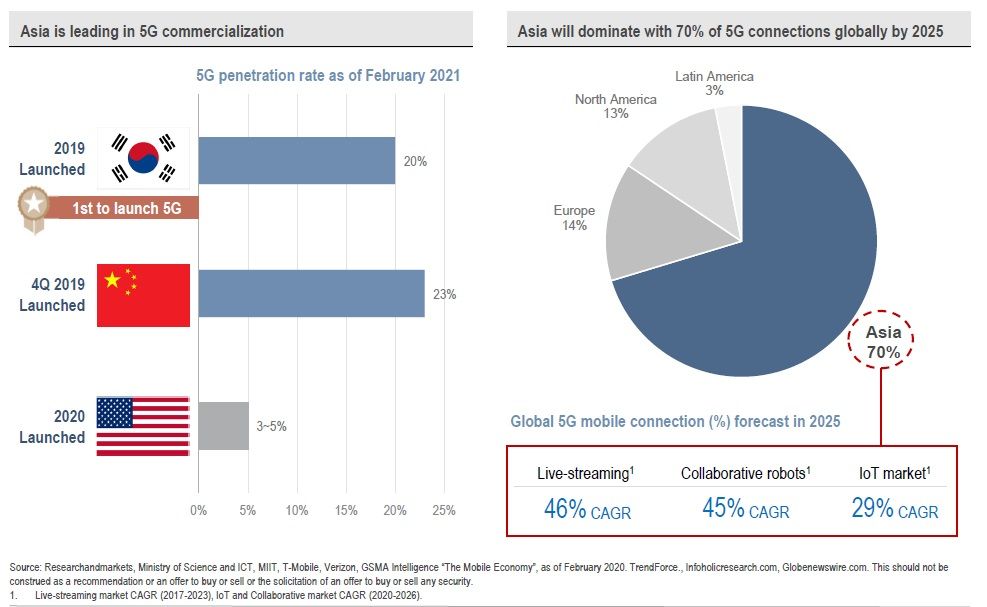 South Korea was the first to launch 5G globally and is taking the lead in 5G commercialisation along with other Asian countries. It is expected that Asia will dominate with 70% of 5G connections globally by 20251.
As a result, the 5G story looks set to bring even more opportunities over the next decade than seen during equivalent periods of technological change – such as the 3G-enabled mobile internet communication in the 2000s that spurred brands such as Blackberry and Nokia; and the 4G-led period of faster speeds which enabled companies such as Apple, Facebook, Tencent and Uber.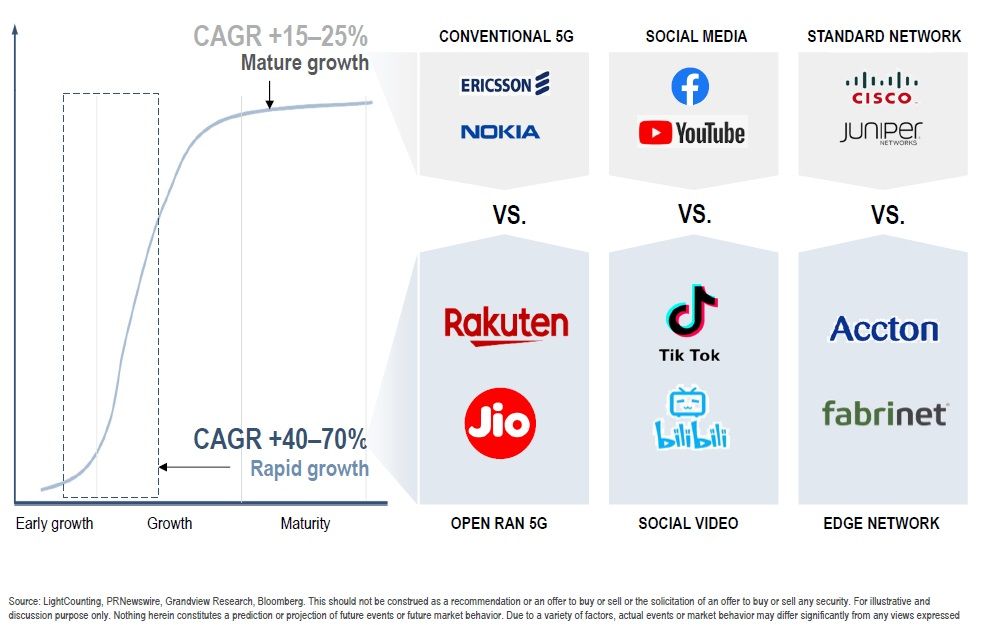 The scope of 5G goes far beyond what we experienced with 3G and 4G. 5G is expected to transform multiple industries, enable $13.1trn of economic growth by 2035, plus create 22.3 million job opportunities1.
Asia is no stranger to technology innovation. It is at the leading edge of semiconductor manufacturing, digital healthcare, mobile ecommerce, fintech… the list goes on. Having set the pace for many of these industries, there is no denying that Asia's prominence in innovative technologies has risen tremendously and that the region stands to benefit from the proliferation of 5G.
A new universe emerging
As Asia becomes the new Silicon Valley, it is notable that there is vast untapped potential for many up-and-coming companies spearheading rapid growth in regional innovation ecosystems.
You can find leaders in each ecosystem, be it in mobile apps, semiconductors, internet or robotics. For example, Korea's Kakao is expanding rapidly beyond just a messaging app – entering areas such as virtual banking and ecommerce. Within China tech and apps, there is Bilibili – a leader in social video that has swiftly captured millennials. Not forgetting Southeast Asia's hidden gems such as AEM.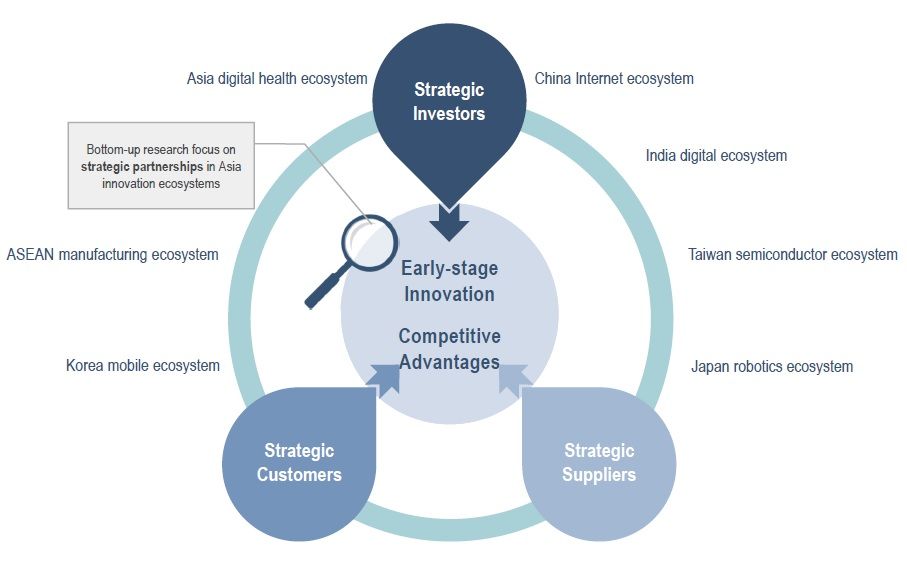 Overall, there are at least 200 stocks in the region that qualify as small giants, with innovative technologies or applications that tend to be under-valued and under-researched – with less than 20% penetration rate and where Asia accounts for more than half of their incremental growth.
Many of these innovative companies can be found in 3 core themes:
5G technologies – including companies involved in edge computing, 400G / 800G networking and compound semiconductors
Digital lifestyle – including digital healthcare, fintech, and mobile social video apps
Industrial innovations – including collaborative robotics, smart logistics and machine vision
What is unique to Asia's small giants is that they have formed strategic partnerships with many big household names – from Samsung, Sony and Intel, to TSMC, Tencent and Ant Financial. This reinforces their market position and competitive advantage, helping to foster innovation in the region.
In addition, the IPO pipeline is healthy in Asia, giving investors confidence that the universe of opportunities will continue to expand and attract more investment.
The key to capturing this growth, sourcing investment opportunities and thereby generating alpha, is to have a strategic focus on Asian innovation ecosystems. This requires a thematic lens, deep industry networks and a rigorous investment framework. A conventional sector-based approach and referencing of large-cap benchmarks tends to overlook the exciting small giants.
To capture the expanding thematic universe around Asia 5G innovations and applications, Neuberger Berman launched the Neuberger Berman InnovAsia 5G Strategy which focuses on Asia innovative companies with a market penetration of less than 20% and with proven track records and strategic links to established Asian innovation ecosystems. The firm entered into a six-month exclusive distribution partnership with UBS Global Wealth Management in July 2021.
"5G is a key investment theme which offers multi-year opportunities across many industries, including both enablers and platform companies. To benefit from long term opportunities across the 5G value chain in Asia, UBS is pleased to partner Neuberger Berman to provide a unique 5G solution. This launch underlines UBS' ability to leverage scale and extensive partnerships to deliver exclusive solutions to UBS clients, and further cements our leadership position in providing differentiated investment opportunities," said Jansen Phee, head of fund investment solutions Apac at UBS Global Wealth Management.
1 Source: IHS Markit "The 5G Economy: How 5G will contribute to the global economy", November 2019
---
This document has been issued for use by the following Neuberger Berman entities: in Hong Kong by Neuberger Berman Asia Limited ["NBAL"], which is licensed and regulated by the Hong Kong Securities and Futures Commission to carry on Types 1, 4 and 9 regulated activities, as defined under the Securities and Futures Ordinance of Hong Kong (Cap.571) (the "SFO"); in Singapore by Neuberger Berman Singapore Pte. Limited (NBS), which currently carries out the regulated activity of fund management under the Securities and Futures Act (Chapter 289) ("SFA") and operates as an Exempt Financial Adviser under section 23(1)(d) of the Financial Advisers Act (Chapter 110) ("FAA") of Singapore. Under the FAA, NBS is exempted from Sections 25, 27 and 36 of the FAA, where its financial advisory service is provided to an accredited or expert investor (as defined in Section 4A of the SFA).
This document is being provided by NBAL and NBS to an "institutional investor" and "professional investor" and all of which together are generically referred to as a "Sophisticated Investor".
This document is for information purposes only and it should not be regarded as an offer to sell or as a solicitation of an offer to buy the securities or other instruments mentioned herein. We do not represent that this information, including any third party information, is accurate or complete and it should not be relied upon as such. Opinions expressed herein reflect the opinion of Neuberger Berman Group and its affiliates ("Neuberger Berman") and are subject to change without notice."
---