As a post-pandemic world starts to emerge, asset allocators and portfolio managers are shifting attention to value stocks. Yet investors should remain focused on reaping the rewards from the longer-term global growth potential that megatrends such as ageing populations, urbanisation, and technology and innovation can deliver, says Franklin Templeton.
Amid the disruption of an ever-evolving world, coupled with the anticipation of a vaccinated global economy, investors are looking more closely at sources of growth for their portfolios.
Using such a spotlight is essential given that today's near-zero interest rate environment will likely continue for the time being. Furthermore, unparalleled deficits and geopolitical tensions suggest it will be more challenging for the foreseeable future to generate outperformance without a focused approach.
In response, value stocks have come into favour, and there is growing speculation that treasury yields might increase, encouraging investors towards credit products. However, wider dynamics reinforce the importance of identifying the megatrends set to shape growth opportunities going forward, across markets, sectors and geographies:
Globalisation and a growing middle class
Technology and innovation
Demographics and ageing populations
Urbanisation and the rise of megacities
Since none of these longer-term trends occurs in isolation, delivering positive and sustainable investment outcomes will rely on being able to selectively identify those opportunities that exist at their intersection – and that are best-placed to capture growth over the long term.
Megatrend 1 – new-look globalisation 4.0
Investors shouldn't confuse the emergence from Covid-19 with a kick-start to economic growth. In fact, 2020 and the early part of this year have witnessed a much-needed catalyst for a fourth industrial revolution. This has been evident in the take-up of digital goods and services – both of which are proving vital to global economic growth.
In emerging markets like China and India, for example, services now account for more than half of each country's output. In developed geographies such as Europe and the US, services have continued to anchor more than two-thirds of GDP[1].
In tandem, the rush towards digitalisation – reflected in the way the world now works, plays and consumes – is unlikely to reverse course. In a decade, for instance, around two-thirds of the global population is expected to be middle class[2].
Megatrend 2 – the unrelenting march of technology
The next step towards the democratisation and all-pervasive role of technology across industries is the supercharging of computing speed.
More specifically, by the computer science community's measure, the number of transistors per microprocessor has soared. In 2020, for example, the highest transistor count in commercially accessible graphics processing units (GPUs) was 54 billion transistors per microprocessor. By comparison, machines driving deep learning are way beyond what people experience in current day-to-day interactions, at 2,600 billion transistors per microprocessor last year[3].
There is vast potential to leverage this theme as technology-related spending by governments, businesses and households maintains a steep upwards trajectory – to fuel productivity, social interactions and personal well-being, among other benefits.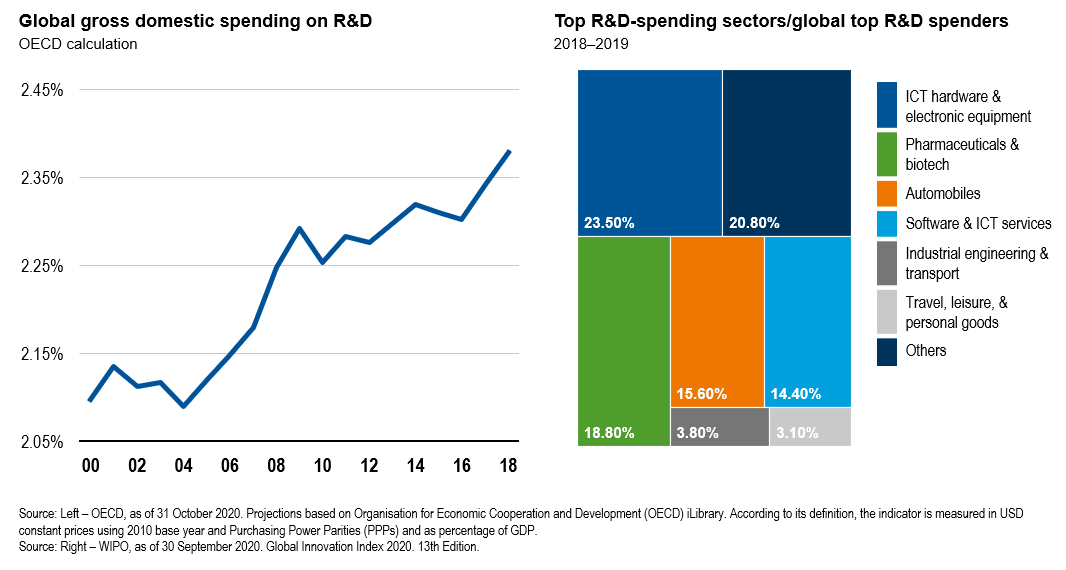 Megatrend 3 – a greying world that lives longer
For the next 80 years, the global population is projected to increase gradually, to around 10 billion by 2100[4]. Yet concerns lay in the global replacement rate (births versus deaths) – this is slowing while the mortality rate of the world is decreasing. As a result, by the end of this century, almost one in four people will be at least 65 years old, with one in 20 younger than five.
Such a shift has inevitable socio-economic implications. These include, among others: the need to modify pension systems; how to maintain productivity; and, perhaps most pressing, providing holistic healthcare solutions.
Yet treating the elderly will create fiscal shortcomings down the road. In Asia-Pacific, for example, the annual cost of elderly healthcare expenditure is expected to reach $2.5trn by 2030, five times the figure in 2015[5].
The private sector recognises the opportunity across the eldercare value chain – from hospitals to retirement homes, from therapeutics to geriatric care, and from counselling to medication. And with an ever-greater understanding of biology and the need for new treatments, biotechnology and pharmaceutical companies are meeting the challenge by investing more in R&D as well as developing new drug discovery platforms to support future growth.
Megatrend 4 – supporting the urban shift
Already more than half the world is living in man-made infrastructure, with the number of megacities increasing in line with this trend. Coupled with the growing middle-class population, spending power and the consumption of goods and services are rising rapidly.
This relentless pattern of migration and urbanisation will, in turn, test the capacity and reliability of infrastructure globally. More of it will need to be built to support expanding communities and new megacities.
This is resulting in the acceleration of infrastructure projects as governments look for opportunities to support local economies, stimulate job markets and facilitate small- and medium-sized enterprises. In particular, Asia stands to gain in line with growing populations across the region.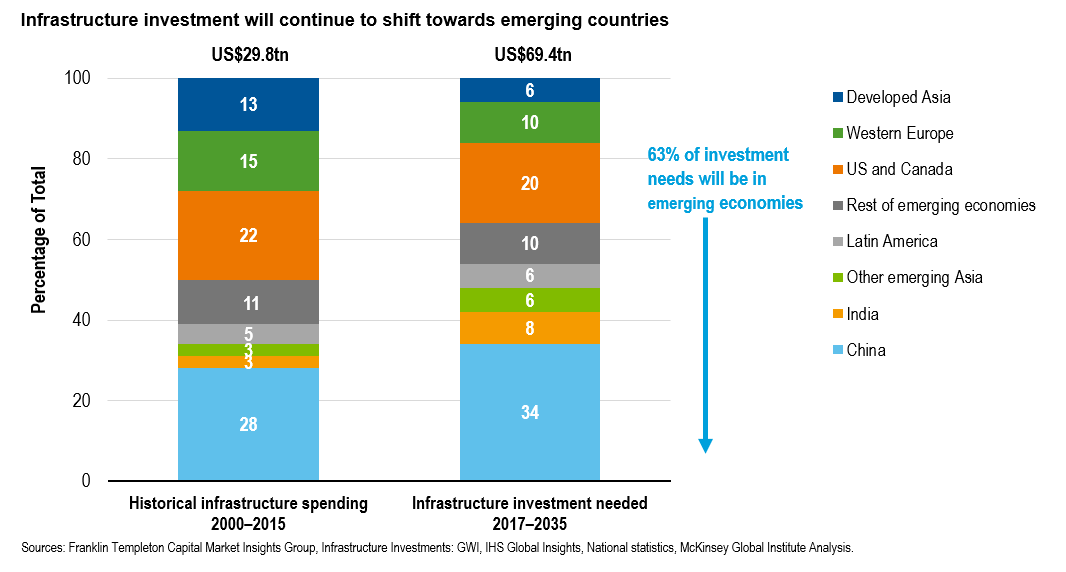 Monetising the world's megatrends
The attention of investors eyeing ways to capitalise on growth areas should be on how these core, longer-term themes interact.
For example, between globalisation 4.0 and technological innovation is the growth of digital goods and services. Via the increasing speed of the internet, seamless interactions are fostering larger scale, wider distribution and greater usage of cloud-based products such as Software-as-a-Service (SaaS), Platform-as-a-Service (PaaS) and Infrastructure-as-a-Service (IaaS).
Other opportunities exist in medical science. Recent innovation in biotechnology, for instance, has created breakthrough treatments in the form of efficacy and customisation for large-scale killers like heart disease and cancer. These types of advances complement issues arising from a greying population that is living longer.
Meanwhile, physical infrastructure presents another over-arching trend. Among many new initiatives to come are the construction of clean energy capabilities, more powerful telecoms towers, high-security data centres, purpose-built hospital buildings and intelligent warehouses. These are in addition to the much-needed renewal of existing roads, railways and utilities-related infrastructure.
Ultimately, growth exists within and across all components of these and other multi-year themes. The key for investors will be to take an active approach so they can identify the businesses and sub-sectors that stand to benefit in the most meaningful ways. Despite there being relatively broad trends, alpha is available from the focused analysis and research that fund managers offer on opportunities that can reap the rewards over the longer term.
Learn more about Franklin Templeton growth opportunities here.
[1] Source: Franklin Templeton Capital Market Insights Group, Services as % of GDP: World Bank. Data as of 15 October 2020. Latest available data for the USA (2017).
[2] Source: Franklin Templeton Capital Market Insights Group, United Nations, Department of Economic and Social Affairs, Population Division (2018). World Urbanization Prospects: The 2018 Revision, Online Edition.
[3] Source: OurWorldinData, 1971 to 2017. 2017 to 2020, company press releases. Nvidia press release as of 20 May 2020. Moore's Law: Transistors per microprocessor. Number of transistors which fit into a microprocessor. This relationship was famously related to Moore's Law, which was the observation that the number of transistors in a dense integrated circuit doubles approximately every two years. Karl Rupp. 40 Years of Microprocessor Trend Data. Data for 2015 and 2017 have been updated by OurWorldinData based on highest transistor count note. At: https://en.wikipedia.org/wiki/Transistor_count. Transistors refer to metal-oxide-semiconductor field-effect transistors.
[4] Source: United Nations, Department of Economic and Social Affairs, Population Division (2019). World Population Prospects 2019, Online Edition. Rev. 1.
[5] Source: Oliver Wyman, Asia's 20 Trillion Elderly Medical Bill. Marsh & McLennan Companies' Asia Pacific Risk Centre analysis, 2016.
Important Information
This document is for information only and does not constitute investment advice or a recommendation and was prepared without regard to the specific objectives, financial situation or needs of any particular person who may receive it. This document may not be reproduced, distributed or published without prior written permission from Franklin Templeton.
Any research and analysis contained in this document has been procured by Franklin Templeton for its own purposes and may be acted upon in that connection and, as such, is provided to you incidentally. Although information has been obtained from sources that Franklin Templeton believes to be reliable, no guarantee can be given as to its accuracy and such information may be incomplete or condensed and may be subject to change at any time without notice. Any views expressed are the views of the fund manager as of the date of this document and do not constitute investment advice. The underlying assumptions and these views are subject to change based on market and other conditions and may differ from other portfolio managers or of the firm as a whole.
There is no assurance that any prediction, projection or forecast on the economy, stock market, bond market or the economic trends of the markets will be realized. Franklin Templeton accepts no liability whatsoever for any direct or indirect consequential loss arising from the use of any information, opinion or estimate herein.
The value of investments and the income from them can go down as well as up and you may not get back the full amount that you invested. Past performance is not necessarily indicative nor a guarantee of future performance.

Copyright© 2021 Franklin Templeton. All rights reserved.

Issued by Templeton Asset Management Ltd, Registration Number (UEN) 199205211E, and Legg Mason Asset Management Singapore Pte. Limited, Registration Number (UEN) 200007942R. Legg Mason Asset Management Singapore Pte. Limited is an indirect wholly owned subsidiary of Franklin Resources, Inc.