After decades of sluggish growth, persistent deflation and lagging investment returns, Japanese stocks have finally emerged from the doldrums.
Japanese stocks are beating most other developed equity market regions over the past year, on the back of renewed interest from global investors and encouraging reforms by the Tokyo Stock Exchange.
With this backdrop, FSA shares the five top-performing Japanese equity funds available for distribution in Hong Kong and Singapore, based on data from FE fundinfo*.
The top performer over the past 12 months was Arcus Japan with a return of 51.11%, more than double the Topix return of 22.53% over the same period.
The $1.3bn fund is managed by Arcus co-founder Mark Pearson and assistant portfolio manager Ben Williams, employing a predominantly value-focused strategy.
The firm's co-founder Peter Tasker describes the firm's investment process as a blend of fundamental analysis, a multi-factor scoring system and a close attention to macro trends.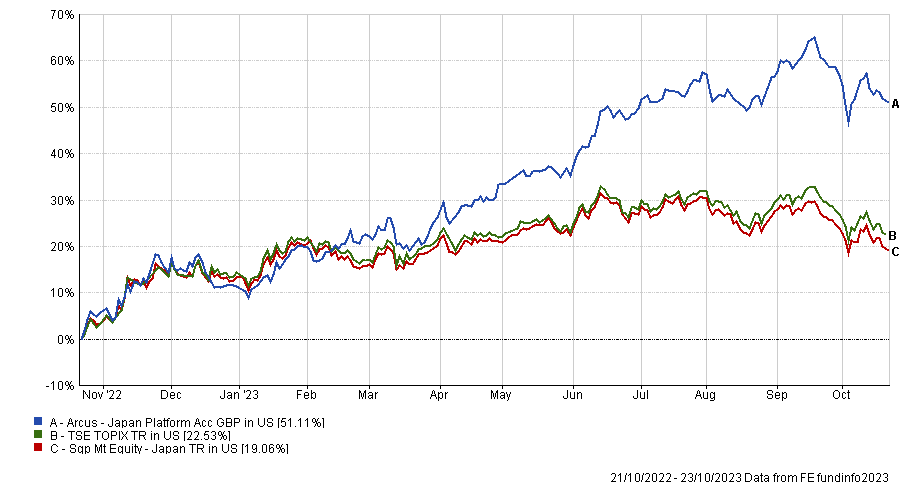 E.I.Sturdza Nippon Growth was the second highest performer, up 37.13% over the past 12 months, beating the broader TOPIX by roughly 15%.
This strategy is managed by Evarich Asset Management's Yutaka Uda, alongside Maiko Uda, who run a concentrated portfolio, with the top-10 holdings making up roughly half of the fund.
The Tokyo-based manager has a notable tilt towards large-cap value stocks, where it accounts for almost half of the portfolio versus just 22% in the index.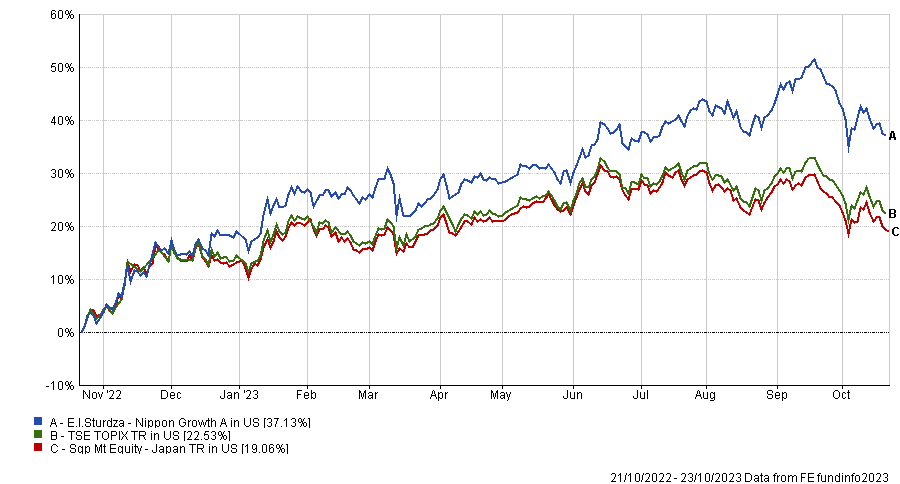 Morant MW Japan was the third highest performer, with a 36.54% return over the past 12 months.
The strategy is run by the Morant Wright team which includes its two founders Stephen Morant and Ian Wright.
Their investment process is a value-focused approach with a particular focus on strong company balance sheets and ensuring favourable management attitudes towards shareholders.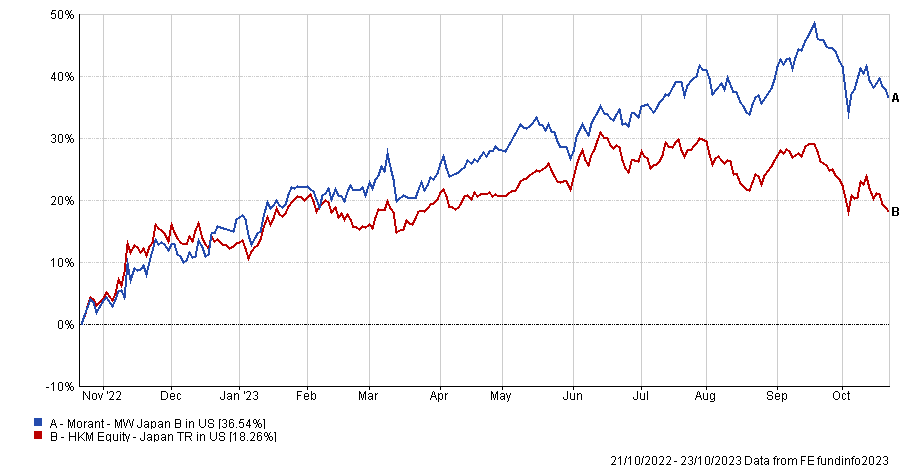 Lazard Japanese Strategic Equity was another top performer, with a 35.02% return over the past 12 months.
This strategy is managed by June-Yon Kim and his team, with a pure focus on the large-cap stocks listed in Japan.
The managers run a concentrated portfolio of just 32 stocks, with overweight positions in the financials, energy and materials sectors – all of which have performed relatively well over the past year.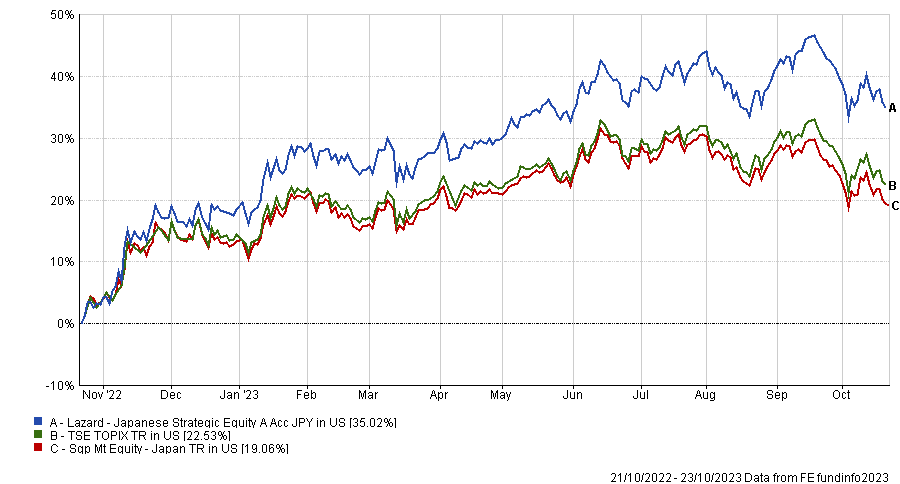 Man GLG Japan CoreAlpha Equity was another top-five performer, with a 34.55% return over the past 12 months.
The $2.2bn strategy is one the biggest funds in the sector, run by Jeff Atherton, Adrian Edwards, Emily Badger and Stephen Harget.
These managers take a value investing approach, with a mix of core large cap value stocks alongside certain contrarian and value opportunities.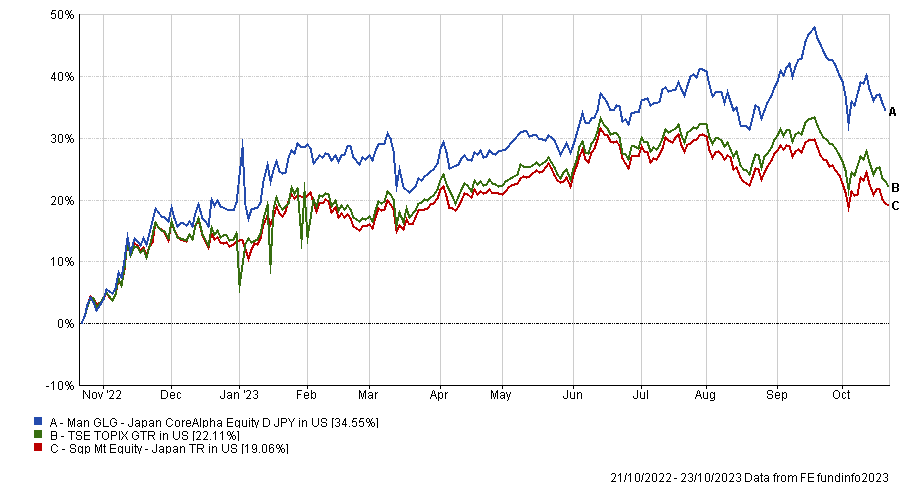 *The top-performing Japanese equity funds were measured in US dollar terms over a 12-month period ending 23/10/2023 based on data from FE fundinfo. The data only includes funds that fall under the Hong Kong SFC Authorised Mutual or Singapore Mutual sectors in the FE analytics platform. The data excluded currency hedged passive ETFs.