It usually takes something personal for the macro to become tangibly micro. Spy was speaking to a Munich-based fund salesman this week. He was shocked to report that Nutella, the much beloved chocolate-hazelnut spread, has increased its price by a whopping 7.5%. Forget a rising oil price, this is now getting serious, he told Spy. The Federal Reserve seems to be waking up and rate hike predictions are now bandied about as freely as expensive café lattes in Central. The Bloomberg Global Aggregate Bond Index is down almost 11% from its all-time high and is now deep in correction territory for the first time since the GFC. The writing is not just on the wall, it is on your Nutella-laden toast, too.
Just when Spy thought he had seen most varieties of ETF in the market, covering most asset classes and most strategies, along comes JP Morgan Asset Management to surprise him. The global asset manager has added China Bond ETFs to its growing range. Investors may choose from long or short duration varieties. These are active, not passive vehicles – which comes as a bit of a relief to Spy because a passive approach to China would seem financially suicidal. The ETFs are available in Hong Kong. The marketing blurb included this line: "Bond ETFs can act as a price discovery tool, helping investors see how the value of a basket of bond securities may be changing in reaction to market movements." Spy has never seen "price discovery" itself being used as reason to support a strategy.
Larry Fink, Blackrock's CEO, was in the news this week as he speculated that the war in Ukraine marks the end of the current era of globalisation. It is a thought-provoking stance and certainly the winds of change seem to be blowing hard in Europe, the US and Asia. Spy would humbly proffer that Covid itself has done a fair bit to roll back globalisation. People who were comfortable to live anywhere in the world knowing you could get back "home" in 24 hours or so, have had a rude awakening, as countries locked down. War disruption to supply chains is deeply inconvenient, but markets tend to make a plan. However, the long-term psychological damage to expat communities around the world, may be harder for the market to correct.
The world is a very confusing place at the moment, and it is so hard to have real convictions about the direction of anything. Spy was reminded of this by Abrdn who put out a thought leadership piece this week on emerging markets. It is titled: "Can Emerging equities shine through?" Spy read it and wondered if it had been written while the author was actually sitting on a physical fence. The summing up para reflects the current mood: "Furthermore, in the key China market, we think the prospect of further policy stimulus, less regulatory intervention and a stabilising property market, could drive a marked recovery in coming quarters. However, in periods of increased volatility, as of late, we think a selective approach that is responsive to changing risks, will remain of paramount importance." [emphasis by Spy] Could, however, selective, responsive. No wonder people are feeling nervous.
If you can't get quite enough of Taiwan, Franklin Templeton added a single country ETF for that market this week. The firm has listed the ETF in London, Frankfurt and Milan, allowing investors to target the FTSE Taiwan 30/18 Capped Index, which includes the large- and mid-cap segments of Taiwan's market. It will come as no shock to Asian investors that most of the exposure is to tech stocks and TSMC is the dominant security.
If you are sick of WFH, perhaps spare a thought for some workers in Shanghai who have been told do quite the opposite and instead they must SAO, or Sleep At the Office. Caixin reports that "Some financial institutions in Shanghai are putting in place special work arrangements for their staff in order to mitigate any risks to their businesses, as a major financial district enforces a sweeping lockdown and mass testing amid the latest Covid flare-up." The Shanghai Stock Exchange itself is one such company.
Old certainties get washed away and new certainties emerge. Last night, tiny North Macedonia beat Italy at football ensuring the Italians will not be able to compete in this year's World Cup tournament. This will be the second World Cup, on the trot, that will not feature the former winners and current Euro champions. If football was a trend following fund, one would assume that Italy won't feature in the 2026 tournament either. The more likely outcome, of course, is that the Azzurri not only feature, but go on and win the thing instead.
Spy could not help but wonder if Singapore is trolling Hong Kong, just a little. This week the Lion City has dropped restrictions on travel, allowing Singaporeans and residents to get back on planes and travel without those tedious quarantine restrictions. Traditional destinations such as Bali, Thailand, Australia and Europe are back on the menu. Hong Kong's recent liberalisations seem totally meek by comparison.
Spy's quote of the week comes from one of America's oil barons, John Paul Getty: "In times of rapid change, experience could be your own worst enemy." As counterintuitive as it seems, Spy can't help but feel he nailed it.
Spy's photographers have spotted the Gold Council pushing gold directly in Singapore. No doubt there will be plenty of people who think a little gold tucked away in the cupboard might just be the antidote to war and inflation needed right now.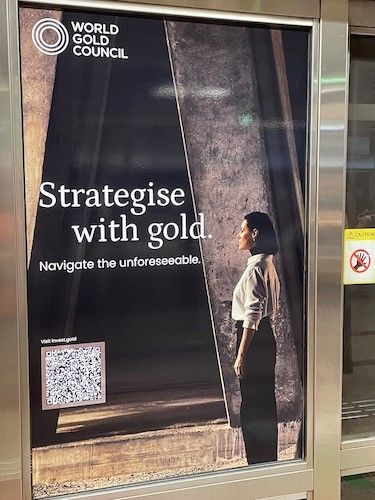 Until next week…