Welcome to 2022 and hold on to your hats, says Spy. If the first few trading days of the year are anything to go by, we might be in for a rollercoaster. Spy had a very sober Zoom call with a delightful bond fund manager in Australia this week. While she was not exactly Max Mad, end of days, apocalypse-ish, she did feel investors are about to get the shock of their lives as rates suddenly rise bringing toe-stubbing, stand-on-a-lego-piece-in-the-middle-of-the-night-pain to overleveraged investors and sanguine property buyers. Spy does not usually get breathy over a data stat, but this afternoon's non-farms payroll number could be a real case of "good news is really bad news". If you represent a bond fund house, stay close to your phones.
"If you want to run cool, you need to run on heavy, heavy fuel… It took six hamburgers and Scotch all night; nicotine for breakfast just to put me right." So sang 1980s global superstar rock band, Dire Straits. Spy could not help but think of the ageing rockers when he read that just before Christmas a company, List Funds Trust, has launched an ETF it has named BAD. Unlike every ESG wannabe out there, BAD allows investors to have some alcohol, cannabis, gaming, pharmaceuticals, casinos and every other shunned sector you can think of. It is like the leather-clad biker you don't want your daughter to fall in love with. In a world filled with sanctimonious, virtue-signaling do-gooders, BAD might just be the antidote your portfolio has been looking for.
Is it too late for Spacs? Tikehau Capital, and its sponsors don't seem to think so. The French asset manager, partially owned by Amundi, is launching a $150m Spac in Singapore called Pegasus Asia. The Spac's CEO is Neil Parekh, head of Asia, Australia and New Zealand at Tikehau, and the firm has also appointed industry veteran, Eleanor Seet, current director and head of Nikko Asset Management, Asia, as the chairman of its board. Pegasus Asia is focusing on all things tech: fintech, insuretch, healthtec, etc. Spy will watch with interest. There has been so much competition for tech assets in Asia, one can't help but feels this is rather late to the party. Pegasus in Greek myth was a pure white horse with wings. Will this one fly, wonders Spy?
And speaking of Amundi, parlez-vous ETF? Europe's largest manager has made its ambitions in the ETF space very clear: It wants to increase its passive assets under management by 50% in just 36 months – a very aggressive target. Amundi now has complete control of Lyxor, the ETF brand, which it acquired from SocGen. ETF assets are currently €282bn ($319bn), which means it needs to haul in about €140bn, or €4bn per month to hit its target. Expect to see a lot more marketing.
The modern is era is filled with equal parts exuberance and misery, peddled by an excitable media. (Spy is not entirely immune, of course.) Those adverse to misery porn should look away now. Courtesy of consultancy, True Insights, Spy presents "The Biggest Drawdown". This delightful chart shows just what happens when markets have a wobble. 1987, 2002, 2008 and 2020 all stand out for their violent shocks, after juicy bull runs. Of course, each time they represented great buying opportunities…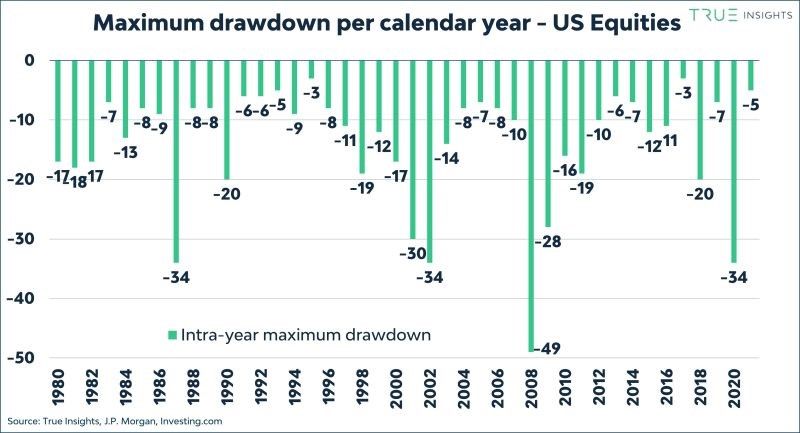 As Blackrock's assets have soared to $10trn, some interesting and rather breath-taking stats have emerged. That amount of AUM is now equal to more than 10% of the world's gross domestic product in 2020. Blackrock invests so much, that its funds are among the three largest shareholders in more than 80% of the companies in the S&P 500. It is an extraordinary amount of reach and corporate power when it comes to annual voting. If they use it.
The PBOC has announced that it wants significant improvement in its fintech regulation. Is the era of the wild, wild East, at least for tech, truly coming to an end? As reported by Caixin, PBOC's aims are "improving governance of fintech; strengthening data-related capacity-building, promoting orderly data sharing and applications while ensuring security and privacy; building green data centres and systems to provide a stronger digital base for financial innovation and development; smart risk control mechanisms; providing consumers with greener, more inclusive, and "humanised" digital financial services" among others. No doubt the aims are valid, but it all sounds a bit "committee" to Spy.
In the US, there is something almost comical about tax season, which of course affects Spy's American readers based in Asia. The Internal Revenue Service (IRS), apparently with a straight face, expects criminals to declare their illicit earnings for the benefit of Uncle Sam's treasury. If you have made money from selling drugs or stealing it from someone, there is a part of the tax code, just for you. Spy actually thought this might be an internet spoof, but no, a quick visit to the IRS site shows it is all too real. If only Spy could find out the number of people who actually fill in those sections.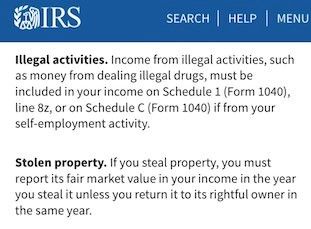 Hopes of things returning to normal in Hong Kong got dashed yesterday with the news that Standard Chartered and UBS were both back to splitting up teams with alternate working arrangements due to Omicron. In a further demand, UBS has asked the different teams not to socialise with each other. Is this the new forbidden love, wonders Spy? Not just an entanglement with a colleague, but a colleague from the alt team. It makes Spy positively giddy with subversive excitement.
If your trading screen looks like this, Spy can't help but think one might be overcomplicating things a little bit…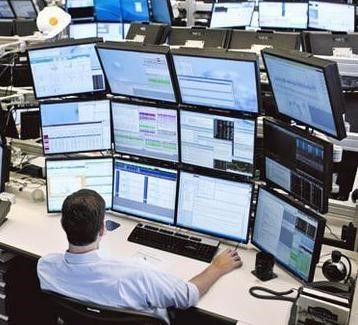 Spy's photographers have been out hunting for new campaigns. A digital consumer campaign in Singapore caught the eye. Franklin Templeton has reimagined income, which now, apparently, comes from a hybrid fruit.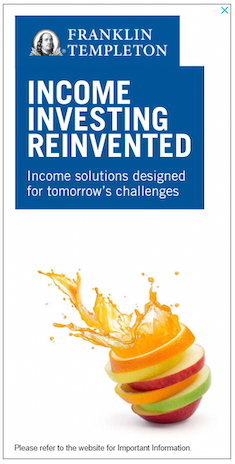 Until next week…