As the conflict in Ukraine raged on this week, Spy began to feel the impact much closer to home. Ukraine is such a voluminous wheat and barley supplier to the world, shortages are now showing up everywhere. Chinese brewers are, apparently, battling to buy the quantities of barley they need and that impacts Spy's craft beer habit. Beer aside, Spy's chat with an EM equity manager based in London this week brought some well-earned wisdom. "Experience and history have taught us time and time again that times of crisis are seldom the best times to panic." Always easier said than done.
It has been a very tough ride for Chinese tech stocks of late. While so much commentary in the global financial media tends to get obsessed with the FAANGs, right on our doorstep, complete carnage has been taking place in China. The Nasdaq China Index is at its lowest since 2016. Alibaba, once the absolute darling of China, is now below its IPO price. All the gains seen since 2014 have evaporated. In the US yesterday, many leading lights were off 10% or more. For example, Pinduoduo down 17.5%, Jinkosolar down 17%, JD down 16%, Alibaba down 8% and Niu down 7.4%. What is this doing to China funds, you may ask? Spy took a peek at some leading lights and the last three months have been brutal. Fidelity's China Innovation Fund is off 28%, Value Partners' Classic Fund is down 27% and JP Morgan's SAR Greater China Fund is off 25%. Since Spy is a long-term believer in China's innovation sector, one may say these funds are actually on sale right now.
A cautionary note to the above: there is another old adage, "Just because things are cheap, that does mean they can't get cheaper." Russian stocks were already fairly cheap before Russia invaded Ukraine. Russian funds have plummeted to, in some cases, to become almost worthless. The change has been so swift it has been hard to keep up. Most Russia funds available in Hong Kong that Spy looked at from all the leading houses are down 30% or more in the last week alone – with 50% off some of them during the past three months. Putin may need to read Dale Carnegie's "How to win friends and influence people." What he is currently doing is not working.
An interesting debate is now raging across the world about ESG. Everybody, and Spy means everybody, used to agree that weapons companies, aka defence, were persona non-grata for ESG funds. Now, what if it turns out that defending your country is, in fact, a social good? What if investing in high carbon producing, but local, gas and oil production is a social good because your previous supplier has turned out to be a maniac who thinks nothing of bombing maternity hospitals? ESG has always had problems defining itself rigidly but in the volatile geopolitical era we find ourselves, even tougher questions will be asked. As pacifist Germany does the unthinkable and actually starts to build a real army with real weapons for the first time in eighty years, it is surely not beyond the realms of rationality to expect our previous ESG rules to go out the window, too! Time to start rewriting those ESG decks.
You have heard of bull markets; you have heard of bear markets. Spy has now heard a new one. Apparently, we are in a "kangaroo market". This is when the market bounces up and down and goes all over the place at speed. On Spy's travels to Australia, the locals all have the same bit of advice: "Be careful when driving in the Outback, you don't want to hit a big red 'roo. The car never wins." Spy would imagine the same advice applies to a bouncing Kangaroo market, too…
US inflation hit a 40-year high in February. The print was 7.9%. The ECB's hawks finally seem to be winning the argument with QE being scaled back. Absolutely no wonder whatsoever that despite Ukraine, government fixed income ain't getting a look in. Whoever bought that Austrian 100-year bond at 0.88% a few years ago must be feeling like a right fool.
A timely reminder from Ritzholz Wealth Management that there is always a time to sell. Spy has seen dozens of variations of this chart over the years, and it always proves to be true. Sometimes the best thing a person can do is put their money in a fund they can't sell for years. You can close your eyes and forget about it.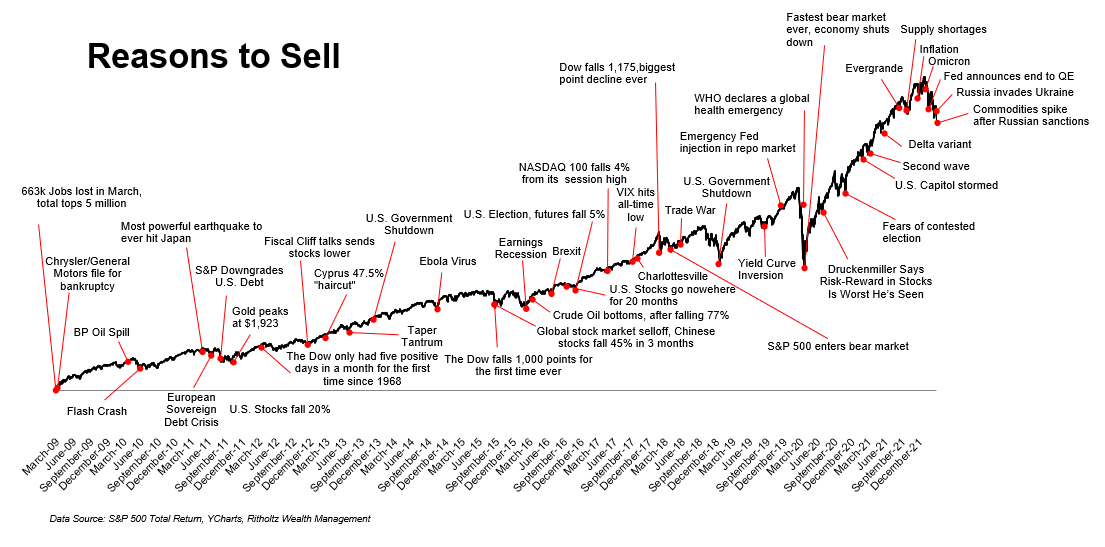 The list of companies* suspending operations in Russia or exiting entirely seems to be growing by the hour. If this level of economic dislocation does not concern ordinary Russians, nothing will:
Apple Pay – full block
Apple – complete exit from the market
Adidas – refuses to work with the national football team.
Audi – leaving the market
AMD – will ban the supply of chips and soon it will be banned on the supply of video cards.
Amazon – is a complete block of retail
Adobe – is a complete block
British Petroleum – 20% shares exited Rosnefti
BBC – review of Broadcasting licences
BMW – closes factories, blocks supplies
Bolt – exits the market
Boeing – exits the market
Chevrolet – leaving the market
Cannes Festival – Russian delegation bloc
Cadillac – off the market
Carlsberg – export restrictions
Cex Io – a crypto platform that bans users
Cinema 4D – app not working
* The full list is at the end of the article.
Spy is a tad surprised we have not had an ETF on the market yet that ,"promises to insulate your portfolio from the Ukraine conflict." For the hyper-active thematic crowd, perhaps that is a step too far, even for them?
For the first time in a very long time, Spy's photographers have managed to find a tram trundling around Hong Kong with some asset management advertising on its side. The Anglo-American firm is promoting a local favourite: property.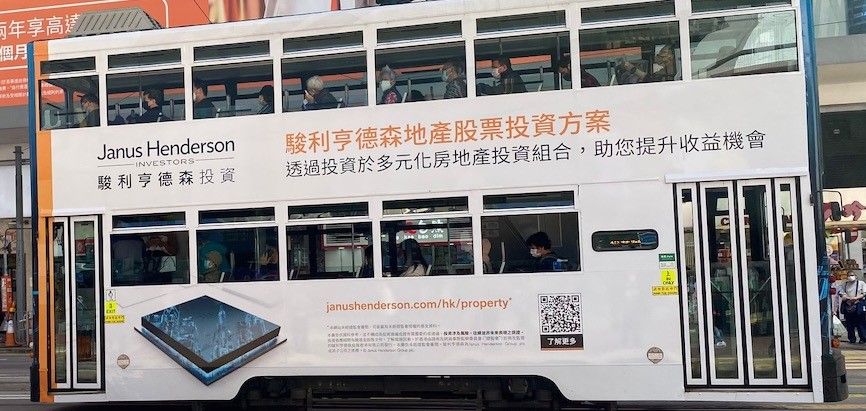 Until next week…
Russia exit list continued:
Coca Cola – exit the market
Danone – together with its subsidiary Prostokvashino, exit the market
Disney – cancels all the movies
Dell – leaving the market
Dropbox – will stop working in the country in a few days
Eurovision – disqualification
Ericsson – exit from the market
Exxon Mobil – recalling all specialists from Russian oil companies
Etsy – block of all balances on Ru accounts
Facebook – ban Russian media accounts
FedEx – total delivery ban
Formula 1 – tournament in Sochi cancelled
Ford – closing all the stores
FIFA – disqualification of the national team for the World Cup and ban on holding any international matches in Russia
Google Pay – partial block
Google Maps – an info block for Russia
General Motors – stopping exports
HP – ban on import
Harley Davidson – discharge
Instagram – blocking propaganda
Intel – banned the supply of microchips
Jaguar – coming off the market
Jooble – removed the service and made a statement
KUNA – exit market
Lenovo – exit the market
LinkedIn – preparing for a complete exit of the country
MOK – all competitions are cancelled
Mastercard – suspends card production, disable several banks
Maersk – supply stop in/from the Russian Federation – goodbye shmot with Ali express and ASOS
Mercedes – exit the country
Megogo – deleting all Russian films
Metro – laying off 10k employees
Mitsubishi – dismissal of employees of the 141 service center
Microsoft Office – a wide set of measures is being discussed
Mobile World Congress – refusal of accreditation for Russian delegation
NFT – a block of funds of Russian and Russian users, transferring their money to Ukraine
NHL – complete block for Russian players
Netflix – stopped working on Russian original projects.
Nike – closing all stores.
Nintendo – ban on purchases in rubles
Nestle – closing all six factories in Russia
OnlyFans – shutdown in the country
Paysera – a lock down
PayPal – withdrawal accounts freeze
Paramount – movie rental block
Parimatch – the franchise has been recalled
Porsche – exit Russia
Renault – exit =the market
Samsung pay – service blocking
Snapchat – out of the app in Russia and Belarus
Scania – exit from Russia
SpaceX – delivery of Starlink to Ukraine
And many more…