Spy was due to have lunch this week with a strategist at an asset manager who was about to share the details of his new employment arrangement: the four-day week. Lunch was cancelled due to a covid scare. The trend towards the four day week is, apparently, gaining pace. Schroders in London is reportedly allowing people to drop a day of work and pay. Other firms are actively considering it. In the old days, Fridays were for long lunches and golf with clients and one still got paid. Spy can't help but wonder if people might regret the new arrangements…
We may be in the middle of another covid surge in Hong Kong, but the hiring continues at pace. News reaches Spy that HSBC Private Bank in Hong Kong is looking to add to its fund product specialist team. No doubt the usual parameters apply: competitive salary, must have relevant experience, a winning smile and excellent taste in dim sum, etc. The job title being offered is director, senior product specialist, managed solutions, Hong Kong – Global Private Banking. For those wanting a change, the details are currently on LinkedIn in all their glory. Spy spotted that Hang Seng is also looking for a senior investment product specialist. Spy has no doubt whatsoever which role pays better.
Spy has been in the industry for so long, veterans seem to be new starters these days. If there is one question that has come up perennially for decades, it is the old chestnut: are hedge funds worth it? Spy was reminded of that again this week with the news that Allianz has had to take a charge of $4.2bn, as some of its US hedge funds blew up in 2020. Apparently, the funds were using complex options to try and minimise investor downside and ended going pop themselves. They did not minimise much, except Allianz's profits of course. No doubt there are Harvard graduates emerging from their dormitories, drunk on watching box sets of Billions, who dream of becoming the next Bobby Axelrod. Spy would gently suggest that more money has been made in long only funds, over time, than has ever consistently been generated by the hedgies.
Is the Hang Seng Index due a techie makeover? Stories abound that in this evening's (18 February) reshuffle, companies such as Baidu, Nongfu Spring Co and Genscript Biotech are being considered for inclusion. The Hang Seng's 64 components are currently rather finance and property heavy. Spy has no doubt a change is due, but with current tech volatility, it may be a rather contrarian call.
Talking of tech, ARK Innovation continues to have a torrid time, performance-wise. The former darling with outspoken CEO, Cathie Wood, is now down more than 55% since its peak last year. There is a whiff of tall-poppy syndrome in some of the more outlandish and aggressive commentary online. Spy can't help but feel that Cathie may have been wiser to not always preach with such utter certainty. Messiahs have a way of being cut down in every industry and every era – one way or another.
Has there ever been a better time to persuade Singaporeans to look at all the cash they have sitting idle in their CPF accounts? When rates were rock bottom and inflation non-existent, a 2.5% risk free, guaranteed return must have seemed like bargain. Now, with inflation in the Lion City roaring at 4% or more, CPF returns are being eroded before their very eyes. A fund that can return 5-to-6%, albeit with some volatility, may just have merit in conservative hearts.
If you can't beat them, join them? Spy has read reports that Amundi is currently exploring ways to give investors exposure to the exploding non-fungible token (NFT) market. Paris has always been a centre of the global arts scene and this might seem like the perfect next step for the French giant. Spy would personally far rather have an original Delacroix hanging on the wall, than a dodgy internet meme NFT, but what does he know?
Spy can almost hear Frank Sinatra singing it, "In 2021, it was a very good year. A very good year for M&A deals in a low-rate world…" Total M&A was worth $5.9trn globally up from $3.7trn in 2020, according to Bain Consulting — a new record. Some market participants have described it as "a frenzy". After such giddy heights, January has proven a bit of a damp squib, as the number of deals concluded was lower than 2020 and 2021. Will rising rates dampen the spirits further? Spy has seldom seen top of the market deals not lead to buyer's remorse in a few short years. The popcorn is ready for the show.
In retailing, pricing something at, $9.99 or $99.99, was always seen as good psychology. Our brains would be fooled into thinking you were not paying ten or a hundred bucks, even though you were. So, Tim Cook, the CEO of Apple, must have thought something similar, asking for a pay packet of $99m; after all it's not a $100m dollar cheque, is it? Except on this occasion, it seems to have gotten the shareholders a tad hot under the collar and they have worked out that it is close enough. For what it is worth, Spy reckons Mr. Cook is probably worth every single penny of his pay but the politics of the current era might mean he does not get quite the payday he was hoping for.
While Vladimir Putin plays up his James Bond Villain credentials, Spy was sent a picture that proves beyond all doubt that he is really playing cat and mouse with Europe and Ukraine. Hats off to HSBC Global Investments – despite the turmoil, its Russian Equity fund is still up 10% in the last year.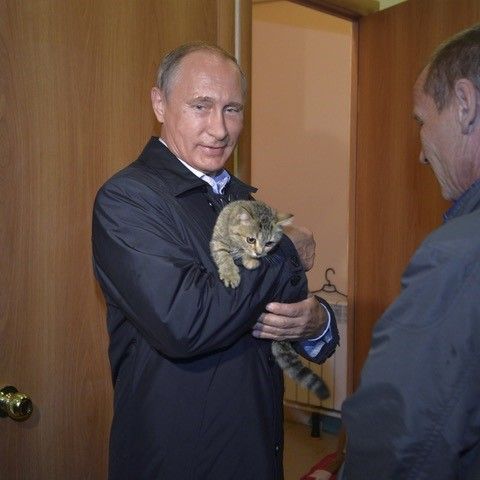 Final word: Bill Gates: Divorced, Jeff Bezos: Divorced, Elon Musk: Divorced three times. The secret to becoming a billionaire is, clearly, getting divorced.
Until next week…