And so the Year of the Tiger is well underway with Lunar New Year already a rather dim and distant memory. In Hong Kong, covid cases are rising as the government tries to stick to its rather futile policy of zero infections. Debt and equity markets have been as jumpy as a frog on sizzling frying pan. Geopolitics is lively, with Russia threatening a little war in Ukraine and oil blasts through the stratosphere. Even sleepy Canada has got truckers making life a misery for the government as people are truly sick of pandemic restrictions. Was it not ever thus, though, wonders Spy? There is always something going on; some reason for concern and yet investors have had always had opportunities. Spy is willing to bet that even now, some entrepreneurs in a proverbial basement or garage are hatching the next trillion dollar company not giving a fig for all the noise. Cheers to that!
"You've got to ask yourself a question: 'do I feel lucky? ' Well, do ya, punk?" So uttered Clint Eastwood in the cult classic, "Dirty Harry". A new ETF is has just come to market which put Spy in mind of the bad boy cop. Subversive ETFs has launched an active metaverse-focused fund, which is actively short the biggest metaverse stock of them all, Meta aka Facebook. The fund is trading in New York under the ticker PUNK, of course. Spy is not convinced that buying some NFTs and a few tech companies creating digital fashion accessories is that subversive in 2022, but will leave the market to decide on that one. If anyone can tell Spy what the modern equivalent of a virtual Magnum handgun is, he would be most grateful…
Hat tip to Amundi. The French asset manager has just gone through €2trn ($2.28trn) in AUM, exceeding its recent targets. The company has said it will need a new five-year plan, because its current one was reached too quickly. A nice problem to have, which most asset managers can only dream of.
We have all been hearing it for months now: "Inflation is back." Spy has also heard the terms "roaring inflation", "soaring inflation", "ballistic inflation". This week, the hyperbole got completely out of control and the term, "pornographic inflation" started being bandied about, even in the more serious press. The US printed a CPI of 7.5% yesterday and the commentariat reached for the colourful term to describe the massive change in prices. Some of the figures are truly astonishing. Over the last year these are the jumps: used cars: +40.5%, gasoline: +40.0%, gas utilities: +23.9%, meat/fish/eggs: +12.2%, new cars: +12.2%, electricity: +10.7%, food at home: +7.4%, food away from home: +6.4%, transportation: +5.6%, apparel: +5.3%, shelter: +4.4%. Unsurprisingly, the market is now pricing in rather dramatic, imminent interest rate hikes. This happened, coincidentally, the same week that US public debt went through $30trn.
Whisper it: "Is value investing going to make the long-awaited comeback?" The whipping boy of global investment themes for the last decade may finally get a few moments in the sun. As tech takes a breather, dull companies, with necessary products that have pricing power, may in fact come back into favour. Spy dipped into the data to be pleasantly surprised. Over the last year, AB's Global Value Fund is up 13%, Blackrock's European Value Fund is up an even healthier 16% and rather blowing the lights out over the last twelve months, is Invesco's US Value Equity Fund. It is up a whopping 29%. Do these swallows make a summer?
After Meta had its big plunge last week, Spy looked at the largest single falls by nominal value of listed companies in a single day. All the biggest fallers have been tech stocks, which makes sense because the world's most valuable companies have been tech stocks. As the playground saying goes, "The bigger they are, the harder they fall."
Google: $97bn
Amazon: $137bn
Microsoft: $178bn
Apple: $179bn
Meta (Facebook): $241bn
How do you turn $10,000 into $26m in just 30 years? Invest in Monster Beverage Corp, of course. The soft drinks company has exceeded all possible expectations. Investors have had a return of 260,061% in that time and an annualised return of 34.%. A small reminder to look for opportunity everywhere, if ever there was one.
Spy for one is utterly relieved that face-to-face events are coming back. FSA's recent Fund Awards in Singapore had real people, eating real food, chatting, laughing and generally enjoying themselves. No wonder Zoom's stock is down about 60% over the last year. Funnily enough, people enjoy seeing each other in person. Spy sincerely hopes this is the year we all started getting together again regularly.
The Year of the Tiger provides marketers with a dream set of images to tie their brands to. Spy has seen dozens of variations from stylish red and gold illustrations to dramatic photos. Spy's favourite so far comes from Abrdn. The real question is whether their investment performance will match the tiger's implied power?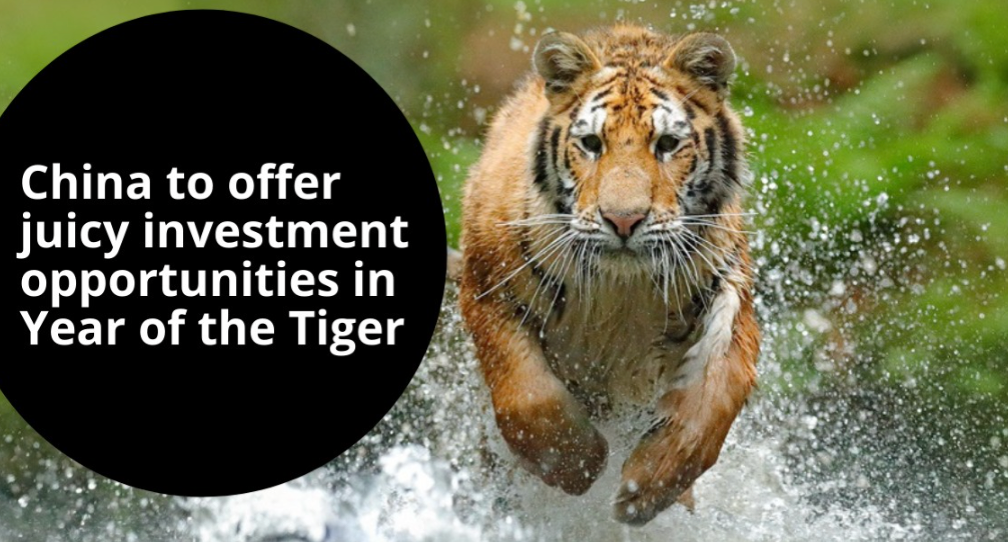 Spy's photographers have been out hunting. Some new campaigns have emerged after the Lunar New Year break.
HSBC Asset Management has hopped on the sustainability bandwagon. Spy is not 100% sure why a bright pink jellyfish is the key to the future, but was intrigued to find out more. Perhaps as the climate changes these beautiful creatures are threatened.

Fidelity International, meanwhile, has gone all Joseph Heller on the crowd and is asking about the current Catch-2022. Spy suspects Fidelity thinks policy makers are in a real bind: they need to raise rates to curb inflation, but think the global supply issues are entirely beyond their control. Tricky.
Until next week…