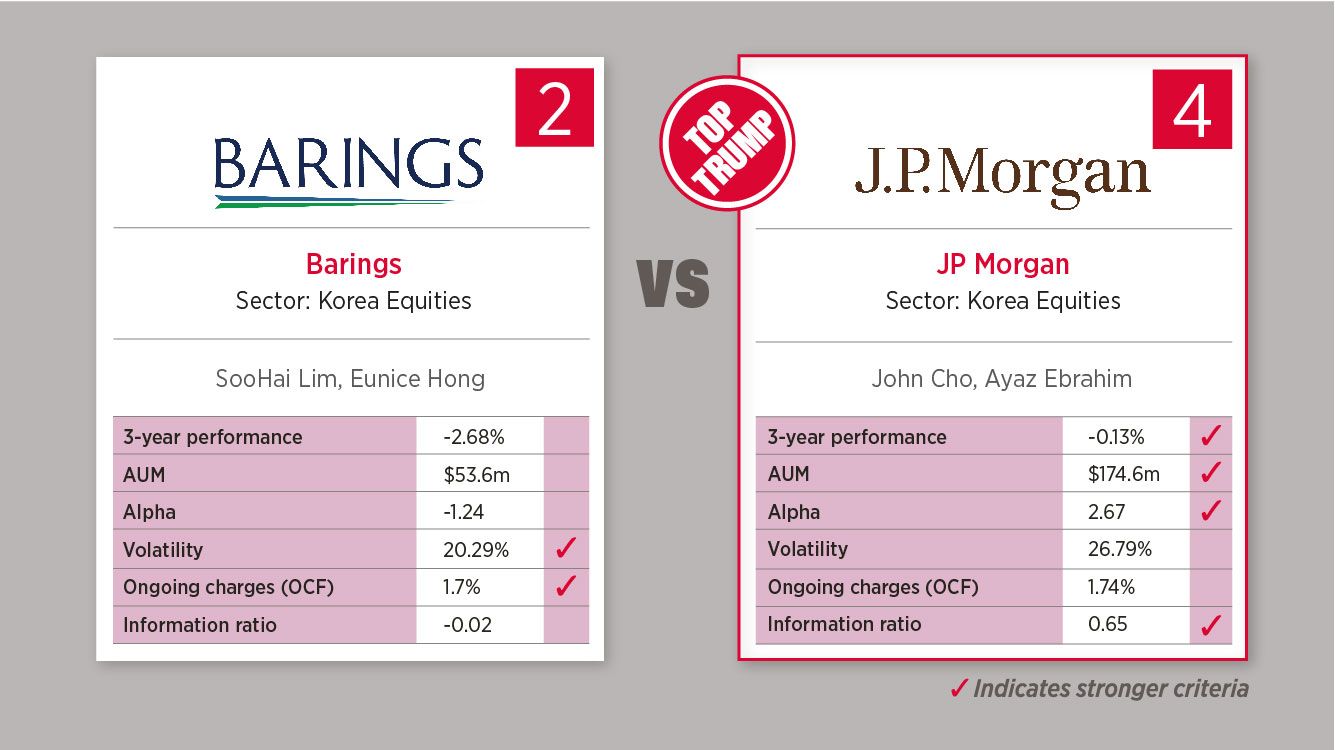 Based on the popular 80s card game, each week we select an asset class and use FE Fundinfo data to compare two funds based on their three-year performance, assets under management, alpha, volatility, ongoing charges and information ratio to decide who is the Top Trump.
This week the JP Morgan Korea Fund defeats the Barings Korea Fund 4-2.
Barings Korea Fund
The aim of the fund is to provide a total return, including both capital growth and dividend income (after fees have been deducted), in excess of the Korea Composite Stock Price Index over a rolling five-year period by investing in equity and equity related securities in Korea.
Sector weightings:
Information Technology (30.3%)
Industrials (14.3%)
Materials (12.9%)
Communication Services (10%)
Consumer Discretionary (8.7%)
Financials (7.9%)
Healthcare (7.4%)
Consumer Staples (7.1%)
Energy (0.9%)
Cash (0.6%)
JP Morgan Fund
The fund aims to provide investors with long-term capital appreciation through investment primarily (i.e. at least 70% of its total net asset value) in companies whose shares are listed on the Korea Stock Exchange or traded on the Korean over-the-counter market.
Sector weightings:
Electrical & Electronic Equipment (28.8%)
Chemicals (17.3%)
Finance (15.3%)
Others (8%)
Transport Equipment (7.1%)
Services (6.8%)
Medical Supplies (4.3%)
Manufacturing (3.9%)
Distribution Industry (3.1%)
Foods & Beverages (2.7%)