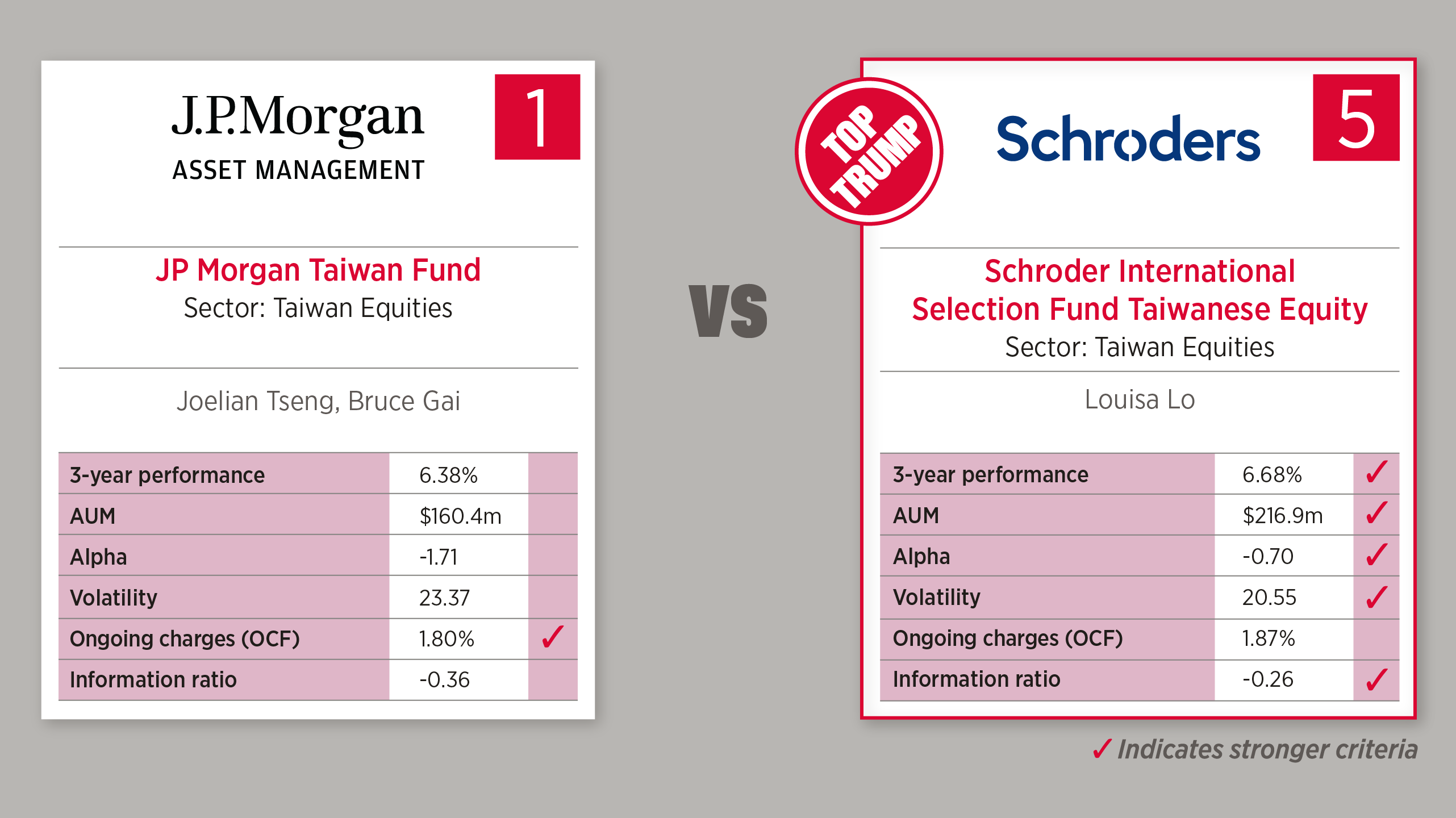 Based on the popular 80s card game, each week we select an asset class and use FE Fundinfo data to compare two funds based on their three-year performance, assets under management, alpha, volatility, ongoing charges and information ratio to decide who is the Top Trump.
This week the Schroder International Selection Fund Taiwanese Equity defeats the JP Morgan Taiwan Fund 5-1.
JP Morgan Taiwan Fund
The fund seeks to provide long-term capital growth by investing primarily in Taiwanese companies.
Top 10 Holdings:
Taiwan Semiconductor (9.4%)
Hon Hai Precision (5.3%)
Quanta Computer (5.3%)
Delta Electronics (5.1%)
Fubon Financial (3.9%)
Mega Financial (3.7%)
CTBC Financial (3.4%)
E.Sun Financial (3.4%)
Advantech (3%)
Cathay Financial (2.9%)
Sectors:
Information Technology (61.6%)
Financials (19.9%)
Materials (6.1%)
Consumer Discretionary (5.8%)
Communication Services (2.7%)
Consumer Staples (2.1%)
Industrials (1.6%)
Schroder International Selection Fund Taiwanese Equity
Top 10 Holdings:
Taiwan Semiconductor Manufacturing Co (9.7%)
Hon Hai Precision Industry Co (6.3%)
Delta Electronics (4.8%)
MediaTek (4.4%)
Cathay Financial Holding Co (4%)
Chroma ATE (3.6%)
Formosa Plastics Corp (2.7%)
CTBC Financial Holding Co (2.7%)
Chunghwa Telecom Co (2.7%)
Largan Precision Co (2.7%)
Sectors:
Information Technology (52.7%)
Consumer Discretionary (12.7%)
Financials (8.4%)
Materials (7.5%)
Consumer Staples (4.2%)
Communication Services (3.7%)
Liquid Assets (3.6%)
Industrials (3.2%)
Healthcare (2.3%)
Other (1.7%)