Despite the recent negative sentiment surrounding China, investment strategists at BNP Paribas are bullish on the Middle Kingdom between now and year-end on the back of its upcoming eight-day holiday.
Global investors will be extremely focused on domestic consumption, especially domestic tourism, in the near term, according to Jason Liu, the bank's head of east Asia strategy.
China has a rare eight-day holiday approaching thanks to the mid-autumn festival aligning with the country's national day and Liu expects this extended holiday will be a major test for investors to see how much consumption sentiment has rebounded.
"So far based on initial statistics, it seems that the national holiday travel statistics may be quite robust," he said.
The bank's positive view on China comes amid widespread investor fear regarding China's economy after the country's post-Covid re-opening was not as powerful as many investors had hoped for.
"Unambiguously bearish"
Indeed, BNP Paribas' global chief strategist Sam Lynton-Brown admits that as of right now, perception of China from offshore investors is "unambiguously bearish". He pointed to the fact that short positioning in the Chinese renminbi is "as short as it has been in the past five years"according to BNP Paribas' data.
However, the slowing Chinese economy and fall in household income over the past few years has had the effect of pushing more spending inwards into the domestic economy, according to Liu.
"Instead of flying to Paris and Milan to buy products, Chinese tourists are flying to Hainan Island. Instead of going skiing in Japan, people are going to the north-east of China," he said. "That means you end up containing some of the domestic spending which can manifest itself in the upcoming eight-day holiday."
On the back of this, he believes the Hang Seng Technology index will continue to outperform the other broader indices in the region.
Indeed, the Hang Seng Technology index is already one of the best performing major indices in the region year-to-date. It represents the 30 largest technology companies listed in Hong Kong.
Performance of index versus other major China indices year-to-date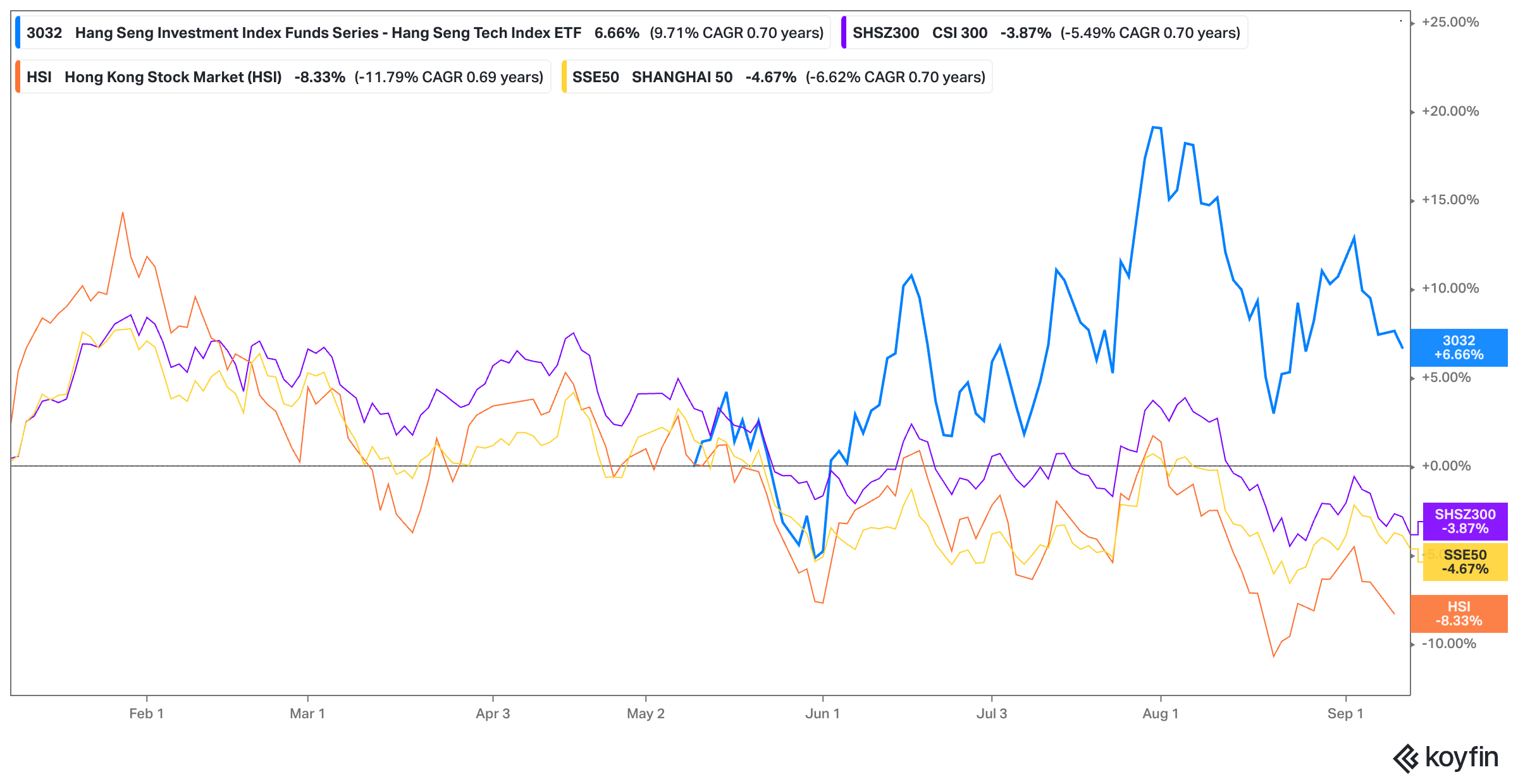 The Hang Seng Technology index is up 6.6% versus the broader HSI, SSE 50 and CSI 300 indices, which are down 8.33%, 4.67% and 3.87% respectively.
This may come as a surprise because the technology index is traditionally seen as a more risk-on exposure than the broader indices, with its constituents subject to China's multi-year crackdown on technology firms.
But despite its name, the technology index has more to do with consumption than technology because the constituents are heavily exposed to internet spending, according to Liu. "So in that sense they are benefiting from some of the recovery in the consumption spending," he explained.
"In the developed world where you've had multiple expansion, within the Hang Seng Tech stocks we've actually seen a rebound in earnings estimates," he added.
Two of the index's major consumer-facing technology constituents, Alibaba and Meituan, both recently reported larger than expected revenue last quarter, defying a slowing Chinese economy.
"If you go to Shenzhen you feel like everybody is spending. I think there are pockets of the economy where everyday spending is quite robust," Liu said. "Foreign investors are quite often frustrated by the opaqueness of the market, but we have noticed that when China outperforms, they will still come back."
The bank expects a roughly 5% to 10% upside to the broader Chinese equity market, with the sectors more exposed to domestic tourism doing better than others.