This week the BRICS have been in the news as they announce an expansion of their geopolitical group with new members including Saudi Arabia and Iran. It remains a source of some amusement to Spy that an investment idea coined in 2001 by British economist Jim O'Neill, a former chairman of Goldman Sachs Asset Management, has become a global force to counteract the perceived Western political hegemony. Spy has spent time for pleasure and business in Brazil, Russia, India, China and South Africa. In every single one of those countries, pockets of excellence mask vast swathes of inefficiency, corruption, nepotism, pollution and poverty. If this is the future, we are in for a rocky ride indeed.
Easy come, easy go. Or something like that. It did not surprise Spy one tiny bit to read this week that the ETF that aimed to follow CNBC's stock pundit, Jim Cramer, and his long recommendations is closing on September 1. The fund, with the ticker LJIM, only gathered a measly $1.3m in assets. Cramer might be disappointed to know that the ETF, which bets against his recommendations, is going to keep trading. The idea that anyone who regularly appears on television punting a new view, daily, is anything but candy floss entertainment and not real investment advice is laughable.
How many companies can you invest in publicly? Not as many as you used to be able to, according to Schroders. Looking at American companies with more than $100m in revenue, only 15% are listed on a market. The United States has seen 40% of its listed companies exit the market since 1996. Germany has lost 40% of its listed stocks since 2007. The UK is even worse; 60% of its listed firms have disappeared since 1996. More money is chasing fewer opportunities. One caveat, of course: these stats do not take into account emerging markets such as China and those across Asia, which have seen plenty of companies come to market.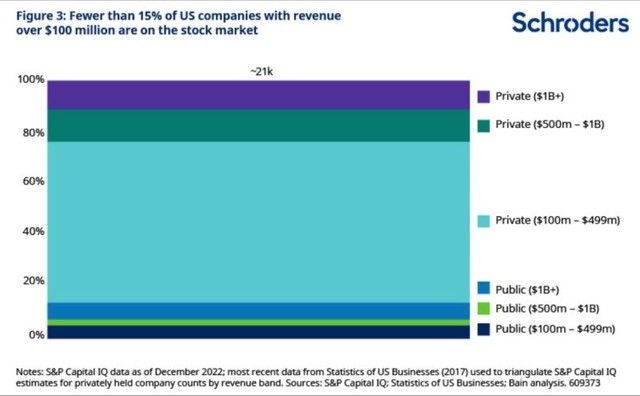 The hype around AI may be overdone but Nvidia, which reported its results yesterday, is certainly living up to the froth. The firm's revenues surged to a record $13.5bn in the second quarter, up 101% over the prior year. Their revenue projection for Q3 is an impressive $16bn, which would be a 170% year-on-year increase. Nvidia's net income hit a record $6.2bn in Q2, which was more than nine times higher than a year ago. Gross profit margins moved above 70% for the first time. Nvidia has added a juicy $850bn in market cap in 2023, year to date. To put some of this in perspective, German chip giant Infineon, which was still on par with Nvidia in 2015, is now worth a mere 4.5% of Nvidia. Nvidia may soon be as valuable as all 40 of Germany's Dax companies combined. "A new computing era has begun." claimed Jensen Huang, Nvidia's founder and CEO. He may not be wrong.
If one spends a lot of time with idealistic, eco-friendly people in major metropolitan centers who think the world is about to enter an era of fossil fuel-free energy, Spy has some bad news for you. Across the world, fossil fuels benefited from government subsidies to the tune of $13m per minute in 2022. 20% of these are direct subsidies, paid for by governments to reduce the price of fossil fuels to end consumers. 80% amount to indirect subsidies. The knock-on costs are placed upon society through their production and use. The end of the fossil fuel era is imminent? I have a chocolate teapot to sell you.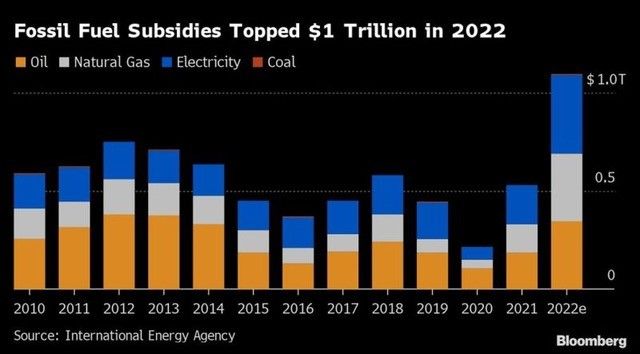 If you are sneaking off for a late August holiday, or simply need some reading to pass the time on a plane, Spy recommends "How Big Things Get Done" by Bent Flyvbjerg and Dan Gardner. The book looks at massive projects across the world, which make entire industries shift the way they approach problems and the factors that have made them successful. From the construction of the first real skyscraper, the Empire State Building, to Pixar's computer animated movies to the iconoclastic iPod and many more. It is not only the ones that succeed, but also the ones that fail miserably (which is most of them). A good and fun read for managers everywhere.
Spy was chatting to a serial entrepreneur last week. She has helped found more than a dozen companies. Spy asked her what her definition of success is. "Working with people you enjoy and who you respect." Spy could not put it better himself.
One of Spy's trusty photographers spotted a new Fidelity International campaign in Hong Kong. The company has some video adverts running in Central and Spy was pleased to note that Fidelity is proud to have won several Fund Selector Asia Awards.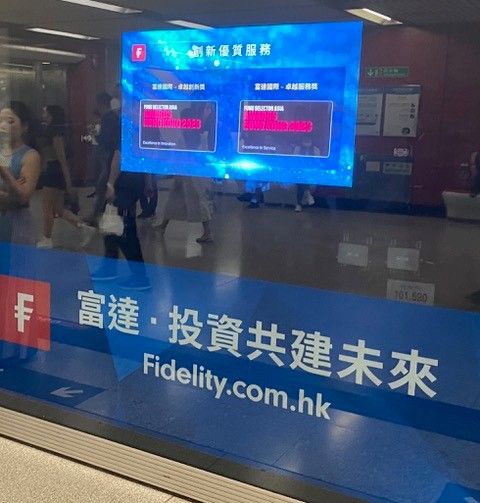 Until next week…