The United States has once again put the squeeze on investment in Chinese tech with a new investment ban law. Although the sectors identified are narrow and won't affect many Hong Kong based firms, the signalling is rather tedious. Spy chatted to a South African equity manager, now based in Singapore, about his views on the law. His comment, "Well, that won't work, will it!" He added, "In the old apartheid days when South Africa was a pariah state, under sanctions and starved of investment and access to energy, what did they do? They invented the ground-breaking coal-to-fuel process out of sheer necessity. People make a plan. They always do. The US may think this law will slow China down, but all it is likely to do is build local determination." Hard to disagree.
For investors wanting to bet on sustainability, United States Commodity Funds has launched a new actively-managed sustainable strategy in an ETF format on NYSE Arca. The USCF Sustainable Commodity Strategy Fund focuses on electrification, agriculture and renewable energy. The fund uses commodity derivatives to gain exposure to these themes but will also buy direct equities. For those who have not been scared off by "net-zero" yet, the fund is itself trying to be net zero and will do this by buying carbon offset instruments in "an amount equal to the estimated aggregate carbon emissions of the fund's holdings". This strikes Spy as a rather complicated way to go after sustainable exposure, especially when the fund is charging 0.59% annually.
Spy loves good research that makes one think and want to find out more. Hat tip to Redwheel this week. The asset management firm has put out a report on the fast fashion industry, which provides so many useful insights it is worth reading in full, here. The fast fashion industry has some remarkable characteristics, not least of all just how "fast" it truly is. For example, Zara, the brand owned by Inditex, is able to get a new clothing design from a computer screen image to prototype to production in Asia to a retail store in Manhattan in a staggering 25 days. This infographic below tells the story well. Of course, this pace comes with both huge costs and numerous benefits along the supply chain and there is the rub.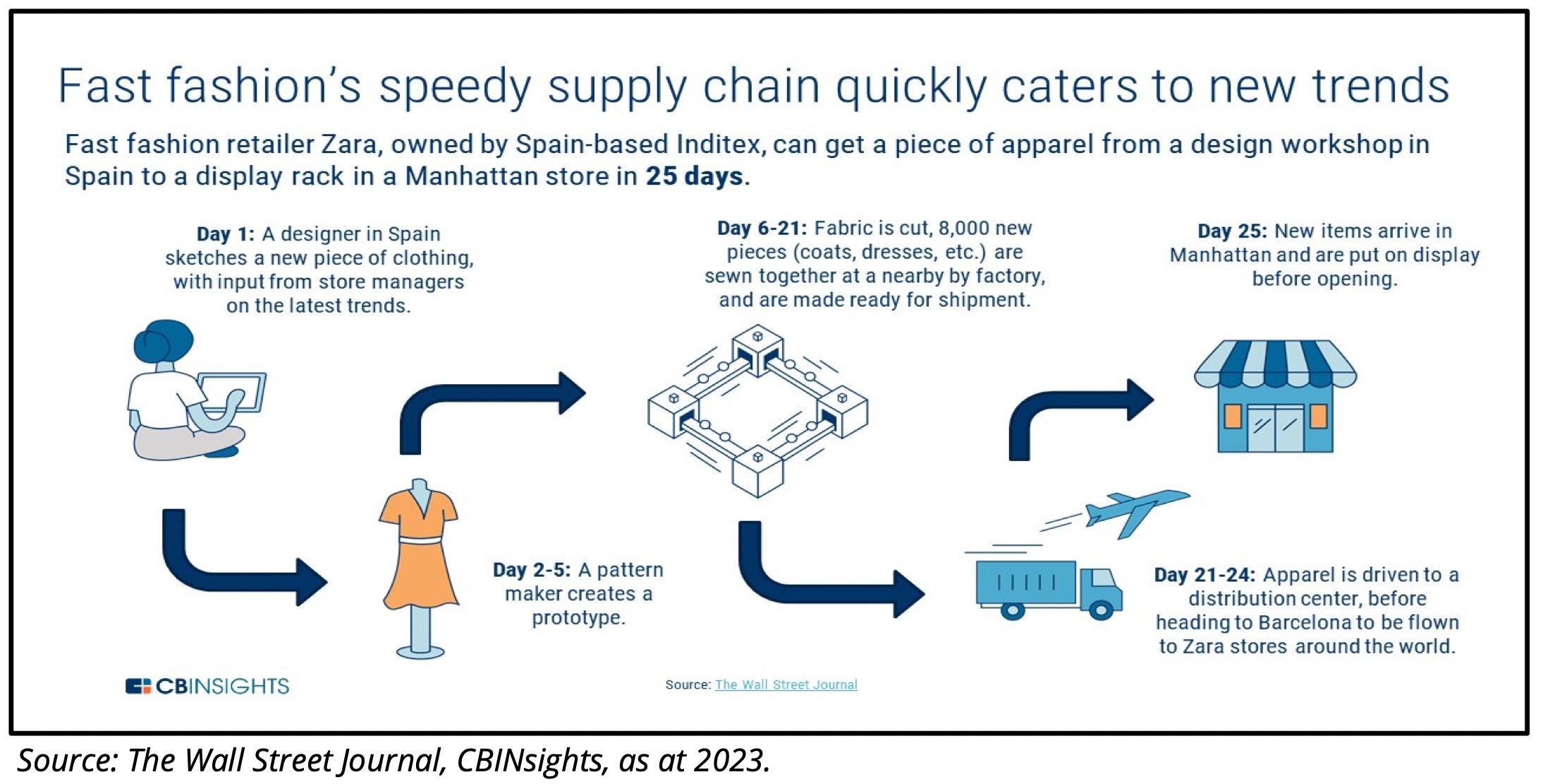 Over the last few years Spy warned repeatedly that madness had gripped the investment world in the form of SPACs. Special Purpose Acquisition Companies were raising hundreds of billions of dollars with the sole purpose of buying something or providing reverse IPO opportunities. One only has to look at the electric vehicle sector SPACs to get an idea of the carnage. Proterra, an electric bus maker, went bust on Wednesday, only 25 months after listing via a SPAC. Electric Last Mile Solutions took only 12 months to list and then go down the gurgler. Lordstown went from SPAC merger to bankruptcy in just 27 months. The list goes on and on. While not yet bankrupt, check out SPACs Canoo, Workhorse and Lucid Motors – all down more than 90% since their debuts. Was this era a heist or simply another example of collective investor greed and self-delusion?
Where is all the money going, funds wise? Tech, tech and, er, more tech. As this chart from Deutsche Bank shows, tech is the leviathan that dwarfs all others when it comes to global fund flows. With energy prices back on the rise, one can't help but feel that energy may be due for a little bounce. After all, buying what is out of fashion has usually been rather rewarding.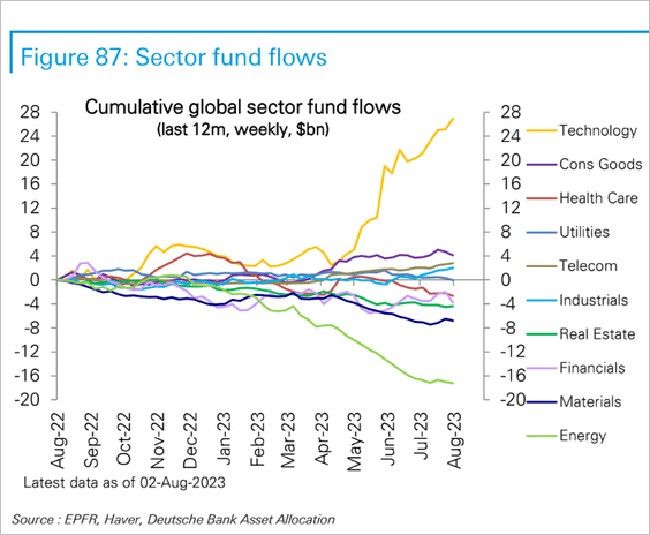 You may well be reading this on your iPhone. Apple's loyal fan base has certainly allowed the Cupertino behemoth to make a penny or two. In the last 10 years, Apple has generated so much free cash flow that it has bought back $588bn in stock. That just happens to be greater than the market cap of 492 companies in the S&P 500. #cash machine
What fresh hell is this? A special shout out to a dear friend who introduced Spy to a company management concept, known as becoming a "Teal Organisation". This idea, beloved of NGOs, modern start-ups and several financial companies, includes the idea that self-management replaces the old-fashioned hierarchical pyramid. These organisations are seen as 'living organisms' and are 'orientated toward realising their potential. They believe in 'wholeness' and 'evolutionary purpose'.  While that may sound great, what it means in practice is that, like some socialist paradise, everyone's ideas are of equal worth and everyone must have an equal say, regardless of age, talent, experience or vision. Well, sorry, dear readers, but here is an old-fashioned truth: when building businesses, experience and talent count. Not every idea is equal and strong leadership makes a huge difference to organisational success. So, if you have been invited to a 'Teal Reorganisation day', Spy suggests you run a mile… to your favourite head hunter.
Until next week…