Spy caught the Star Ferry across the harbour for the first time in ages yesterday. Looking at our city's magnificent skyline, he could not help but have thoughts on the property market and its current discontents. It is hard not to imagine Chinese property developers caught up in a real-life version of Squid Game, worrying about all their debts, in a vicious fight for their survival. For those people naïve enough to think it is only in China that property players have their problems, spare a thought for WeWork. That company has lost $12.61bn in the last five and half years. Investors may soon find that rental and property repayment problems, just like Squid Game's success, may soon go global.
Hong Kong may be suffering an exit of expatriates at the moment, but the city is rather hoping that it might be welcoming a whole host of new funds to the city, reckons Spy. In November, some new laws will make re-domiciling a venture capital or private equity fund to Hong Kong far more attractive. Asset owners will no longer need to dissolve an existing structure to relocate their funds and operations to the city. This new legislation should make Hong Kong more attractive as a destination for alternative funds. As some owners are rather wary of being tainted with the "tax-haven" stigma of Bermuda and the Cayman Islands, Hong Kong may just be on to something.
We had plain vanilla tech, then Fintech, then Insuretech and now Proptech? A small manager that calls itself ETF Managers Group has launched what it claims is the world's first ETF to focus purely on companies that derive most of their income from technology aimed at property managers and developers. The fund invests globally in businesses with a market cap of at least $250m, which, unsurprisingly, finds most of its investment in the US and China. A touch surprisingly, however, Australia comes next, beating Germany and the UK respectively. The fund can be found on the NYSE's Arca platform under the ticker HHH.
Capital Group has just released its global comprehensive ESG attitudes survey and the figures for Asia look remarkably positive. The company surveyed 1000 professionals: 22% of respondents in the region are now "committed", while a further 32% have accepted ESG's premise and ambitions. Thus, more than half of Asia Pacific investors are well on the way in their ESG journey. Only 19% have no adoption plans or remain on the side-lines. This is a remarkable turnaround from five years ago when scepticism ran high on ESG aims, its premise or even its viability as an investment factor in Asia. Unsurprisingly, sacrificing returns was a major concern of those questioned.
Is nothing sacred? This week Vanguard suffered a sneak attack from a group of climate activists who sent out a fake press release making wild claims about Vanguard's supposed climate change decisions. The counterfeit release stated that by 2030, the manager would make fossil-free and deforestation-free funds the default option for investors. Further, the passives giant would launch a "Vanguardians of the Galaxy" ESG fund for young people. The activist group, calling themselves "Yes Men" that focuses on climate issues, pulled a similar stunt a few years ago with Blackrock. Spy has a sneaky feeling some blockchain bright spark is already planning a token for press-releases to guarantee authenticity.
With the enormous excitement surrounding the launch of the Bitcoin Futures ETF (BITO) this week and its record breaking fundraise, something happened which Spy reckons might be even more significant for the development of the market. A pension fund owned by the Houston Firefighters has just allocated $25m to Ether and Bitcoin. In Asia, Spy can hardly imagine the custodians of pension money will be rushing to allocate to crypto any time soon. However, this might just be the proverbial crypto butterfly flapping its digital wings in the investment jungle. If the CPF and MPF ever accept crypto funds, there will surely be something new on the way by then…
Spy saw an advert by Man GLG this week which claimed: "We look at things differently with a clear aim to protect and grow your money." This is one of those stock, standard claims made in one form or another, that is made by practically every asset manager that Spy has ever encountered. Spy couldn't help but wonder why, if so many asset managers think differently, that so many produce such similar results?
This week the Federal Reserve Bank finally decided, after much public humiliation, that its executives should, after all, not be allowed to actively trade the markets. It is almost unbelievable that the Fed should have taken until 2021 for this decision. Spy can't but wonder if the Masters of the Universe, with their money printers whirring in the background, have become entirely detached from reality.
Spy's quote of the week is: "Being early on a contrarian trade is indistinguishable from being wrong as far as clients are concerned." Never a truer word spoken.
The asset management advertising juggernaut is rolling on. This week, BNP Paribas Asset Management has unleashed a sustainable thematics outdoor blitz across Apac. Water, energy transition, global environment and smart food are on the slate in Singapore, Hong Kong, Taiwan, Malaysia and Thailand.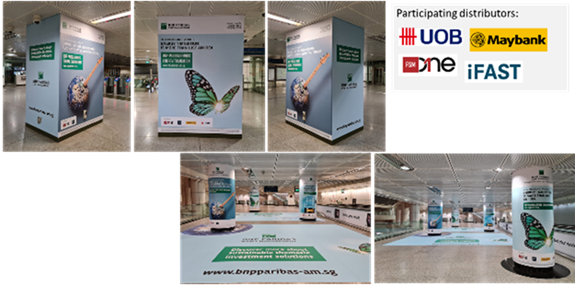 Spy could not resist the dad-joke advert from Eastspring. He thought to himself, why knot include it this week?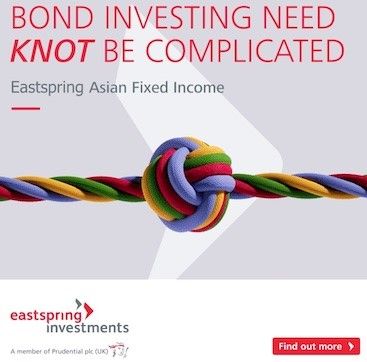 Until next week…