"Be a historian", said an experienced portfolio manager to Spy this week. If you want to navigate the future, "get out your history books." Fifteen years ago, hardly a lifetime for a historian, banks were crushed in a frenzy as the world woke up to casual and idiotic lending practises. The current global banking woes may have their roots in entirely different scenarios, but some facts remain the same: the biggest and best run banks with the very strongest political connections, usually survive the wobbles and everything else is, always, in play.
Although active ETFs have not gained as much traction as passive ones, that has not stopped the larger players rolling them out, notes Spy. JP Morgan Asset Management has added to its ETF suite with an active China ETF, which is trading on New York's Arca. What sort of ideas go into the fund? Best of ideas, of course. Spy has always been rather sceptical of this. Does any PM say, "Well, you know, I put a couple of my best ideas into the fund and then I fill the gaps with my second-best ideas." No, of course not. What Spy will say, is that if there is one place in the world that active has the edge it remains China. JPM AM's Greater China team includes 26 investment specialists. Seventeen of these are Greater China analysts with a product-specific focus. JPM AM's on the ground research must be a significant plus. The expense ratio is 65 basis points.
How fast is the private fund market in China growing? Pretty fast. The sector now includes more than Rmb20trn ($2.9trn) of assets. With that kind of rapid growth, naturally the authorities are getting interested, or nervous; choose your angle. The government would prefer to curb the ultra-rapid growth with a new set of rules. The Asset Management Association of China (AMAC), an industry body which is scrutinised by China's main securities regulator, has released new rules which tighten up sales and disclosure requirements. The new stricter rules will take effect on 1 May according to the AMAC. China's rapid evolution of its regulatory environment carries on at pace.
Spy has made enough foolish predictions in his life, to not point too strong a finger at anyone going out on a limb with prognostications on the future. Surely, however, Jim Cramer, the CNBC Mad Money pundit, must feel a tinge of guilt telling hundreds of thousands of viewers this sort of nonsense. "I like SVB – it is still cheap", he said a few days before Silicon Valley Bank was declared bankrupt and needed rescuing with bond and equity holders taking an absolute bath.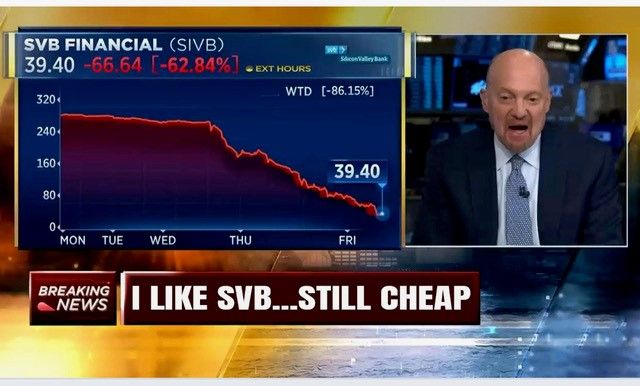 Of course, if it was just Jim, we might all see the funny side. After all, he named his show Mad Money. However, what if you are paid to scrutinise risk in a company or its debt for a living using conservative cash flow and risk adjusted models? Perhaps, a rating agency, for example? Well, here the "experts" look as foolish as a shouty TV personality. That is, right up until the moment that SVB was declared insolvent, it was given an investment grade rating by both S&P and Fitch. What is the lesson here? If you are relying on a rating agency to give you credit worthiness, I have nice bucket of snake oil so sell you that makes you handsome, makes you slim and makes you irresistible to the opposite sex.
Larry Fink, the CEO of BlackRock, in comments to make central bankers cry into their tea, said this week, bank failures were "the price of easy money". He also said helpfully or perhaps, truly unhelpfully, that more banks would likely go before this crisis ended. Scary words but ones that should probably be taken very seriously by policy makers as soon as possible.
Credit Suisse or Debit Suisse. On occasion the internet can throw out an absolute gem. First rule of business: never let your brand become an internet meme. Second rule of business, if in doubt, refer to the first rule of business. Spy spoke to a London-based friend who works as a chartered accountant in CS's middle office. The rollercoaster has been real but the no matter how bad it is, he remained convinced the Swiss National Bank would intervene and so it has proven this week. Are job cuts coming? Yes, in swathes. Will Credit Suisse survive, yes – it will.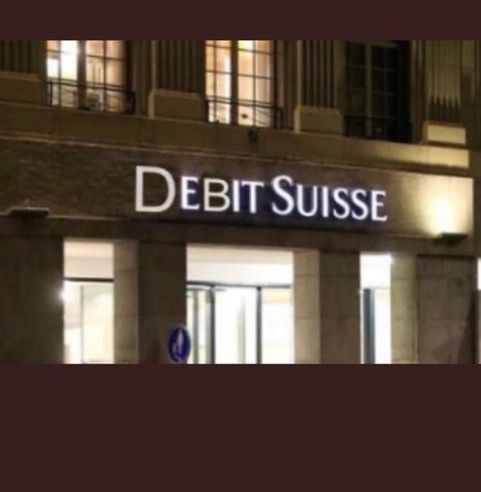 Off the top of your head, which countries have the world's highest minimum wage? Spy was surprised to see that Australia, the land down under, is now sitting at world number two with a minimum of $2,022 per month. Luxembourg, home to all those lovely UCITS funds is currently number one with $2,140 per month. Hong Kong is above average at $959 but South Korea is an even more respectable $1,333 per month. Hat's off to Visual Capitalist for providing the data.
Spy's quote of the week comes from Fidelity's legendary investor, Peter Lynch: "You get recessions, you have stock market declines. If you don't understand that's going to happen, then you're not ready, you won't do well in the markets." That may sound simple, but the wisdom of the ages is in there.
Until next week…