"Did you know if you put $1000 in the S&P 500 a year ago it would have grown to $1,440 today", a wealth manager in Hong Kong told Spy over several Whitley Neil Grapefuit Gins and tonic. "That sounds fairly decent. But, if you had been brave and put $1,000 in Dogecoin crypto you would now have $274,550. If you are wondering why the fanatics are screaming from the roof tops and some lucky souls are ditching their jobs, you might now understand why." The fortunes created in crypto in the last few years are so astonishing, that the returns from every other market look puny by comparison. It is very tough being a traditional compound-and-grow portfolio manager targeting millennials at the moment, thinks Spy.
Another day, another set of indices to slice and dice the market, notes Spy. This week it is MSCI which has added no fewer than twenty new thematic indices to its playbook for investors in China. From disruptive tech to robotics, millennials to efficient energy, smart cities to future mobility, and much more – no trendy idea or current theme has been left untouched. The new smorgasbord of choice comes in both onshore-specific and general China remits, which include Hong Kong-listed entities. MSCI has enlisted the help of ETF darling, ARK Invest to ascertain "economic relevance scores" assessing the strength of each company's link to a specific theme" for its disruptive ideas.
All eyes will be on Blackrock's new wealth management venture in China. With 50.1% of the business (China Construction Bank and Temasek own 40% and 9.9% respectively), the kudos and brickbats, if any will firmly be on the Wall Street giant. Early China-JVs, without majority control, always had a built-in set of excuses for Western managers. In the decade ahead, no such protection will linger. For what it is worth, Spy predicts this formula will work well for Blackrock: its deep and successful experience in the region to date, coinciding with a more mature view of wealth management in China itself by local investors and a decent distribution platform, bodes very well indeed. It also a happy coincidence that on a relative basis, China shares are at a much more attractive point in the valuation cycle. A great time to be starting new portfolios, thinks Spy.
Schroders did the very best it could to depress Spy this morning. The firm has new and worthwhile insight out on climate change, a gloomy topic at the best of times. The real killer? Spy's unbreakable chocolate habit is under severe moral threat, it seems. "Chocolate has almost the same carbon footprint as beef (for dairy). The problem with chocolate is that it contains some environmentally damaging ingredients, such as dairy, cocoa, sugar, and palm oil. And the land use impact of growing cocoa is the single biggest contributor to chocolate's sticky footprint".  The bad news doesn't stop there: orange juice is also problematic, apparently. The most alarming stat of all? "About six garbage trucks full of edible food is lost or wasted every second." It is not all bad news, the shocking stats also make room for some great investment ideas, according to the Schroders team.
Spy has been banging on for months, to anyone who will listen, that inflation is roaring and finally this week, the markets wobbled over some eye-watering CPI numbers. Apparently, the Fed is a "little surprised" that $4trn of stimulus is making people revise their pricing. One bank not buying it is Julius Baer. "This is the best-advertised inflation spike in economic history. Everybody knows that the bar for the upcoming inflation prints is extremely low, as it compares the current recovery levels with the ones during the breakdown a year ago. Investors are advised only to tweak positions. If not fully invested, gradual steps out of cash are warranted."
With the above in mind, Spy did smile at an advert from CIMB in Singapore. With the usual generosity of a retail bank, they are asking clients to put their hard-earned money with them for two years fixed and earn a whopping….0.75% interest per annum. With inflation where it is, it is literally asking people to shrink the buying power of their money. Guaranteed.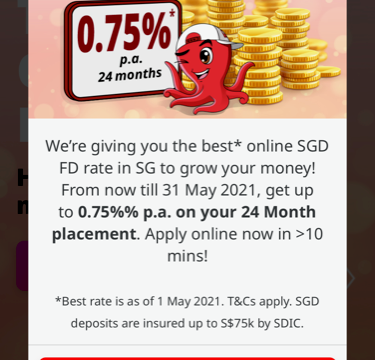 Psst…wanna open a family office? Singapore is quietly attracting record numbers of family offices to its gilded shores. There are apparently now about 400 single family offices (SFM) operating in the City State, estimates the MAS. Singapore's Variable Capital Company structure is quietly proving a fantastic success in attracting wads of private capital. Spy strongly suspects a zero-band rate of capital gains tax and strong privacy laws might also have something to do with it. If one is thinking of jumping ship and joining the secretive world of the SFM, Spy does have a word of caution. One friend working for one described the role as crushingly dull with very limited promotion prospects, even if the pay is not too bad. This is truly a world of what the family wants, is what the family gets.
Spy is thinking of starting a new club. It could be named "The 50-Down". The eligibility is quite simple: your stock needs to be at least 50% off your all time high. It was fairly exclusive in January, but, sadly, membership is growing at a blistering pace. Initial members could include some hyped IPOs from 2020: DoorDash:-55%, Snowflake:-57%, Unity:-57%, Palantir:-58%, Rocket:-60%, Lemonade:-65%, JFrog:-65%, Agora:-67%, BigCommerce:-73%, C3ai:-73% and Nikola:-89%. Years ago, there was a rudely named website, www.fuckedcompany.com, which tracked doomed dot.coms burning through their IPO money. It sadly no longer operates. However, it might well be the time to revive it.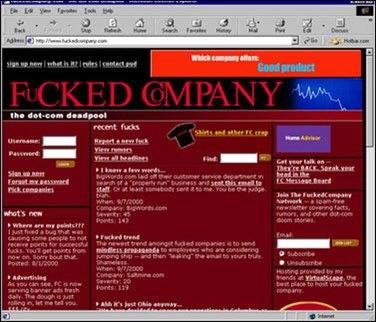 Spy's quote of the week: "When I was young, I was a terrible investor. But after decades of hard work, I am no longer young."
Until next week…