As the Nvidia stock price reaches all-time highs ahead of its quarterly earnings announcement, the company at the centre of the recent boom in artificial intelligence (AI) will likely continue to defy market expectations.
This is according to Zehrid Osmani (pictured), Martin Currie's head of global long-term unconstrained team, who told FSA that he believes that investors have only seen the tip of the iceberg when it comes to AI.
Nvidia is seen as the key enabler for AI because it is the market leader in producing GPUs that can run AI applications, but there is a worry that its meteoric share price rise has moved ahead of fundamentals.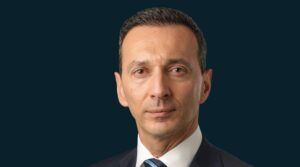 Osmani, however, points out that its valuation is now actually cheaper because of how quickly its earnings and guidance has increased over the last few quarters.
He said: "If you look at the magnitude of the earnings momentum, Nvidia is one of the stocks in AI that has actually de-rated in terms of forward looking multiple, unlike various other AI related names."
He also noted that the total addressable market for AI is surpassing even Nvidia's own expectations.
In 2021, Nvidia estimated that the total addressable market of AI would be roughly $300bn. A year later the company revised its estimate to $1trn.
"So within 12 months it more than tripled the addressable market," Osmani said. "It's anybody's guess what their next update in March 2024 will be, but our view is it's likely to go further."
Nvidia will remain dominant
Nvidia has grown to a close to a 10% weighting in the Martin Currie Global Long Term Unconstrained strategy which Osmani manages. The position is almost double the size of the fund's next two largest positions in Microsoft and ASML at 5.8% and 5.3% respectively.
"There are times when valuations are put aside and thematics get ahead of themselves," Osmani said.
"It's important to stay fundamental in your analysis, to stay disciplined on valuation, but based on our valuation framework, we think that companies like Nvidia are not overvalued. Far from it."
"Nvidia in our view is positioned almost in a similar manner to where ASML was 10 years ago," Osmani added.
"They've been leaders in GPUs for a while, which has given them the opportunity scale up their R&D and continue to innovate."
Investors will be closely scrutinising the already high expectations for Nvidia's guidance for next year's revenues when it releases its quarterly results.
Regardless of how the short-term guidance plays out, on a longer-term basis Osmani said his team expects the company to be able to grow its revenues by over 20% per year and its earnings by over 30% per year annualised over the next five years.
Strong near-term momentum
One other key reason for Osmani's bullishness is that companies are still only experimenting with AI.
He argued that companies will eventually realise that they need invest more into AI to stay competitive or risk being left behind by their peers.
Indeed, some asset managers have warned that if companies do not adopt AI as much as markets expect, then much of the so-called 'magnificent seven' are overvalued and it puts the future of AI spend in doubt.
Osmani, who holds only two of the magnificent seven, Nvidia and Microsoft, believes that there will be an acceleration of AI adoption, not a drop-off.
"Our view is that this is the tip of the iceberg; there's going to be an acceleration of deployment of AI projects over the next two to three years, therefore there is still strong momentum in the near term."
He pointed to the cloud providers such as Amazon, Microsoft and Google, and their need to upgrade their cloud infrastructure to make their proposition more attractive to corporates.
"Nvidia will benefit from that capex," he said. "We believe that it could create a faster upgrade cycle in the cloud infrastructure for competitive reasons, so that faster upgrade cycle will again benefit Nvidia."