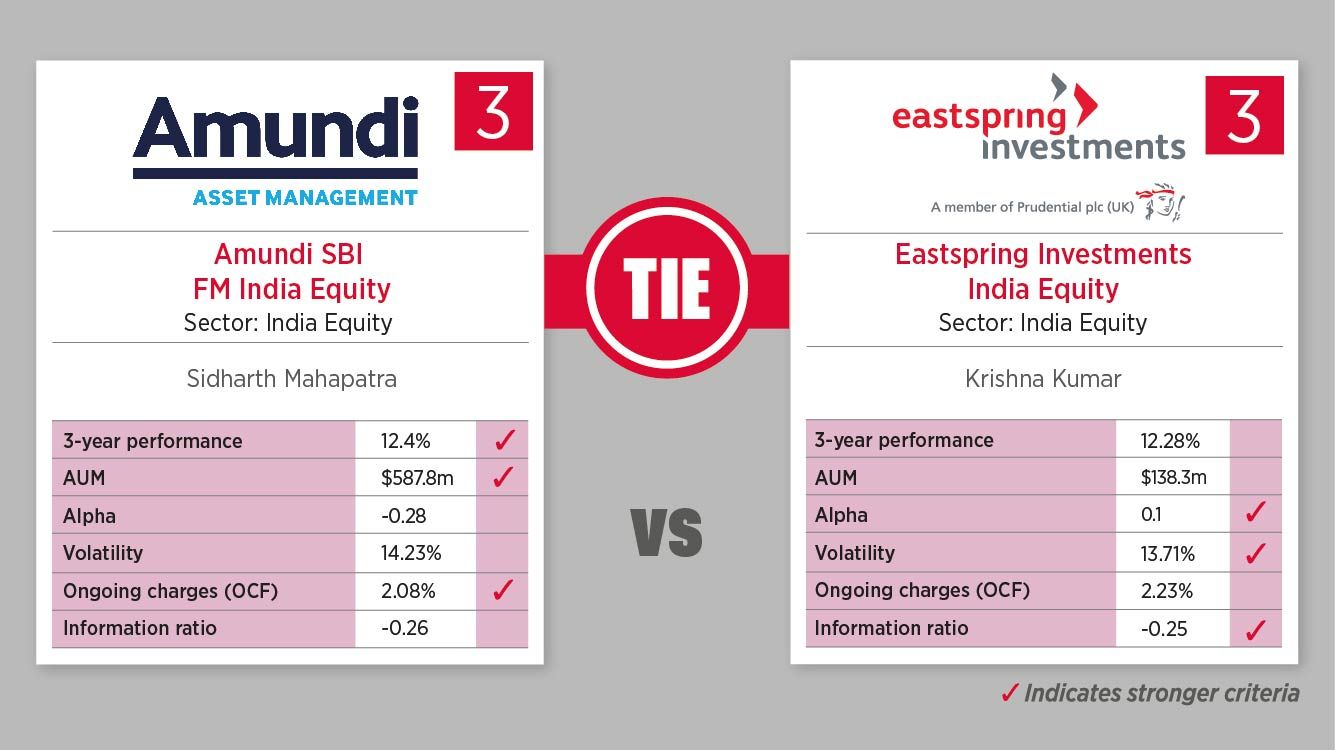 Based on the popular 80s card game, each week we select an asset class and use FE Fundinfo data to compare two funds based on their three-year performance, assets under management, alpha, volatility, ongoing charges and information ratio to decide who is the Top Trump.
This week the the Amundi SBI FM India Equity fund ties with the Eastspring Investments India Equity fund 3-3.
Amundi SBI FM India Equity fund
The fund aims to achieve long-term capital growth by investing at least 67% of assets in equities and equity-linked instruments of companies that are headquartered, or do substantial business, in India.
Sector breakdown:
Financials (31.55%)
Industrials (15.69%)
Consumer Discretionary (14.87%)
Materials (11.24%)
Information Technology (10.58%)
Consumer Staples (3.92%)
Real Estate (2.99%)
Energy (2.94%)
Healthcare (2.06%)
Others and Cash (4.15%)
Top 10 Holdings:
ICICI Bank (8.5%)
HDFC Bank (8.23%)
Infosys (7.67%)
Larsen & Toubro (6.82%)
Maruti Suzuki India (4.54%)
Axis Bank (4.21%)
Mahindra & Mahindra (4.09%)
Ultratech Cement (3.94%)
State Bank of India (3.37%)
ABB India (3.18%)
Eastspring Investments India Equity fund
The fund aims to maximise long-term total return by investing primarily in equity and equity-related securities of companies, which are incorporated, listed in or have their area of primary activity, in India.
Sector breakdown:
Financials (27%)
Industrials (13.1%)
Consumer Discretionary (10.7%)
Information technology (9.6%)
Energy (9.3%)
Real Estate (7.4%)
Communication Services (7.1%)
Materials (6.9%)
Others (8%)
Cash and Cash Equivalents (0.9%)
Top 10 Holdings:
ICICI Bank (8.5%)
Reliance Industries (8.5%)
Axis Bank (5.7%)
Infosys (4.4%)
Ultratech Cement (3.8%)
Bharti Airtel (3.7%)
Sun Pharmaceutical Industries (3.1%)
Container Corporation of India (2.8%)
Phoenix Mills (2.7%)
Brigade Enterprises (2.7%)