The markets closed out the first half of the year this week and, right on cue, they delivered a neat little record high for the S&P 500. Spy could not help but think of Gordon Gekko in 1980s film classic, Wall Street. "Greed is good" says Gekko without a trace of shame. There has been an almost ebullient greed so far in 2021 and there currently seems to be absolutely no let-up despite many cries of caution. Over a quiet whisky and soda last night, Spy remembered that in the film, Gekko gets his comeuppance and goes to jail in the end. Perhaps greed is not always so good.
It was the American humorist and author, Mark Twain, who once declared, "Rumours of my death have been greatly exaggerated." It seems Aberdeen Standard Investments thinks the same of the office. In a report out his week, the manager states, "Contrary to popular belief, the office will not disappear after the pandemic. In fact, enhancing the office experience of workers is increasingly important for companies that aspire to be the employer of choice in the post-pandemic world." If you have, to date, been working in a drab building with the only luxury amenities reserved for the c-suite, you might be in for some luck, if ASI is correct.
Another week, another ESG ETF. This time it is BNP Paribas off to the Paris-friendly eco-cupboard. The manager has launched the BNP Paribas Easy Low Carbon 300 World PAB UCITS ETF. It is a global fund that is hoping to align its outcomes with the Paris climate change agreement. BNP is a little late to this party. There are currently no fewer than four other ETFs chasing a similar theme; Amundi, Lyxor, iShares and UBS each already have one.
As asset managers look towards the second half of 2021, one that is not pulling its punches is Amundi. The French firm does not seem to be buying the "transitional inflation" line being pumped out by every central bank. In its outlook for the rest of the year, its strategists write, "It takes time before institutions adapt to a new regime. The next Volker [the former-inflation busting Fed Chairman] is not around the corner. Higher inflation and the volatility of inflation will be key features of this new regime. Investors believe they will wake up in the '30s, while they will end up waking up in the '70s." Does this mean we will all need to buy flared trousers too, wonders Spy?
Of all the bond concerns screaming around, Alliance Bernstein gave Spy the most pause for thought this week. The firm argues that those behind the bond-tech curve are going to lose out massively. In a thoughtful piece out this week the firm writes, "Three years ago, it took an average of 35 days to get a new credit or emerging-market debt portfolio 90% invested. Today, that can be accomplished in half the time—if bond managers have mastered the tech revolution…In contrast, bond managers who don't have the right tech will fall rapidly behind in the post-pandemic world." Tech, it would seem, is the common denominator across the world, regardless of industry.
So RobinHood is coming to the market with its own IPO. The firm wants the world to value it at $40bn. The company received revenue last year of $959m, but even the company itself doubts that will be repeated. It has a median account size of just $240 and a mean of $5,000. It has 17.7m active users and about one third of the IPO is being reserved for its own users. Clearly "HOOD" is hoping it can become its very own meme stock. As if a lack of stimulus checks should worry investors enough, the prospectus also states that if traders stop trading Dogecoins that is a material risk. Not for the faint hearted, indeed!
Have a nice chart for Friday and bask in the warm fuzzy feeling as "Money Printer go Brrrrrrrr". The US national debt: up a humble $4.7tn in the last 13 months according to WolfStreet. If anyone wonders why oil is above $75, Spy suspects you don't need to look far for an answer.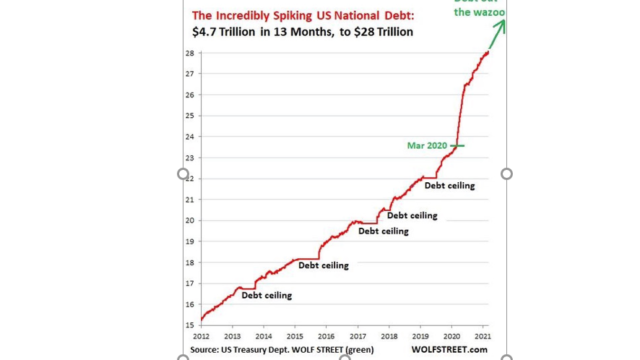 If you are still sitting in a kind of lockdown and are looking for reasons to be hopeful about travel normality, consider this: The United Stated averaged over 2 million airline travellers per day over the last week. This was the first time since 7 March 2020.
Until next week…