Speaker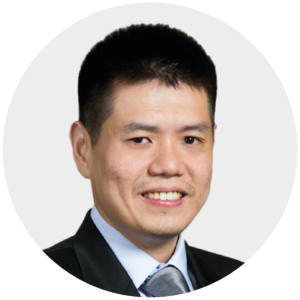 Rong Ren Goh
Portfolio Manager, Eastspring Investments
Rong Ren joined Eastspring Investments in January 2016. He is a Portfolio Manager in the Fixed Income team and is responsible for the management of Global, Japan and selective Asian local currency fixed Income funds. Prior to joining Eastspring Investments, Rong Ren worked as a Trader at Skandinaviska Enskilda Banken and Credit Agricole Corporate & Investment Bank, where he was responsible for market-making and execution of Asian currency and interest rate products. Rong Ren has 12 years of investment experience and holds a Bachelor of Science (Hons) Economics from London School of Economics.
Company profile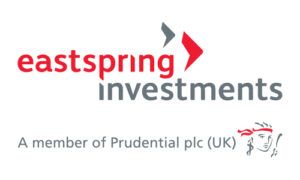 Eastspring Investments, part of Prudential plc, is a global asset manager with Asia at its core, offering innovative investment solutions to meet the financial needs of clients. At the heart of Eastspring is a strong connection with our shared purpose – Experts in Asia. Invested in Your Future. – and this clearly guides everything we do.
Our investment teams' deep understanding of Asian markets, paired with their global expertise, is our key differentiator. We are also firmly invested in the future of our clients, our colleagues, our partners, our shareholders and the communities in which we live and operate in.
Over the last 25 years, we have built an unparalleled on-the-ground presence in 11 Asian markets¹ as well as distribution offices in North America and Europe. We manage a total of USD 248 billion² across equity, fixed income, multi asset, quantitative and alternative strategies on behalf of institutional and individual investors globally.
¹Presence refers to wholly owned subsidiaries with local sales and investment offices in Indonesia, Hong Kong, Japan, Malaysia, South Korea, Singapore, Taiwan and Vietnam as well as joint ventures in China, India and Thailand. ²As at 31 December 2020.
Find out more:
VIRTUAL EVENT
Watch the Spotlight On: Fixed Income panel discussion – Now available on-demand
Strategy presentation
Rong Ren our Fixed Income Portfolio Manager addresses the questions that are on many investor's minds such as whether companies can be ESG focused and profitable at the same time, as well as the breadth of ESG focused opportunities within Asian fixed income.
Fund profile
The Fund seeks to achieve sustainable returns over the medium term by investing primarily in bonds issued by Asian issuers that are aligned to Eastspring's internal Environmental, Social and Governance ("ESG") principles. ESG screening is applied on the Fund's investible universe to exclude issuers, which are in violation of our ESG principles.
Proprietary ESG assessment and monitoring is conducted on each issuer as part of the investment team's bottom-up credit analysis process, providing the investment team with in-depth understanding of the ESG profile of each issuer and integrating the information in portfolio construction.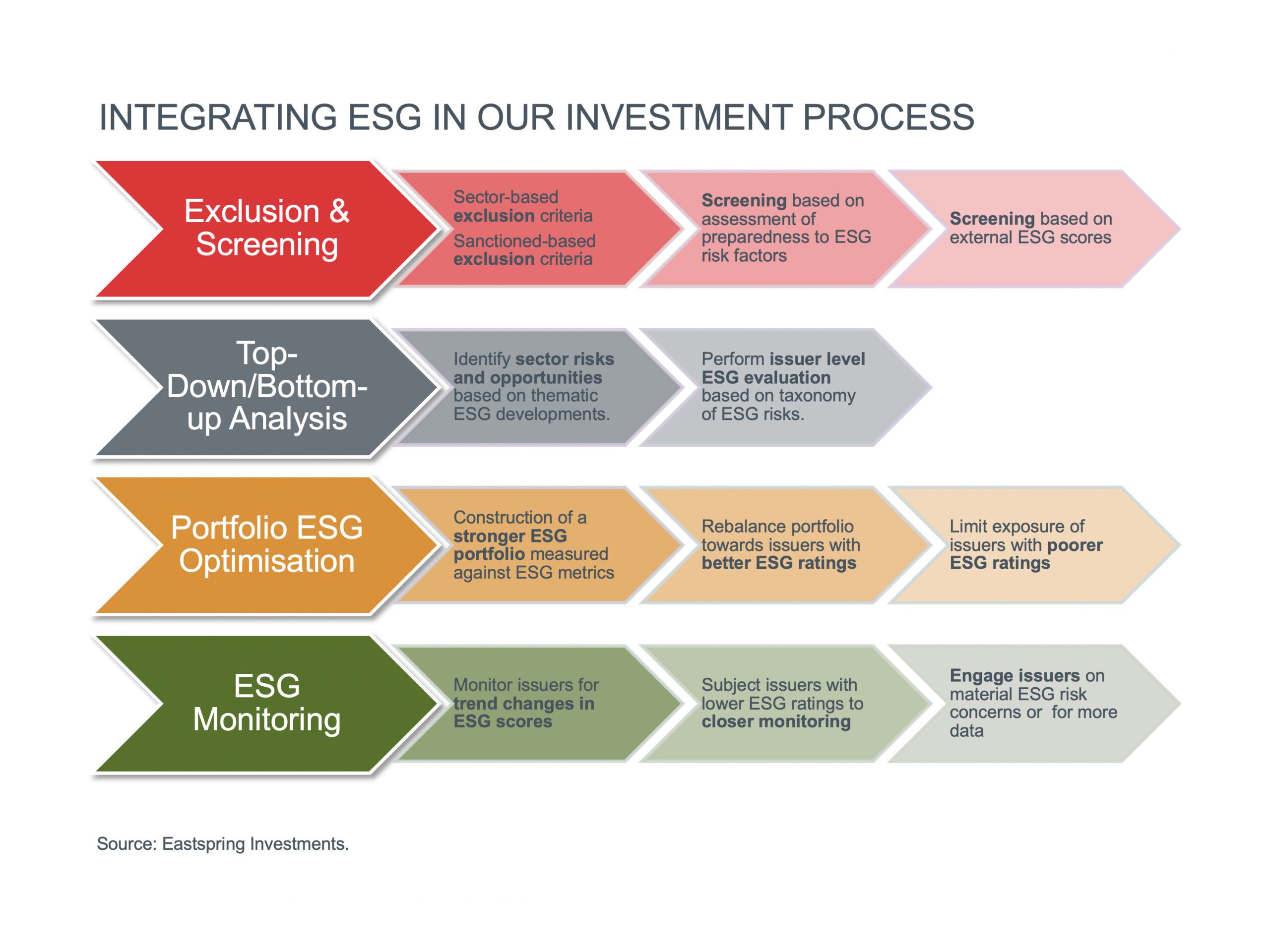 Fund factsheet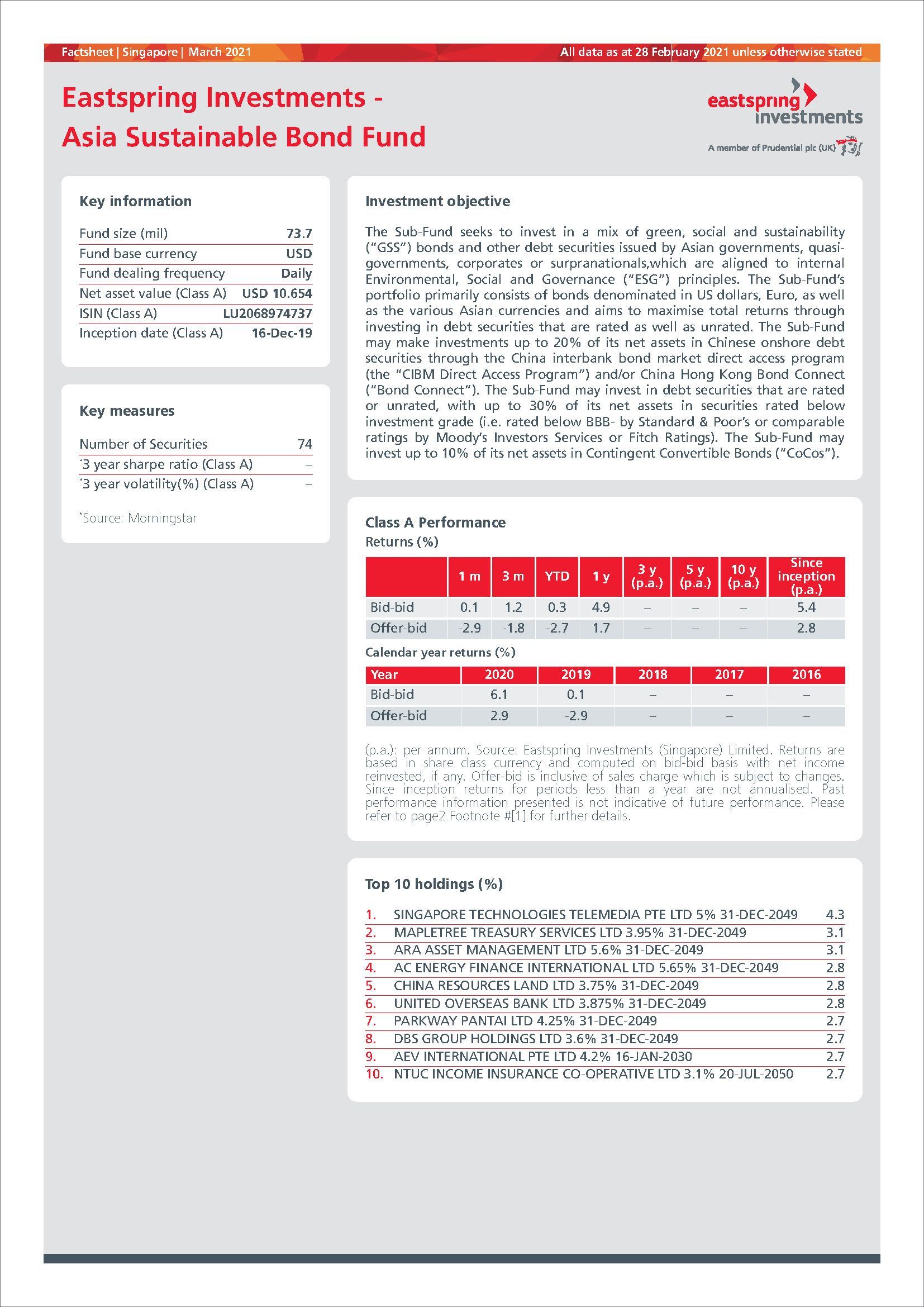 ARTICLE
With Asia's unique mix of strong economic growth and policy support, find out why we think Asia offers the opportunity for ESG outperformance as rapid wealth accumulation and rising ESG investing opportunities intersect.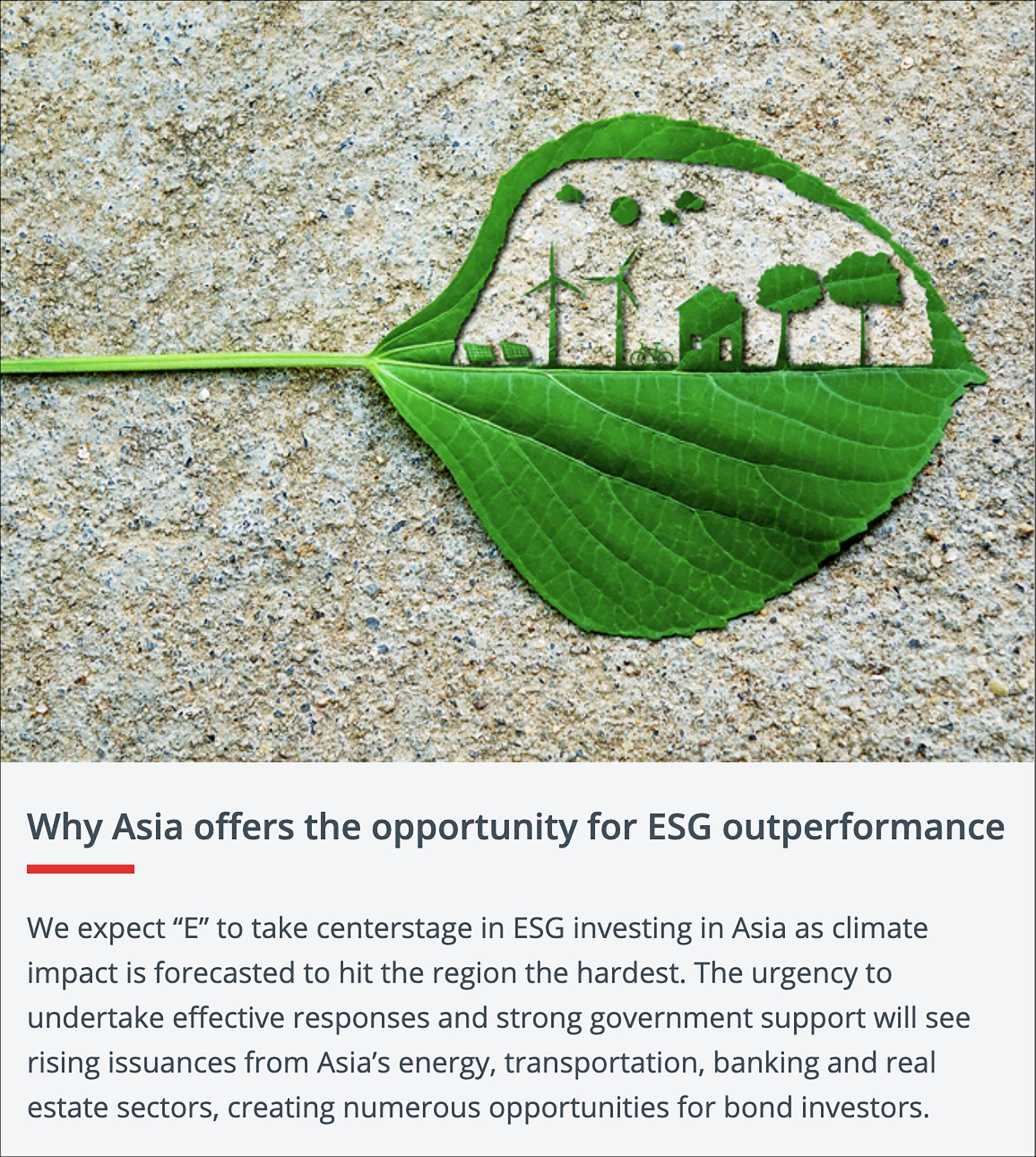 Sales contacts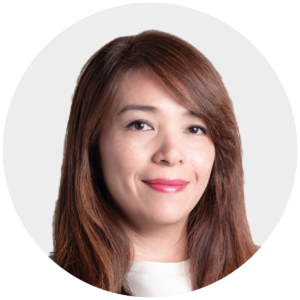 Amy Quek
Director, Private Banks, Eastspring Investments (Singapore) Limited
T: +65 63499728
E: Email
Disclaimer
Strictly Private and Confidential. For Institutional or Accredited Investors Only. Not for distribution to the retail public.
This document is issued by Eastspring Investments (Singapore) Limited (UEN: 199407631H). Eastspring Investments (Singapore) Limited is the appointed Singapore Representative and agent for service of process in Singapore. This advertisement has not been reviewed by the Monetary Authority of Singapore. The Fund is a sub-fund of Eastspring Investments, an open-ended investment company with variable capital (Société d'Investissement à Capital Variable or SICAV) registered in the Grand Duchy of Luxembourg, which qualifies as an Undertakings for Collective Investment in Transferable Securities ("UCITS") under relevant EU legislation. The Management Company of the SICAV is Eastspring Investments (Luxembourg) S.A., Grand-Duchy of Luxembourg. All transactions into the Fund should be based on the Singapore Prospectus and Product Highlights Sheet ("PHS"). Such documents, together with the articles of incorporation of the SICAV and the most recent financial reports, may be obtained free of charge from Eastspring Investments (Luxembourg) S.A., or at relevant Eastspring Investments business units/website and their distribution partners. This document is solely for information and does not have any regard to the specific investment objectives, financial or tax situation and the particular needs of any specific person who may receive this document. This document is not intended as an offer, a solicitation of offer or a recommendation, to deal in shares of securities or any financial instruments.
Please refer to the offering documents for details on fees and charges, dealing and redemption, product features, risk factors and seek professional advice before making any investment decision. An investment in the Fund is subject to investment risks, including the possible loss of the principal amount invested. The value of shares in the Fund and the income accruing to the shares, if any, may fall or rise. Where an investment is denominated in a currency other than the base currency of the Fund, exchange rates may have an adverse effect on the value, price or income of that investment. Investors should not make any investment decision solely based on this document. Investors may wish to seek advice from a financial adviser before purchasing shares of the Fund. In the event that an investor may choose not to seek advice from a financial adviser, the latter should consider carefully whether the Fund in question is suitable for him.
Past performance and the predictions, projections, or forecasts on the economy, securities markets or the economic trends of the markets are not necessarily indicative of the future or likely performance of Eastspring Investments or any of the funds managed by Eastspring Investments. There are limitations to the use of indices as proxies for the past performance in the respective asset classes/sector.
The Fund may use derivative instruments for efficient portfolio management and/or hedging purposes.
Distributions are not guaranteed and may fluctuate. Past distributions are not necessarily indicative of future trends, which may be lower. Distribution payouts and its frequency are determined by the Board of Directors, and can be made out of (a) income; or (b) net capital gains; or (c) capital of the Fund or a combination of any of (a) and/or (b) and/or (c). The payment of distributions should not be confused with the Fund's performance, rate of return or yield. Any payment of distributions by the Fund may result in an immediate decrease in the net asset value per share.
The preceding paragraph is only applicable if the Fund intends to pay dividends / distributions.
Eastspring Singapore is an ultimately wholly-owned subsidiary of Prudential plc of the United Kingdom. Eastspring Singapore and Prudential plc are not affiliated in any manner with Prudential Financial, Inc., a company whose principal place of business is in the United States of America or with the Prudential Assurance Company, a subsidiary of M&G plc, a company incorporated in the United Kingdom.
This content is only available for professional investors based in Hong Kong and Singapore.
Please select your location: