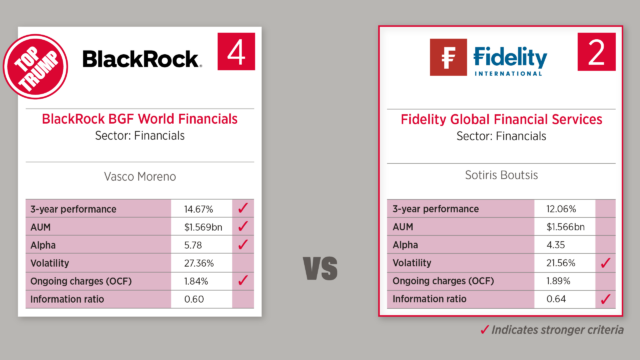 Based on the popular 80s card game, each week we select an asset class and use FE Fundinfo data to compare two funds based on their 3-year performance, assets under management, alpha, volatility, ongoing charges and information ratio to decide who is the Top Trump.
This week the BlackRock BGF World Financials Fund defeats the Fidelity Global Financials Fund 4:2.
BlackRock BGF World Financials Fund
The fund makes investments globally with at least 70% of its total assets in the equity securities (eg. shares) of companies whose main business is in financial services.
Sector breakdown:
Banks (53.73%)
Financial Services (11.83%)
Capital Markets (10.18%)
Consumer Finance (9.09%)
Cash and/or derivatives (8.35%)
Insurance (6.83%)
Geographic breakdown:
United States (39.46%)
United Kingdom (9.35%)
Cash and/or derivatives (8.35%)
Italy (6.51%)
Spain (5.26%)
India (4.82%)
Brazil (3.99%)
Austria (3.38%)
Switzerland (2.7%)
Ferance (2.35%)
Fidelity Global Financials Fund
The fund's investment approach combines bottom-up stock picking with top-down country and sector analysis. Its focus is on strong businesses as well as companies with improving fundamentals that potentially translate into higher return on equity.
Sector breakdown:
Financials (96.5%)
Consumer Discretionary (1.7%)
Information Technology (1.1%)
Industrials (0.4%)
Geographic breakdown:
North America (60.3%)
Europe (ex-UK) (13.7%)
Emerging Markets (11.5%)
United Kingdom (11.2%)
Asia Pacific (ex-Japan) (3.1%)