FSA's Fund Awards are based on data from FE Fundinfo, which applies the filters of alpha, volatility and consistency of performance over three years to narrow down the universe of funds in Hong Kong (1,292 eligible funds) and Singapore (2,932 eligible funds).
In Hong Kong, funds have to be registered for retail sale to be eligible. In Singapore, funds with "accredited investor" status are eligible. Eligible funds include only actively managed funds (ETFs, passive/tracking funds are excluded) and should have at least a three-year track record.
The shortlists are then given to independent judges from Asia's fund selector community in Hong Kong and in Singapore.
The judges' selections from the shortlists will determine two winners in each category (Platinum and Gold).
Asia's fund selector judges are now voting from the shortlists, which you can access to have a look at the competition in each asset class.
In both Hong Kong and Singapore, the awards have 14 categories.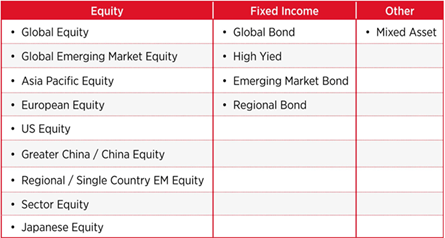 To see the full list of funds that are running in Hong Kong, click here.
To see the full list of funds that are running in Singapore, click here.