Investors should look towards the US as they search out companies that are able to withstand the impact of high inflation and higher interest rates, according to George Dent, fund manager at BNY Mellon Investment Management.
To weather the current macro environment, Dent favours businesses that demonstrate resilient growth regardless of market environment, are highly cash-generative, are highly profitable, have strong balance sheets and have a defensible market position.
That has led Dent to overweigh US companies ever since the global financial crisis in 2008.
"The US market tends to be the home to a lot of companies that display many of those traits. The market was sold off indiscriminately post-global financial crisis so many of the businesses that we've been watching for a long time looked quite attractive," he said.
The US is also home to a lot of growth industries that are well represented in Dent's portfoilio such as healthcare and technology.
"Within the technology sector, obviously there are lots of companies in the US that are very exciting but don't meet our criteria because they are at an early stage of growth," he said.
"But there are also lots of technology companies that are dominant, well established, cash generative and they can benefit from structural tailwinds with the advancement of technologies."
Nevertheless, Dent said he has noticed that some US companies, especially tech names, were overvalued during the past two years and that is what he and his team are watching closely.
Despite the fact that some fast-growing tech companies in the US were undoubtedly caught up in the growth-to-value rotation last year, with careful stock selection and avoiding some of the most expensive names, investors can still identify companies that can outperform the sector average, he said.
"We feel very confident that US tech companies will deliver the growth we're looking for. We always need to be mindful of valuations but we don't feel that there's the same potential for headwinds that there was a year and a half ago when we were quite worried about valuations."
BNY Mellon Long-Term Global Equity Fund vs Sector average vs MSCI World index average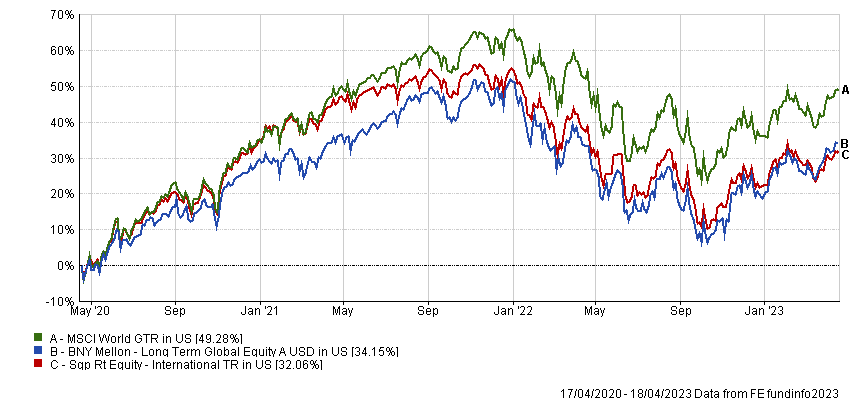 Dent manages the BNY Mellon Long-Term Global Equity Fund, which was initially launched in April 2008.
The $1.38bn fund posted a cumulative three-year return of 34.15%, compared with the MSCI World index average of 49.28% and the international equity sector average of 32.06%.