BEA Union Investment has filed applications with the China Securities Regulatory Commission (CSRC) to sell two fixed income funds via the Hong Kong-China Mutual Recognition of Funds (MRF) scheme, according to the regulator's records.
They are the Asian Strategic Bond Fund and the China High Yield Income Fund. The firm already offers two other funds via the MRF, which are the Asian Bond and Currency Fund and the Asia Pacific Multi Income Fund, according to Rex Lo, managing director of business development.
Lo told FSA that the firm chose two funds to "bridge the product gap" it sees in terms of Asian fixed income offerings in the mainland.
The applications come at a time when northbound funds (Hong Kong-domiciled funds sold in the mainland via the MRF scheme) have seen outflows for seven consecutive months as of end-November last year, according to the latest data from China's State Administration of Foreign Exchange (SAFE).
"Although we are seeing outflows in the previous months, we stay positive on the economic recovery in China. We believe its GDP growth will record positive for 2020 and 2021 that the market looks promising for us to extend our market share and deepen investors' wallet.
"Under the low interest rate environment, we believe funds offering a yield premium are fulfilling the needs of yield hunting investors. For example, the Asian Strategic Bond Fund offers 5% per annum while China High Yield Fund offers 7.8% per annum dividend yield on average for the past three years," Lo added.
When approved, Tianhong Asset Management will act as the distribution partner.
The Asian Strategic Bond Fund versus its category average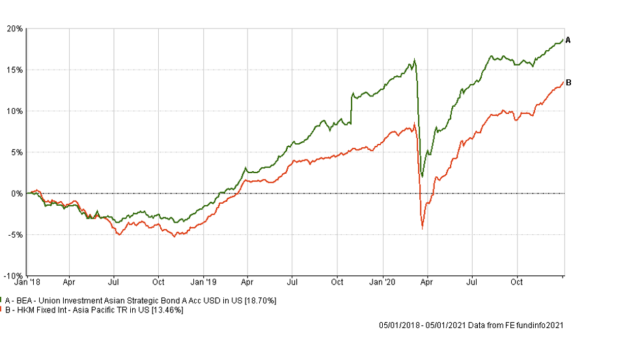 The China High Yield Income Fund versus its category average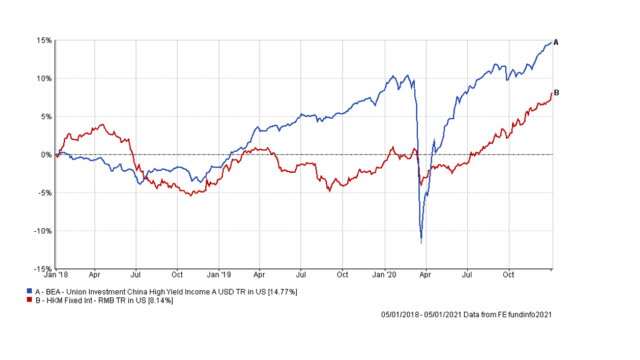 Other MRF funds
Separately, Fuzhou-based China Industrial Securities International Asset Management's China Core Asset Fund is also waiting for CSRC's approval to be sold to mainland investors, according to CSRC records.
The HK regulator's record shows that the fund is the firm's only SFC-authorised product which was approved in June 2019.
The firm has received three licenses from the SFC, including advising on securities (type 4) and asset management (type 9) in 2012 as well as advising on futures contracts (type 5) in 2013, SFC records show.
FSA sought more information from the firm, but it was unable to provide more details in time for publication.
In total, there are around 23 northbound funds managed by 12 managers, according to data from the CSRC.
Six of them were approved last year, which include products managed by Amundi, JP Morgan Asset Management, Pictet Asset Management and HSBC Global Asset Management.
Seven other funds are still awaiting regulatory approval, which include funds managed by Gao Teng Global Asset Management, China Asset Management, Fidelity, E Fund Management, Income Partners and BOCHK Asset Management, CSRC records show.