Investor sentiment in Asia remained optimistic in the final quarter of 2021, as fund selectors continued to reduce cash levels, according to research by Bonhill Intelligence, part of Bonhill Group who are the owners of FSA.
"A good deal of buying appetite exists this quarter, with plenty of asset classes sitting in the green," said the quarterly report.
European equites were the most popular, "with not a seller in sight". Private equities were a close second, again with not a single respondent to the report's survey intending to reduce its allocation.
Bonhill Intelligence identifies 250 leading fund selectors, portfolio constructors and asset allocators in Hong Kong, Singapore, Thailand and Malaysia. Each of them is directly involved at a senior level with the decision-making process that ends up with a third-party fund being bought. They are asked whether their intentions for a range of asset classes during the following 12 months
Among other equity markets, Japan was popular, while appetite for the US waned for the first time in 2021, as many investors switched from buy to hold.
In contrast, there was strong demand for alternatives and absolute return products.
There were only two asset classes with strong net negative numbers, and indeed they were unpopular with fund selectors throughout the year. Developed market government and corporate bonds found few supporters, and there was also a sharp decline in the number of buyers of local currency Asian.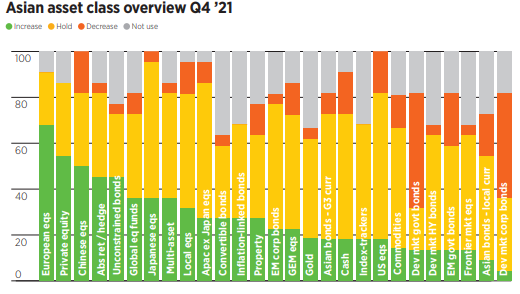 Pan-regional differences
Overall, Hong Kong investors are more optimistic than those in Singapore and Thailand, according to the report. Chinese equities take the top spot in the territory, while European equities are favoured in Singapore and Thailand. Hong Kong also evinced more buying appetite for alternatives.
Meanwhile, developed market fixed income is unloved in Hong Kong and Singapore. Investors prefer inflation-linked bonds in the former and Asia bonds denominated in G3 currencies in the latter.
Curiously, Thailand investors buck a worldwide trend of aversion to developed market government bonds, with more than one-third of respondents actually planning to buy them during the next 12 months.