We are in an "everything bubble" suggested Spy to a wealth manager in Hong Kong this week over a very sober cup of green tea. "Almost, but that is not quite true," replied the HNWI advisor. "Look at gold, it has barely moved this year when everything else has soared. Bitcoin seems to have taken some of gold's shine, but this won't last. If you are looking for the one cheapish thing out there, you could do a lot worse than pop a few gold bars in your vault, so to speak", he sagely advised.
News reaches Spy that Oreana Portfolio Advisory Service (OPAS) has added Luke Mackintosh as a senior business development manager. OPAS is part of Oreana Financial, the Australian-Asian wealth manager which advises on more than $7bn of assets in the region. PAS offers a range of services including managed accounts and portfolio construction services. PAS's chief investment officer is well known Hong Kong commentator, Dr Isaac Poole. Spy understands Luke's role is largely focused on Australia for now.
If the job notification is anything to go by, Spy will soon be reporting on a new hire at Citi Private Bank in Hong Kong. The bank is currently hiring a vice president of hedge fund product management. It has not gone unnoticed by Spy that hedge funds, which have been bottom of the list for wealth managers in recent years, have been steadily climbing back up into favour, as 2020 Covid volatility has allowed exotic strategies to produce alpha again after a long period of dull or even under performance in general.
British FTSE 100-listed wealth manager, St James Place, has had a great first quarter. The firm, with offices in Hong Kong and Singapore, added $2.9bn of inflows in the last three months and now has £135bn ($188bn) in AUM. Almost uniquely among wealth managers, SJP keeps an extraordinarily tight control on the few funds it offers clients. As its asset base grows larger and larger, Spy wonders whether it is sustainable to have so much money concentrated in so few vehicles?
Spy could not but help think of a very old Monty Python skit this Friday morning: The Lumberjack Song. The price of good old lumber is up an astonishing 530% since last March as the world goes on a house building spree. There was a time that only specialist commodities traders could help you benefit from that kind of rally, but these days, there's an ETF for that, of course. Invesco has its MSCI Global Timber ETF with the delightful ticker, CUT. The fund itself has nearly doubled in the last year.
Jamie Dimon, the CEO of J.P. Morgan is getting cabin fever it seems. The outspoken, and long-serving boss, wants people to stop Zooming and zoom back to the office instead. He told a virtual Wall Street Journal conference, "I'm done with it", telling people that he had a recent in-person meeting in California that left him "brimming with ideas". Spy will be the very first to agree. No matter how cool the tech is, there is absolutely no substitute for seeing someone face-to-face to get ideas bubbling out. People in Australia seem to have taken note. Spy hears that Qantas's Business Lounges are running at 75% capacity.
This is getting truly silly now. The Dogecoin crypto which has rallied hard in the last few weeks now has a "market cap" of $87bn. This joke coin which has absolutely no utility is being bought like a special edition KitKat in a Japanese department store – with alacrity. Stalwart blue-chip companies such as Mondelez, Dow Chemical, Newmont Mining and Marriot International, and, in total, 406 S&P 500 companies, are worth less than this silly, unlimited token. Spy can't say the exact day this coin will crash, but he is utterly convinced that one day it will and a huge amount of money smiles are going to be wiped off some very smug faces. Perhaps Coinbase tells the story. Its last funding round valued the exchange at $100bn. Since its market listing it has halved in value. Buy the hype, sell the, erh, IPO?
While the market has behaved with a certain euphoria in the last few months, taking a much closer look, Spy detects signs of things rolling over, and quickly. Those equity managers who found every reason in the book to add tech into their portfolios (usually on ESG grounds) may be beginning to wonder if the party is, in fact, over. Look at the following stocks now trading below their 52-week highs. Investors are clearly beginning to doubt that Richard Branson of Virgin fameis going to be ferrying space travellers for an interstellar sightseeing tour any time soon. Cathie Wood of ARK fame, must be have a few niggling doubts at night.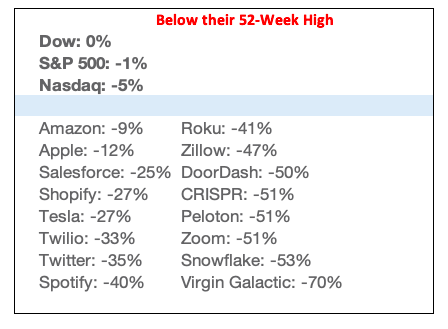 With a sudden cooling of EU-China ties and doubts on the recently inked investment deal being approved by the European parliament, asset managers operating in the region must be awfully grateful China has already opened up its local market to foreign investment managers. Spy strongly suspects the EU is going to um and ah for a few years on the deal, which took seven years of negotiating in the first place. Meanwhile, companies will just do what they always do – and get on with it
Quip of the week: "Don't ever let someone tell you that you can't do something. For example, my friends said there was absolutely no way I could lose all my money trading risky stocks. But I sure showed them."
Until next week..