When is a VTL not a VTL, ponders Spy? Singaporean industry colleagues are joking this week that the Lion City's Vaccinated Travel Lane is really "Very Tu Lan". For those who don't speak the local lingo, 'tu lan' is a rather rude expletive meaning very annoyed (or much worse). Just when Singaporeans thought they could travel rather freely again, Omicron is reducing Singapore's freedoms rather quickly, all over again. All Spy can say is that at least Singapore has had a few months of travel freedom while Hong Kong remains the world's biggest open-air luxury prison…At least craft beer is still on sale.
If you are like Spy and are still trying to get your head around non-fungible tokens (NFTs), wondering if they have any value whatsoever but are worried about a bit of FOMO, Spy may just have a solution for you. Defiance ETFs have announced this week that they have just launched a new fund, Defiance Digital Revolution ETF, that invests in the entire NFT ecosystem. Therefore, one gets some blockchain, a few marketplace companies, a whole raft of NFT tech, but, crucially, the fund does not invest in any NFTs itself. This is the old "invest in the plumbing and infrastructure play" without having to bet on which NFTs may win the lottery ticket. Spy has heard of everything from popular magazine covers to prison badge numbers being sold as NFTs – which sounds about as bonkers as you like. "In October, all time NFT trading volume surpassed $15bn," says ebullient Sylvia Jablonski, co-founder and chief investment officer of Defiance ETFs. "NFTs could be bigger than the internet." Well, maybe, says Spy.
Research companies love a far-out prediction. They grab headlines now with very little accountability. This week Spy smiled at the report out by Broadridge, suggesting that by 2030 ESG assets held by fund managers will have swollen to a whopping $30trn. The respected research group may well be right, especially if one can hardly invest in anything else without being shunned for dinner party invitations or shamed by activists. With the relentless push for change in markets, who knows, this might even be an underestimate?
When are alternatives, not that alternative? Moody's reported this week that alts have had a record-breaking year of raising money. The industry's fundraising has been a bonanza, pulling in more than $1.1trn in 2021. This cash includes investments in private equity, real estate, infrastructure, private debt and natural resources. The total assets under management in alternatives now exceeds $9trn, according to the firm. Yes, it is still smaller than the mainstream asset classes, but with so much cash heading its way, does this even feel different, wonders Spy? Alternative alternatives, anyone?
Talking of alts, the China Securities Regulatory Commission has just approved a new pilot scheme for venture capital and private equity investors to trade their stakes at the Shanghai Equity Exchange to qualified investors. Beijing already has a test venue of its own, so this will be the second venue in China for VCs and PE to trade their stakes before IPOs or formal investment sales. According to data from the Asset Management Association of China, at the end of October 2021, China had 30,432 PE funds managing Rmb10.5trn ($1.6trn), and 13,525 VC funds managing Rmb2.2trn.
Lombard Odier Investment Managers (LOIM) is hiring for a new sales, or senior sales, manager in Singapore, hears Spy. The Swiss asset manager is currently hunting for people who can help expand its wholesale, private bank and partnerships team, covering the usual beat of Hong Kong, Singapore and Thailand. Alongside the typical requirements for enthusiasm, existing relationships, etc, LOIM, apparently, prefers CFA charter holders. So, anyone who has specialised in more exotic skills such as underwater calligraphy, need not necessarily apply.
Will Alibaba's pain ever stop? The shares have been on an almost relentless downward trend for about three years. Falling more this morning, at the time of writing. Alibaba shares are now the cheapest ever as a public company as the China big tech crackdown reduces enthusiasm for the former darling. The firm has lost more than $530bn in value, and the stock now trades at a PE multiple of just 18.04. That's the lowest since its 2014 debut, and the widest discount to the Nasdaq 100 average multiple on record. So many Asia funds have backed Alibaba over the last seven years, there must be a lot of pain out there.
What does the Microsoft CEO know that we don't? This week it was revealed that Satya Nadella, took some profits off the table. "Some" might be an understatement. Nadella sold just over half his stake in the business raising $285m around the time that Microsoft reached its all-time high. The chap probably deserves a little reward, as Microsoft's shares have risen 800% since he became the CEO in 2014. Still, if the boss is selling that much, it might give the rest of the company's investors a little pause for thought.
If you have colleague who has been tediously boasting, with much smugness, about her shiny Peloton bike, you might get the last laugh if she also bought Peloton's shares alongside. The shares are now down 72% from their high, which incidentally, probably mirrors how well most people do with their home exercise plans over a twelve month period.
A nice big round number: 29,000,000,000,000. That was the total US debt this week. Spy compared America and China's debt and America is still winning this disastrous race, hands down. China is a real laggard with only $8.25trn, but in all fairness has been on quite a tear itself…

Having seen some rather shiny adverts for asset managers with glossy images of late, Spy was rather taken with this old fashioned and deeply conservative ad for LGT Private Bank. In a world of Robinhood, crypto and meme stocks, this felt utterly reassuring.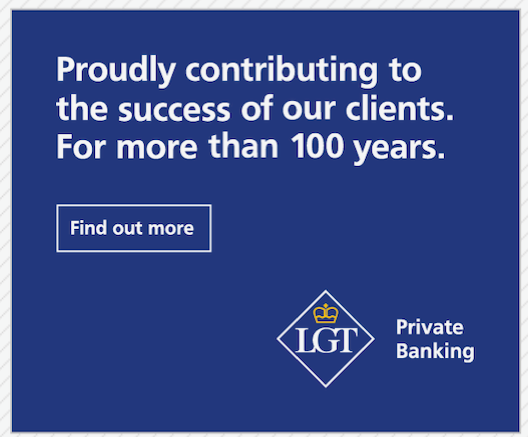 Until next week…