Spy was a guest at an American friend's Thanksgiving dinner last night. Thankfully the pumpkin pie was kept to a minimum and the Napa Valley wines were offered to the maximum. The joyful annual tradition of gathering to reflect on things to be grateful for was dominated by only one thing: when will we all be able to travel freely? The news this morning from Shenzhen that Hong Kong and China are a step closer to open borders is a plus but, surely, quarantine-free flights to the US, the rest of Asia, Australia and Europe would make the good citizens of Hong Kong give thanks more than any other factor. For the moment, we all wait in vain.
Spy and the rest of world can't wake up these days without hearing about electric vehicles. While consumers get excited about their battery-powered cars and rather smugly look at the soaring price of oil, most don't stop to think where that fancy EV battery comes from. Lithium carbonate, a key component of EVs batteries has gone bananas and hit an all-time high this week of $31,238 per tonne. Prices are three and half times higher than twelve months ago. For investors who want to get in on the lithium action, there is, of course, an ETF for that. Mirae's Global X Lithium & Battery Tech ETF is up more than 50% since the start of the year and has the significant advantage that it does not invest in EV start-ups that have no revenue…
The general sentiment towards pure active asset managers has been rather weak for a number of years now, as passives have grown in dominance. Clearly not everybody thinks the party is over. In London a bidding battle has broken out for River and Mercantile, a £47bn AUM, active manager. AssetCo, chaired by former Abrdn (Aberdeen Standard) CEO, Martin Gilbert is competing with Premier Miton to acquire the listed asset management business. Other bidders may well emerge as the race hots up. River and Mercantile's fund range largely focuses on active equities, including small caps – a rather unloved sector. Spy, for one, cheers the enthusiasm; it seems delightfully contrarian.
If you are looking forward to 2021 being behind us, Spy has good news. Private banks are already issuing their crystal ball views into what 2022 holds. UBS is remarkably bullish. The Swiss bank is particularly enthusiastic on India, expecting GDP to be a whopping 7.7%. Surprisingly, to Spy, the bank seems remarkably sanguine about inflation and echoes the great and the good at central banks with the "transitory" theme, expecting supply chain woes to calm down. Their strategy team, writes, "Looking longer-term, we see opportunity in disruptive technologies—artificial intelligence (AI), big data, and cybersecurity—and in investments related to the net-zero carbon transition." Spy can't help but feel a sense of déjà vu, since that feels awfully similar to the 2021 predictions…
Are we in a bubble? Investors sure love equities at the moment. So much so, that they invested more money in equities in the last 12 months than they did in the last 19 years combined. The money is flowing like punch at New Year's Eve party.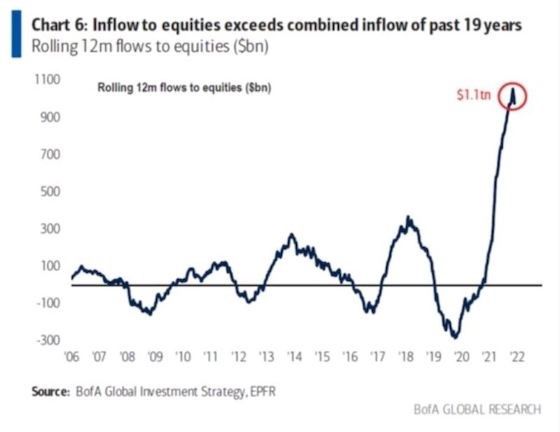 In his very long and illustrious career, Jamie Dimon, the leonine CEO of J.P. Morgan Chase, seems to have made very few public missteps. His negative views about bitcoin may well be thrown back at him from time to time, but he will lose little sleep over that. However, this week's poorly considered joke about JP Morgan outlasting the Chinese Communist Party, may well come with far more regrets. The immediate apologies and grovelling seems to have placated the Party for now with no immediate repercussions, but Spy can only imagine what the PR team has gone through. Jack Ma's few years in the wilderness are a stark reminder that nobody is too big to be shown their proper place.
As one wanders through the aisles of Park 'n Shop or Cold Storage this weekend, looking at the raging price increases of the food we all need to buy, perhaps one can consider these not at all placating words from Fed Chairman, Jerome Powell. "We will not raise interest rates pre-emptively because we fear the possible onset of inflation. We will wait for evidence of actual inflation or other imbalances." In the US, home prices are up 20% in the last year, import prices up 11% and CPI up 6%. Inflation, what inflation?
Spy's quote of the week, "If you don't decide how to spend your money, someone else will, after you are gone." Spy has seen so much promotion in the private banking world about "multi-generational wealth preservation" in the last 20 years, always as if it is an unalloyed Good – with a capital G. Spy can't help but wonder if those snotty spoilt grandkids wouldn't be better off being made to work for a living. Heresy!
Spy's photographers have been scouring the retail scene for new adverts. UOB is out this week with its new Green Asia Pacific REIT ETF. Spy rather likes the "topiaried" building artwork.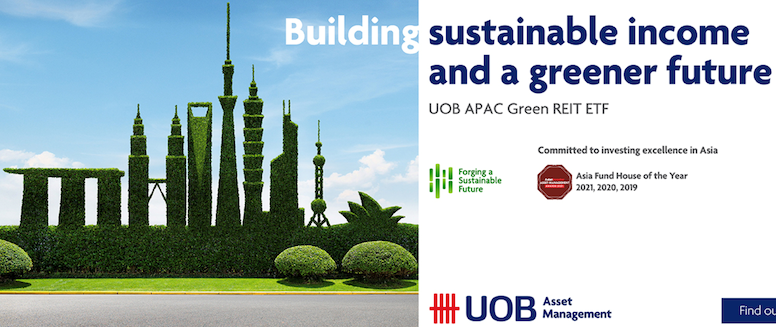 Until next week..