"Save me from the insta-expert", lamented an Asian equity portfolio manager to Spy this week over a very satisfying bottle of correctly chilled Montrachet. "Social media, especially LinkedIn, has allowed people with a bag-of-fag packet knowledge to spout off on any subject as if they have PhDs in the subject." The investment world has always been peppered with dubious sources of opinion, bereft of fact or nuance, but in the TikTok age discernment is even more difficult than before, reckons Spy. "There is only one tried and true method of investing in Asia," the manager continued, "get off your bum and visit the companies and markets in question. Forget the macro, go and see how the firms are actually doing, speak to their customers and ignore the noise." Ain't that the truth.
News reaches Spy that Kenneth Yeo, the former CEO of CreditEase, has joined JP Morgan Private Bank. Kenneth is now the ultra-high-net-worth team lead for southeast Asia. Kenneth has held a previous role at HSBC, where he was the regional head of investment services and product solutions and also the CEO role at Aurous Capital. Kenneth will remain based in Singapore.
Spy has always been a sucker for a decent ticker. He spotted a new exchange traded note that caught his eye this week. MicroSectors has launched a gold-linked triple leveraged inverse ETN with the ticker DULL. Spy can only agree it would be very dull for gold investors if the market was plunging to make this note worth having. Investors who have bought this investment might be crying in their milk as gold continues to have a powerful run, reaching $2,046 an ounce at the time of writing. Luckily, MicroSectors has a triple leveraged note for the bulls, too – that ticker is SHNY. Far more fun.
It seems that after talking nicely for a year or two, the powers that be are getting fed up with people working from home. JP Morgan, the global banking giant, was first out the blocks this week to say to senior bankers it wants them back in the office five days a week. It also went a step further and implied that promotion and bonuses will be tied to office attendance. Is the great 'Work From Home' experiment drawing to a close in banking, wonders Spy? Apparently, the number of job openings across America that allow for "fully flexible remote working" are tumbling. What is the old saying? "If you want a man to follow, speak to his heart. If you want a man to obey, speak to his wallet."
LVMH, the French luxury goods firm, is having a mixed week. On the plus side, its shares have reached an all-time high, making the Louis Vuitton handbag maker worth more than $500bn. This took place the same week that disgruntled French workers stormed the LVMH corporate headquarters in Paris in objection to President Macron's decision to raise the French retirement age. The company, which is more used to hordes of shoppers queuing politely for its handbags in Central, might find that a nice red cordon and carpet may not be enough to control the disgruntled crowd. The rise in LVMH's share price has made its largest shareholder, Bernard Arnault, the world's richest man which a fortune above $210bn.
Talking of rich men, Elon Musk has announced that Twitter is going to allow stock trading directly from the social media platform in conjunction with eToro. For all those meme investors and 'genius' day traders this might be a godsend. Research by Twitter has, after all, always been a winning investment strategy… Spy feels this does nothing to dissuade one that the American markets are, for some people, nothing more than a giant casino.
Are you looking for an absolutely reliable indicator that markets are going to rally? Watch CNBC. No, seriously. CNBC has a special feature it calls, "Markets in Turmoil". They roll this out every time we get some above average volatility. Going all the way back to June 2010, whenever the financial news network runs this excitable feature, the one-year return thereafter has been positive. It has a 100% reliability and the startling thing is that the average 1-year return after this feature is run on CNBC is a healthy 40%. Thanks to Charlie Bilello for the chart.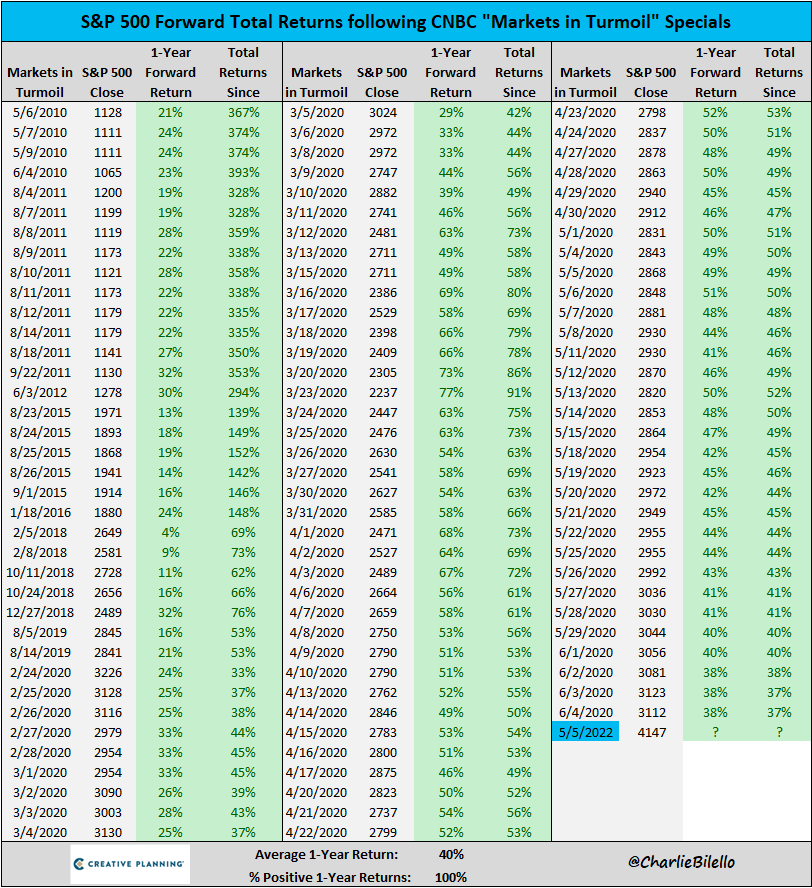 The markets may be rallying because of the perception that interest rates are very close to peaking. Spy was interested to see what is happening in the real world. Bankruptcies and delinquencies are rising across the globe. In the US, the number has reached the highest since 2010. Not exactly the rosiest picture Spy has even seen. Then again, so many of these firms gorged on cheap debt to fund unsustainable business models. Are we really surprised?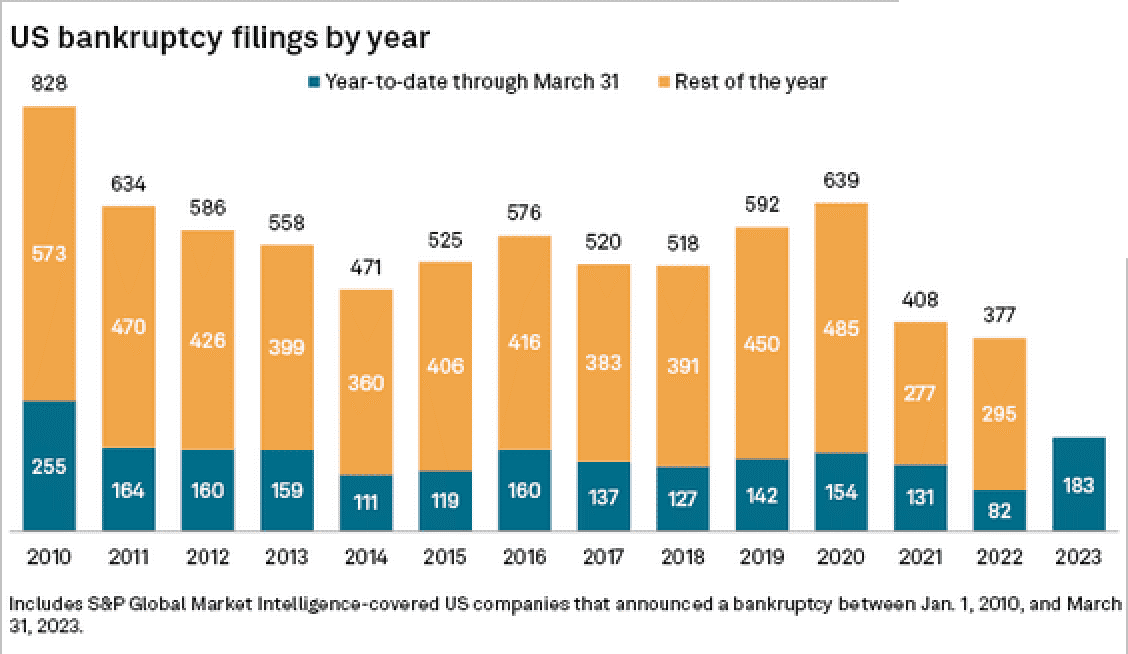 Spy's quote of the week comes from, Jeff Randall: "Don't buy shares in companies whose chairmen can play golf consistently below their handicap. Either they are playing too much, or they cheat."
One of Spy's trusty photographers spotted this new advert in the MTR in Hong Kong. Schroders is promoting two of its funds: the Asian Asset Income Fund and the China Asset Income Fund. The eagle-eyed will notice a Fund Selector Asia award on the imagery.

Until next week…