Speaker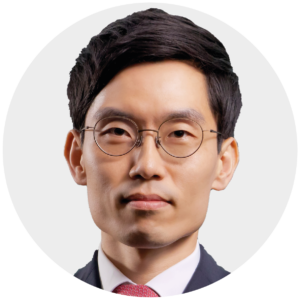 Phil S. Lee
Portfolio Manager and Head of APAC Research, Mirae Asset Global Investments (Hong Kong) Limited
Phil is the lead portfolio manager of the Mirae Asset Asia Growth Fund, which has obtained a 5-star Morningstar rating*.
He also heads the research team for Asia-Pacific, leading analysts to identify and evaluate investment opportunities.
http://investments.miraeasset.com.hk/docs/PM_Story_Phil.pdf
Company Profile

Mirae Asset Global Investments Co. Ltd ("Mirae Asset") is an asset management organization with over $190 billion in assets under management as of December 2020. The organization provides a diverse range of investment products, including mutual funds, exchange-traded funds and alternatives. Operating out of 15 offices in 12 countries and over 40 countries with clients, Mirae Asset has a global team of more than 990 employees, including more than 200 investment professionals.
Find out more: https://www.am.miraeasset.com.hk
VIRTUAL EVENT
Watch the Spotlight On: Equities panel discussion – Now available on-demand
This page is intended for Hong Kong investors only. This website is strictly for informational purposes only and does not constitute a representation that any investment strategy is suitable you. Investors should not base on this page alone to make investment decision. Please refer to the Hong Kong offering documents for details including the product features and the risk factors. Investment involves risks. There is no guarantee of the repayment of principal. Investor should note:

• Mirae Asset Asia Growth Equity Fund ("the Fund") investing primarily in equities and equity related securities of Asia ex-Japan companies which have strong prospects for future growth from the view of the Principal Investment Manager.
• The Sub-Fund invests in emerging markets such as India and China which may involve higher risk and special considerations not typically associated with investment in more developed markets, such as liquidity risks, currency risks/control, political and economic uncertainties, legal and taxation risks, settlement risks, custody risk and the likelihood of a high degree of volatility.
• Since the Sub-Fund invests mainly in countries of Asia (ex Japan), its investment is not as diversified as global funds. The Sub-Fund tends to be more volatile than global funds and its portfolio value can be exposed to region specific risks.
• The stock of small-capitalisation / mid-capitalisation companies may have lower liquidity and their prices are more volatile to adverse economic developments than those of larger capitalisation companies in general.
• The expected maximum level of leverage arising from the use of financial derivative instruments calculated using the commitment approach is 100% of the sub-fund's NAV.
Strategy presentation
Phil Lee, Portfolio Manager and Head of Asia Pacific Research, provides an overview of the Asia Growth Equity Fund and investment themes across the region.
Fund profile
The Fund which has received a 5-star rating from Morningstar*, specialises in identifying growth companies that are set to be the next global leaders. The manager believes that Asia's market has abundant opportunities for growth-style investments.
The rationale is simple but compelling; the human capital pool in Asia is ample and rapidly improving thus will be a catalyst in increasing Asian corporate companies' ability to attain global competitiveness. This is expected to occur in most global industries from solar module, Electric Vehicle battery to chip foundries.
Companies that efficiently utilise the vast high-quality human resource in Asia will have higher chances to emerge as the next global champions. The manager specialises in identifying these companies at their early stages of growth.
*Share Class I USD. Source: Morningstar, as of Jan 2021.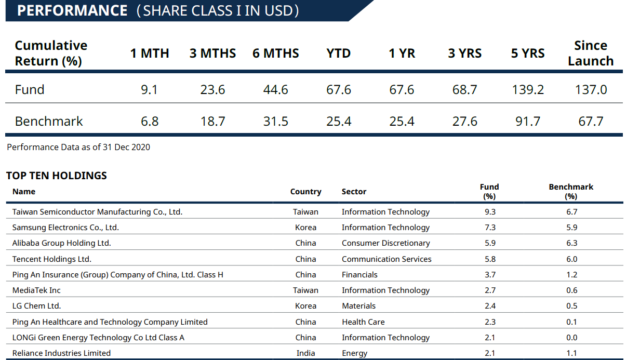 Sales Contacts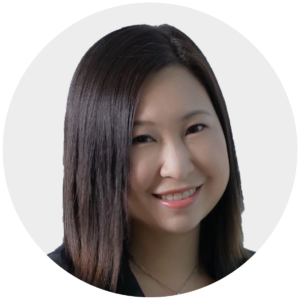 Vera Lau
Sales Director, Asia, Mirae Asset Global Investments (Hong Kong) Limited
E: Email
Disclaimer: Source: FactSet, Bloomberg and Mirae Asset data as of 31 December 2020. All performance numbers are net of fees, NAV to NAV, in USD, and with dividends reinvested. Fund: The fund inception date was on 6 August 2014 whilst Class I (USD) was launched on 6 August 2014. The fund performance information is based on Class I which is for professional or qualified investors only. The returns may not be the same as Class A which is for retail investors. Benchmark: MSCI AC Asia ex Japan Index. The benchmark is a gross return index that includes reinvestment of dividends/income. Minimum performance information of Mirae Asset Asia Growth Equity Fund (Class I in USD) 2016:-12.8%; 2017: 62.6%; 2018: -21.4%; 2019: 28.0%; 2020: 67.6%. Please note that representative classes of Mirae Asset Asia Growth Equity Funds for retail investors are class A. However, a certain class has been launched for a short period or not launched yet, that there may not be sufficient data for the representative class. Class I's performance figures illustrated herein are for reference only and could differ from Class A. For further details, please refer to the Product Key Fact Statement.
This page is intended for Hong Kong investors only. This page is provided for information and illustrative purposes and is intended for your use only. It is not a solicitation, offer or recommendation to buy or sell any security or other financial instrument. The information contained on this page has been provided as a general market commentary only and does not constitute any form of regulated financial advice, legal, tax or other regulated service.
The views and information discussed or referred on this page are as of the date of publication. Certain of the statements contained on this page are statements of future expectations and other forward-looking statements.
Investment involves risk. Past performance is not indicative of future performance. It cannot be guaranteed that the performance of the Fund will generate a return and there may be circumstances where no return is generated or the amount invested is lost. It may not be suitable for persons unfamiliar with the underlying securities or who are unwilling or unable to bear the risk of loss and ownership of such investment. Before making any investment decision, investors should read the Prospectus for details and the risk factors. Investors should ensure they fully understand the risks associated with the Fund and should also consider their own investment objective and risk tolerance level. Investors are advised to seek independent professional advice before making any investment.
Information and opinions presented on this page have been obtained or derived from sources which in the opinion of Mirae Asset Global Investments (HK) Limited ("MAGIHK") are reliable, but we make no representation as to their accuracy or completeness. We accept no liability for a loss arising from the use of this page.
Products, services and information may not be available in your jurisdiction and may be offered by affiliates, subsidiaries and/or distributors of MAGIHK as stipulated by local laws and regulations. Please consult with your professional adviser for further information on the availability of products and services within your jurisdiction.
This page is prepared by Mirae Asset Global Investments (Hong Kong) Limited and has not been reviewed by the Hong Kong Securities and Futures Commission or other regulator in your jurisdiction.
Morningstar, Inc. All rights reserved. The information contained herein: (1) is proprietary to Morningstar and/or its content providers; (2) may not be copied or distributed; and (3) is not warranted to be accurate, complete or timely. Neither Morningstar nor its content providers are responsible for any damages or losses arising from any use of this information. Past performance is no guarantee of future results.
No part of this publication may be reproduced in any form, or referred to in any other publication, without express written permission of MAGI HK. Copyright 2021. All rights reserved.