Speaker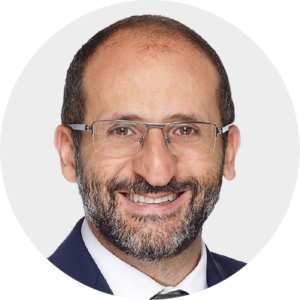 Charles Hamieh
Managing director and portfolio manager, ClearBridge Investments
Charles co-manages all global infrastructure strategies. He has 25 years of investment industry experience.
Charles joined a predecessor organization in 2010. Previously, he was director and senior analyst, global infrastructure securities, at AMP Capital as well as director, infrastructure securities at Hastings Fund Management. He was also head of listed infrastructure at Challenger Financial Services Group, a portfolio manager at AMP Capital Investors and an analyst and strategist at HSBC Australia.
Charles earned a Bachelor of Economics from the University of Western Sydney.
Company profile

Franklin Templeton's mission is to help clients achieve better outcomes through investment management expertise, wealth management and technology solutions. Through its specialist investment managers, the company brings extensive capabilities in equity, fixed income, alternatives and custom multi-asset solutions. With employees in over 30 countries, including 1,300 investment professionals, the California-based company has more than 70 years of investment experience and approximately $1.58 trillion in assets under management as of December 31, 2021.
Find out more:
HK:
www.franklintempleton.com.hk/en/income
NEXT LIVE EVENT
Register now for the Spotlight On: Income LIVE event – 22 June 2022
Strategy presentation
More than just a source of income and inflation hedge, listed infrastructure is set to ride the decarbonisation wave as governments champion green policies. ClearBridge Investment's portfolio manager Nick Langley unpacks the structural tailwinds supporting this asset class.
Strategy profile
The strategy's goal is to provide income, comprised of dividends and interest, and to achieve long term growth of the fund's value. The strategy invests at least 80% of its assets in shares of infrastructure companies from around the world, including companies from developed and emerging market countries. It may invest up to 20% of its assets in shares of infrastructure companies from emerging market countries. The strategy invests in a number of infrastructure sectors such as gas, electricity and water utilities, toll roads, airports, rail and communications. It will usually invest in a concentrated portfolio, typically 30 to 60 companies. The strategy may invest in derivatives to help try to achieve its objective as well as to reduce risk or cost or to generate additional growth or income for the fund.
Fund Size: $255.24m
Domicile: Ireland
Data as at 30/04/2022
Top 5 holdings with maturity and weighting
| | |
| --- | --- |
| Holding | Weighting |
| Natational Grid PLC | 4.40% |
| Iberdola SA | 4.40% |
| SSE PLC | 4.34% |
| Public Service Enterprise Group Inc | 4.10% |
| Atlas Arteria Ltd | 3.91% |
Data as at 30/04/2022