Emerging market investors have reached an inflection point when it comes to value stocks and their interest is here to stay, according to Elaine Tse, portfolio manager at Allspring Global Investments.
"I'd say in 2021 that might have been a tougher question as emerging market investors historically have been more focused on growth stocks and a lot of investors looked at this as a one quarter or two quarter trade," she said.
"But if you look at how the geopolitical environment has really shifted, there's definitely greater interest in these types of strategies."
"When you talk about growth names, you're talking about companies that have to be valued on a very long tail; you're talking about discounting something from five to 10 years out to justify the types of valuations we saw prior. I think those days are behind us."
Tse is co-portfolio manager of the Emerging Markets Equity Income Fund. The fund has received three stars from Morningstar and has a quantitative rating of neutral.
The fund has maintained an underweight position in quality exposure and an overweight in yield exposure compared with category peers. Its high yield exposure is rooted in holding dividend paying or buyback stocks.
The fund originally only invested in stocks with superior dividend yields but this changed in 2016 when it began incorporating buybacks into the investment process as well, allowing them to build up stakes in Samsung Electronics and Baidu.
Morningstar notes that both Tse and the other co-portfolio manager Alison Shimada have a solid track record, although it notes that the performance of the fund has been mixed.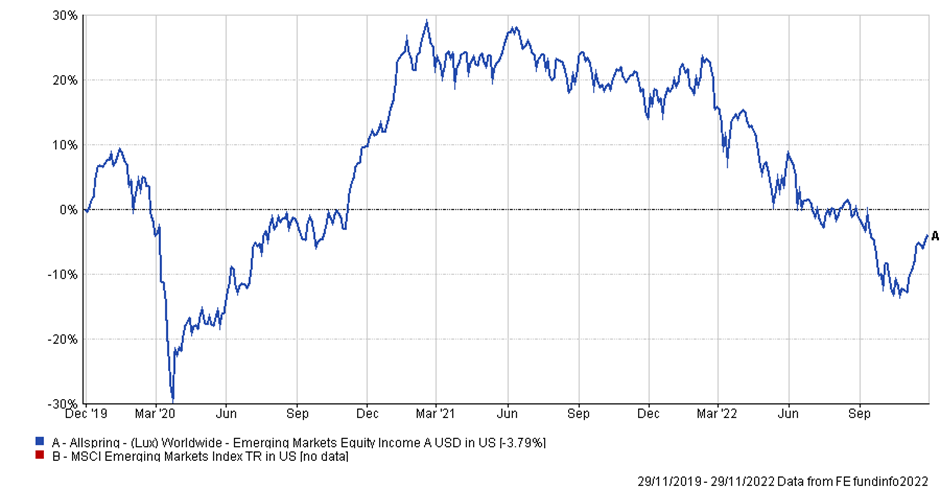 Tse acknowledges that the fund sometimes struggles during bull years where only a few stocks drive performance, although is steadfast in defence of the fund's track record.
"It has a bit of a value tilt so in very strong growth markets, where only Alibaba, Tencent, et cetera are driving strong performance of the EM [emerging markets], we do underperform but our clients are with us for the long term."
Tse is also co-portfolio manager for the China A Focus Fund, which was launched in 2009 and shifted focus in 2020 to concentrate specifically on A-shares.
That fund also has a defensive tilt and has had a stronger track record, consistently outpacing the MSCI China A Onshore index. Morningstar awards the fund four stars and a quantitative rating of bronze.
Bottoming out
2022 has been a tough year with equities and bonds falling in tandem, an anomalous event that has prompted the head of international equities and chief investment officer at one global asset manager to describe this year's performance as a once in 300-year event.
The last few weeks have been more positive however as global stocks have rallied on hopes that central banks will soon begin slowing their interest rate hikes as inflation shows signs of peaking.
Tse said that she is confident that markets have bottomed out and said that she thought that the sell-off in tech stocks last month following China's 20th Party Congress when President Xi Jinping secured an unprecedented third term represented a turning point.
"I sense that there was a bit of bottoming out following the 20th Party Congress because there was disappointment that we didn't get clarity or guidance on policies, which could support the domestic economy," she said.
"There was very little explanation then or forward guidance as to how China would eventually relax the dynamic zero-Covid policy and the markets really in October took what I would hope to be the last leg down. This month you really had some positive indications I would say on the policy front."
The biggest policy change since the 20th Party Congress has been the 16-point property relief measures, which the government officially announced last Wednesday.
The measures include allowing developers' outstanding bank loans and trust borrowings due within the next six months to be extended for a year and directing policy banks China Development Bank and the National Bank for Agriculture and Rural Development to offer special loans to ensure property projects are delivered among other things.
Tse echoes the views of most analysts that the distress over the past 18 months experienced in the Chinese property sector is manageable.
"It's unlike the situation in the US in 2008 as Chinese borrowers have the ability to pay; the savings rate has been very strong. They've just not been paying because of a lack of confidence on whether developers are going to finish construction. You're not going to see a full-blown NPL crisis in the sector," she said.
Regarding China's zero-Covid policy, Tse said that she is optimistic that the government will eventually change tack.
"The equity markets are forward looking and so I think people can really sense that the end to zero-Covid is coming sometime next year. That gives me a lot of confidence and this current juncture is probably the best time to be more constructive and adding to the asset class."