Spy had lunch this week with a very genial asset raiser who has just returned from Dubai grinning like a Cheshire Cat. He was practically toasting in Russian, as we shared a few vodka, lime and sodas. "You can't believe the amount of Russians throwing money around like it is water", he gushed to Spy. "They have always thrown their cash in the desert kingdom, but this is ridiculous. Between the exiled oligarchs and shady characters looking like arms dealers on spring break, the place was absolutely buzzing." The simple fact is that money moves very quickly from one place to another. It does not take long for it to show up elsewhere when temporarily banned from one jurisdiction.
Another week, another conversation on AI for your humble Spy. The debate is, rather healthily, raging on AI's ultimate utility: novel toy or gamechanger. Spy is grateful to Pictet Asset Management for putting out a thoughtful piece on AI. The whole thing is worth reading, here. What caught Spy's eye was this, "Whether it is CPUs or GPUs, there is growing demand for ever more advanced chips. Yet it is becoming harder to make them smaller, smarter and cheaper. Indeed, it now costs hundreds of millions of dollars to design a new leading edge chip. Ironically, AI can help to produce those new chips, through the use of electronic design automation (EDA) tools developed by companies like Synopsys and Cadence. Synopsys has launched an entire AI suite of EDA tools which have already designed over 200 new microchips." 200 hundred new chips? That puts AI firmly in the gamechanger camp. The market believes it too: the Nasdaq CTA Artificial Intelligence and Robotics Index has risen 23% year-to-date.
The most bonkers story of the week must come from Singapore, reckons Spy. Apparently, DBS has so much extra cash on deposit, it is lending money to the MAS. It is not a small amount either, $30bn. The CEO Piyush Gupta told analysts this week, the bank "is not finding enough opportunities to put the money to work." That tells Spy credit control is tightening rapidly at the bank as, previously, banks, including DBS, have been falling over each other to lend to with enthusiasm.
A little while ago Spy reported that China was tightening the registration criteria for private fund managers. How is that working out? Very well indeed. Apparently, only two firms, Juhai Venture Capital Management and Zhejiang Jintou Dingxin Private Fund Management were able to register as private fund managers in China during May. In April, a whopping 139 firms were registered. The new regulations took effect from the 1 May and have had a chilling effect on the $2.9trn sector.
As every market watcher knows, the large cap American tech market has had a resounding surge in the last few months. It bounced off its lows and gained some exciting momentum. Therefore, in the US, Big Tech remains just that: Big with that capital 'B'. Meanwhile, in China, the numbers get worse and worse. In fact, Spy is rather tempted to describe the Chinese market as Small Tech, and perhaps that capital 'S' is not even required. Look at this chart, courtesy of Holger Zschaepitz. He points out that the Nasdaq Dragon Index with Chinese stocks is still 68% below its all-time high. The Nasdaq 100, by contrast, is only 14% below. Defying the gloomsters, America continues to outperform, again.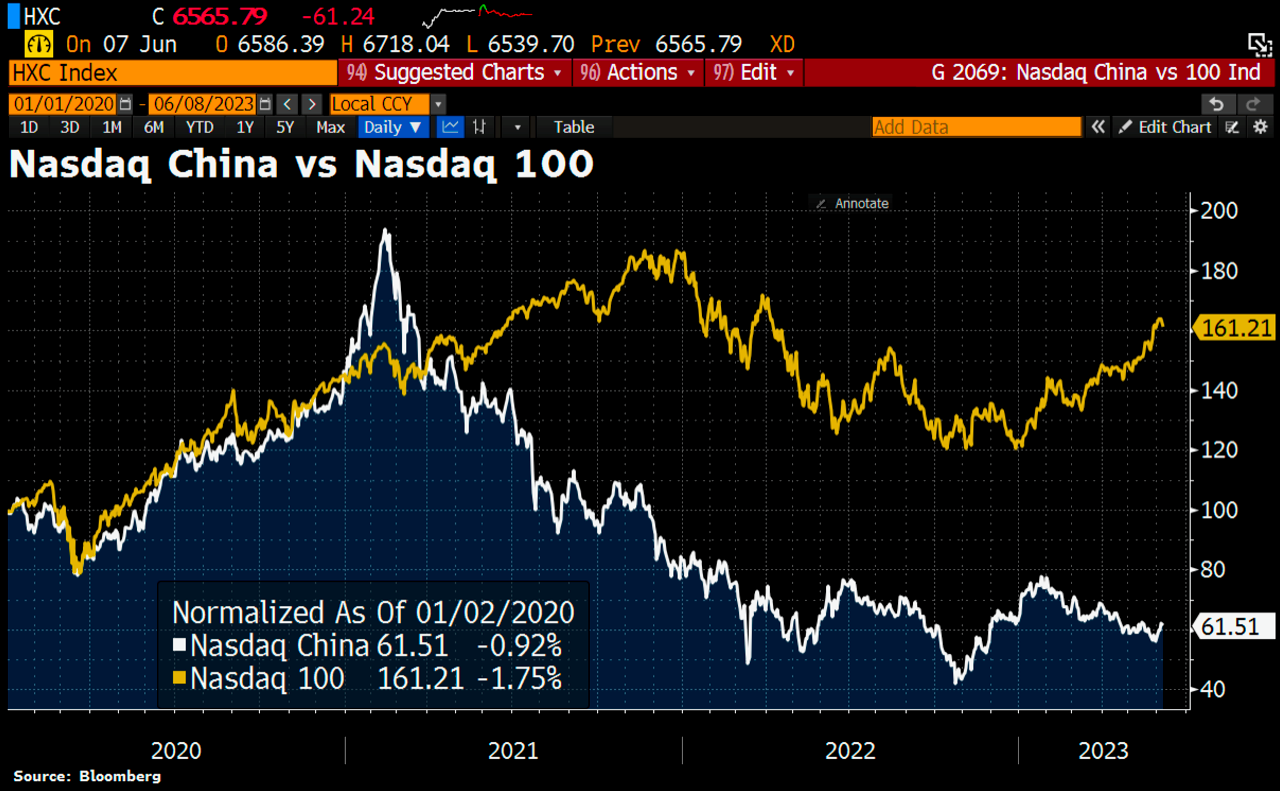 No doubt a few readers are planning their summer holidays. Some light reading recommended by Spy. Grab this classic written by Edward Chancellor: Devil Take the Hindmost. It was published a while ago but still packs a punch and is written in a very accessible style. The book traces the origins of speculative manias from Ancient Rome to the Gilded Age to the Roaring Twenties, from the nineteenth century railway mania to the crash of 1929, from junk bonds and the Japanese bubble economy to the day-traders of the Information Era. Devil tells a fascinating story of human dreams and foolishness through time. What is not too love?
If you are worried about an impending recession from hearing the chitter chatter of five hundred excitable people encouraging you to sell out and hide from the coming turmoil, perhaps some wide words of wisdom from Fidelity's legendary investor, Peter Lynch will help: "Far more money has been lost by investors preparing for corrections, or trying to anticipate corrections, than has been lost in the corrections themselves."
Spy's photographers have been out. Asset managers have several outdoor campaigns running at the moment.
First up is Capital Group. The American giant is pushing its Multi-Sector Income Fund in Singapore with a dramatic "to the power of 4" indicator.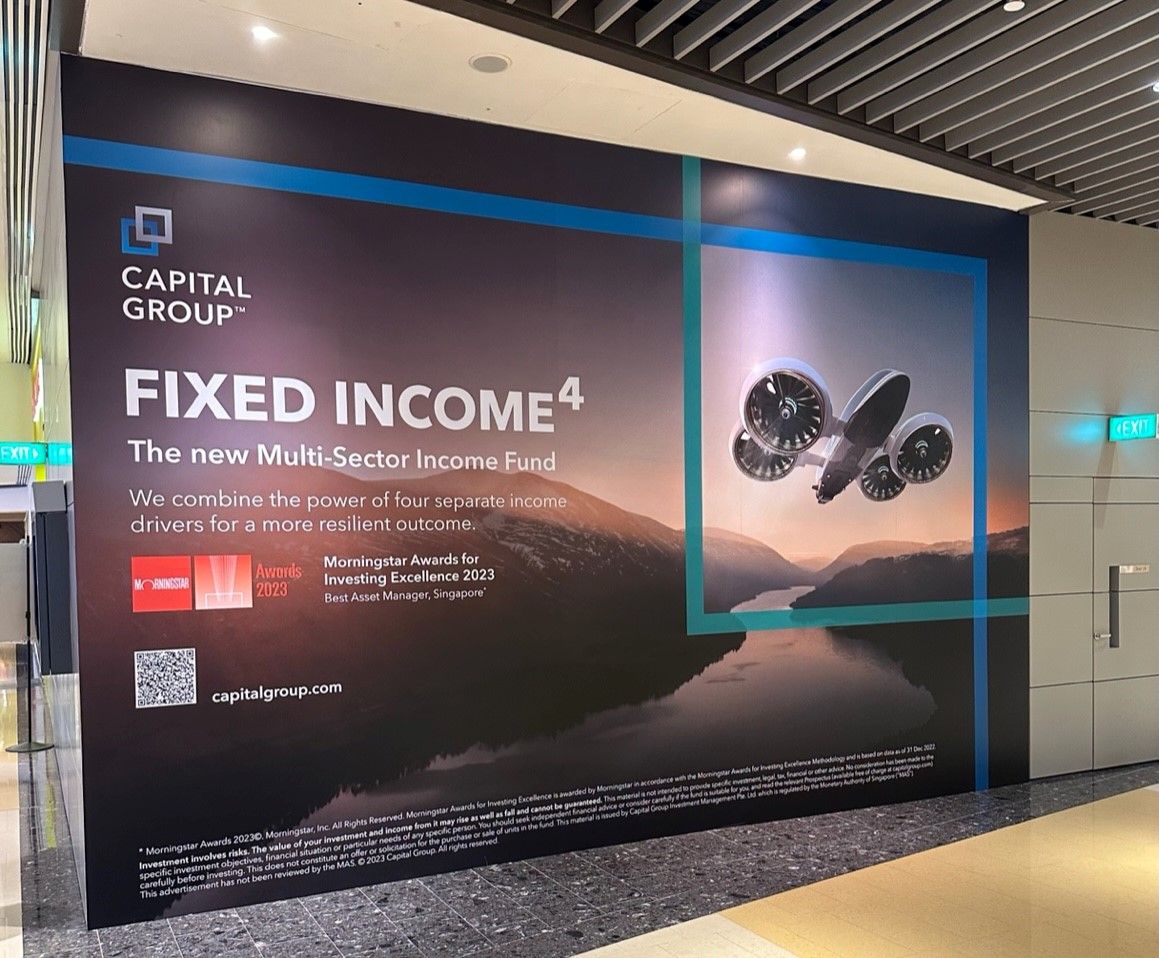 Amundi is going for authority in Singapore. It is promoting funds based on its CIO's point of view. It does leave Spy wondering if the firm is super confident in the funds run independently of the CIO viewpoint?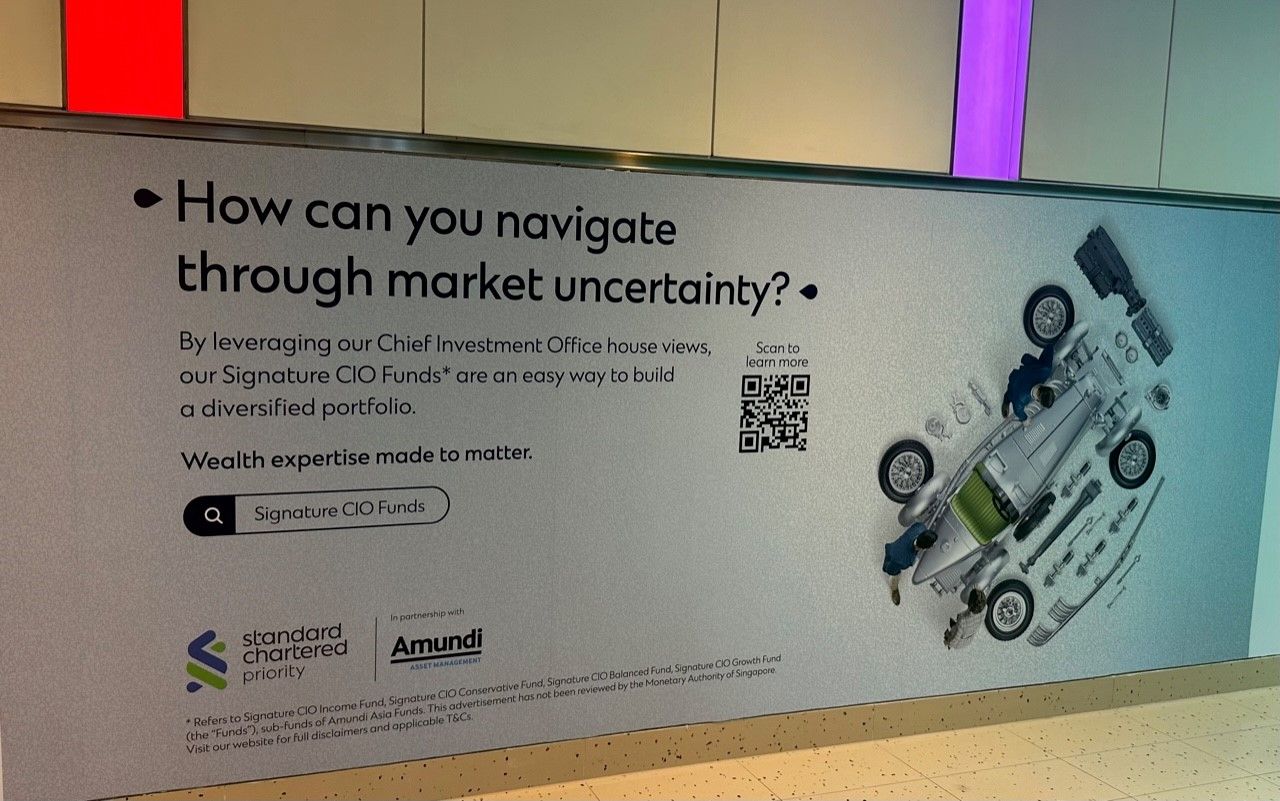 Until next week…
P.S. Shameless plug. FSA is hiring. We're looking for a reporter to join our team in HK. An opportunity to demonstrate one's journalist skills by breaking news and writing probing analyses as well as 'evergreen' features and research for Fund Selector Asia. If you know anyone wanting a career in financial journalism, ask them to drop us a line. Please.