Spy shared several double espressos yesterday with a British economist who focuses on China. "Why do you think China is welcoming foreign asset managers so enthusiastically?", he asked. "WTO commitments? Don't make me laugh! It is pensions, pure and simple. China, just like the West, has a pension problem and needs people to help manage the retirement needs of its vast population that is aging rapidly. Nothing will get you a local license quicker than putting 'pension services' on your application form." This chat coincided nicely with the news that China has just set up National Pension Company in Beijing with 17 of the leading local banks, insurers and asset managers taking a stake. With so few private and occupational pensions currently in place, the growth opportunity is simply enormous.
Spy strongly suspects that Stewart Aldcroft's exit from Asia will be short lived. The Citi veteran, who was most recently Cititrust chairman, is stepping down today after nearly nine years in the role. He is off to the UK for a few months. Stewart is far too engaged in the public life of the Hong Kong wealth and asset management industry to take up lawn bowls. Enjoy the break, Stewart. Spy looks forward to your return.
Another week, another CSOP ETF. This time the Chinese manager is attacking the thematic market. The firm has launched the CSOP Global Smart Driving Index ETF and listed it on the local HKEX. (Spy will resist any low shots about Hong Kong's smart taxi drivers…) This is no cheap and cheerful fund. It has a management fee of 0.99% and total expense ratio of 1.50%. The fund is based on Solactive's Global Smart Driving Index which selects its stocks from the US, China and Hong Kong. CSOP is expecting compound annual growth of 40% in electric vehicles between 2020 and 2025 and the annual value of electric car sales to reach $600bn by 2025.
In Charles Dickens's story of the French revolution, A Tale of Two Cities, he wrote, "It was the best of times, it was the worst of times…" Words which shameless hacks have been pinching ever since, and Spy will do so again right now. Take a look at tech giant performance between the US and China over the last six months. It may feel to Chinese tech investors that the investor revolution is happening right now. Metaphorically, many heads are being chopped off in the Sino Big Tech revolution as China reviews its growth and wealth policies. If it is any comfort, the French soon wanted some of their own leaders back again after the revolutionary leader. Robespierre, went a touch too far.

With the news this week that PGIM has hired Jess Jones as managing director, head of Asia, it has sent a strong signal on its wholesale ambitions. Jess helped GSAM build up its retail presence in Singapore and Hong Kong, inking a number of major partnerships with local banks when the firm's retail brand was fairly low profile. Spy would not be surprised if the first strategy being offered is the PGIM Jennison Emerging Markets Fund. It is up about 35% over the last year.
Is a Fidelity Bitcoin fund coming for everyone soon? Tom Jessop, Fidelity's president of digital assets is certainly talking a good game. The firm has a crypto vehicle called Wise Origin Bitcoin Index Fund, which it has only provided to wealthy and institutional investors so far. But the firm, alongside many others in the industry is actively lobbying the SEC for retail approval. Jessop speaks with the enthusiasm of true believer. "You're seeing the emergence of a real asset class" he told the Boston Globe this week. Jessop spoke enthusiastically of "regulation", which must surely be directed at the SEC itself. With Bitcoin having rallied more than 50% since its lows a month ago, there will be many investors hoping Fidelity's lobbying efforts pay off, if only to keep the momentum up.
Do as I say, and not as I do. The market threw a wobbly this week because Fed chairman Powell hinted at a tiny bit of tapering. In reality, over the last quarter the Fed expanded its balance sheet dramatically without a sign of tapering anywhere. Combined Fed assets hit another record level of $8.34tn. The total holdings of US securities at the Federal Reserve are up $101.01bn. The Fed's Balance sheet is now equal to 37% of US's GDP.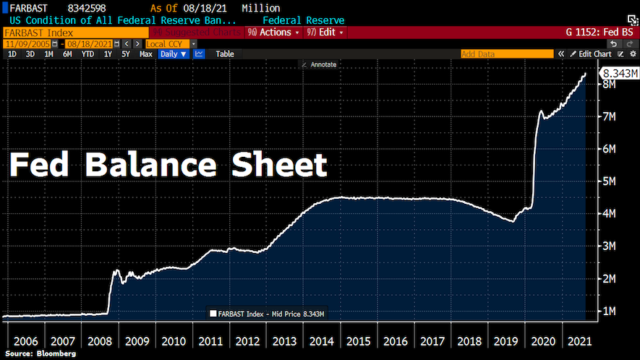 There isn't a country around the world whose government has showered itself in glory during the pandemic. A policy that seemed sensible for one month is soon shouted down in howls of rage the next, as people argue about the relative merits of each and every lockdown, passport, travel, vaccine and other endless petty rules and regulations. Here in Asia, New Zealand, Australia and, this week, Hong Kong, seem to be doing their absolute best to annoy everyone. Hong Kong letting global acting icon, Nicole Kidman, into the city without quarantine has absolutely everyone Spy speaks to, seething. The official line, "it is conducive to maintaining the necessary operation and development of Hong Kong's economy" is washing with nobody. If the last decade has been characterised by "one rule for the rich, a different rule for everybody else", this is surely its apotheosis.
Spy's internet quote of the week: "For most investors, 99% of good investing is doing nothing, the other 1% is how you behave when the world is going crazy." It seems to Spy that the 1% crazy time is simply filled with "buy the dip" these days.
Until next week…