Every economics student since the early 1990s has, no doubt, had the exciting rush of discovering Chaos Theory. Drinking too much cheap beer, they probably waxed lyrical (to every girl that would listen) that a butterfly flapping its wings in the Brazilian rain forest could, in theory, cause a hurricane in the Philippines. Small changes somewhere, may lead to big consequences, is the Big Idea. Spy has never been quite convinced of the humble butterfly's devastating weather effect, but Brazil may indeed be flapping its economic butterfly wings, which could truly affect the global economy in a frightening manner. The Brazilian central bank has now raised interest rates three times this year. Anyone betting on absolutely calm debt markets, especially everyone leveraged to the hilt on property, may just have a butterflies in their tummies.
The news this week that DBS has committed up to $200m in Muzinich's Special Situations Apac fund has raised a few eyebrows. Spy suspects that nobody doubts there is a decent opportunity in special sits, especially with all the dislocations post-pandemic. No, it was the little string attached: DBS will have representation on the fund's investment and advisory committee. If the fund is to be sold on to clients, that changes the shape of the bank's role somewhat. It moves the bank from the slightly more arm's length "fund selection" into the realm of "investment selection". This ups the ante for results somewhat. Spy also wonders if there will be any pressure for other fund strategies (and fund managers) to offer similar committee opportunities for the bank should it request it.
Another week, another active ETF. This week it is T. Rowe Price. The US giant has made its US Equity Research fund available as an ETF. This huge fund seeks to perform better than the S&P 500 by using T. Rowe's "best ideas and strategic, risk-aware investing approach". T. Rowe Price launched its first ETF last year and now has five in its stable. They are all essentially replicas of well-known active funds, merely offered in the ETF structure. Some key advantages for investors of the ETF structure: continuous daily trading and real-time market-determined pricing.
Considering how little attention is paid to the mutterings and ratings put out by ratings agencies these days, Spy is not sure how excited asset managers will feel about Moody's Investor Services' latest pronouncement on our industry. In a report out on Wednesday, the credit rating agency upped the outlook for asset managers from negative to stable, stating that revenues have picked up post pandemic. Spy wonders what it was about the near doubling of equity markets in the last 15 months that made Moody's change their minds? Apparently, the credit gloomsters still recognise the challenges for the industry from fee pressures and remain worried about a rise in interest rates. Spy takes a far more optimistic view: the future for asset management is very bright indeed. After all, someone has to manage all that money central banks print every month…
Investors in iFast may want to thank J.P. Morgan for shining a light on consumer fund platforms and robo-advisers. The bank has just snapped up Nutmeg, a leading UK-headquartered investment platform as it seeks to grow its wealth assets even faster. As iFast has steadily grown its footprint in Asia, Spy imagines a number of banks must envy its reach and customer base. With a market cap of just S$2.3bn ($1.72bn) it must surely be in the crosshairs of investment bankers "running their numbers".
Having endured nearly a year of boasts, from dubious sources, that crypto is the new investment Eldorado, Spy could not help a touch of schadenfreude this week as the Titan Token managed to crash from a value of $60 to basically zero in 24 hours. This has left some rather loud-mouthed bulls looking a tad foolish. Spy, for the record, does not doubt that some crypto has both utility and even a reasonable value, but some of these tokens are patently idiotic and rely on a pyramid-style "sell to the next buyer" means of generating value. That has always ended badly and probably always will.
The Titan Token was not the only thing that has taken a knock of late. Lumber, good old building wood, is down almost 40% from its recent peak. This has been a very good reminder, to anyone willing to listen, that there are discrete differences between shortages, inflation and speculation. Perhaps most significantly, those terms do not even remotely mean the identical thing.
In news that might make people in Hong Kong very happy, apparently the length of quarantine is going to be shortened for vaccinated people to just seven days. Judging by some of the horror stories of the quality of the quarantine hotels, especially the food, in Hong Kong this is a tiny bit of good news for people desperate to travel to visit family abroad.
Spy's quote of the week: "Investing should be fun. If you don't enjoy researching stocks and bonds, just buy a fund and spend your free time elsewhere." – Anonymous. Spy could not have said it better himself.
In Singapore, Spy's team spotted a new advert for Janus Henderson's five star-rated thematic Global Life Sciences fund. The asset manager is pointing out that innovation is accelerating and Spy can think of few areas quite as disruptive as health in the last eighteen months.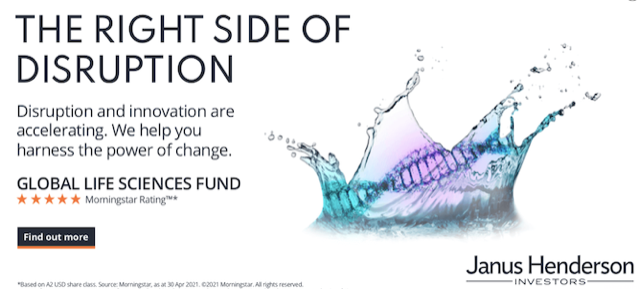 Until next week…