"I am going to launch a fund named FOMO which will only buy assets that have risen at least 10% in the last month", a German portfolio manager told Spy this week. He was joking of course. But many a truth spoken in jest. As Tesla and Bitcoin continue to soar to the edges of heaven, creating rapid fortunes for their ardent backers, FOMO is stalking the markets like, er, an out of control virus. The PM mused over double espresso with Spy, "I can't figure out if the Bitcoin crowd is insane or the real insanity is central banks printing money like crazy." 2021 may be many things, but dull is surely not going to be one of them. Happy New Year everyone.
It is the New Year and naturally, people start moving around – Covid, or no Covid. News reaches Spy that Andrew White, the former CIO of Sandaire family office in Asia, has moved to Blauwpark Partners in Singapore. Andrew had a recent stint with RBC Wealth Management, working with UNHW families. Blauwpark Partners is a single family office, according to Andrew's LinkedIn profile. BP's website is suitably intriguing, hosting merely a discreet logo, leaving Spy craving more information. Time to get out the magnifying glass.
Spy has always had a healthy suspicion of joint ventures. In his humble opinion, they seldom work and sooner or later, one of the partners buys the other one out. So, Spy's eyebrow raised a bit this week at the news that Pimco, Man Group, IHS Market, Microsoft, State Street and McKinsey, have all got together to create a new company called HUB. The idea is that HUB will provide the asset management industry with a better and more efficient middle- and back-office suite of solutions floating in the Cloud. One supposes this will compete with Blackrock's Aladdin. It's the time of year for predictions. Spy will hazard a guess that within a decade, HUB, if it is a success, will be majority-owned, if not outright, by one of those six companies.
If you regret Ant Financial's postponed IPO; missed out on the Tesla and Bitcoin rallies; didn't subscribe to the Snowflake and AirBnb IPOs, fear not! Spy has good news for you. Later this year, the world's largest Crypto exchange is due to go public. Coinbase, valued at a "mere" $8bn in its last funding round in 2018, is supposedly coming to market. Spy suspects investment bankers will be falling over themselves to get a piece of this action and the public will be sold a 'bargain' on stratospheric, as unheard of multiples. Get out your popcorn, if not your wallet.
Spy is all for financial literacy especially with a touch of stardust. St James's Place Wealth Management Asia has just launched an aminated series called "Save Your Acorns". This is aimed at kids to get them saving early. The firm hired Sandy Lau, a former securities analyst and Miss Hong Kong to boot (a line Spy does not write often), to narrate the Cantonese version.
Spy thought that every possible ETF variation had already been thought of. Then comes along a strategy named the Sound Enhanced Fixed Income ETF. Spy thought to himself, what is this? Do I get Bruce Springsteen or Taylor Swift playing solo in my lounge every time I buy a few units? Or perhaps my monthly statement is accompanied by a Beethoven concerto to add to the sense of drama? Sadly, it is none of these. It turns out 'sound' is a synonym for 'solid', and this is nothing more than actively managed income strategy. Spy must admit to being a tad disappointed.
And real life mimics art. Spy, along with hundreds of millions of others around the world, loved watching The Queen's Gambit over the Christmas season. The show clearly had a fan in the financial world. The Queen's Gambit Growth Capital SPAC has just been launched with Barclays as the underwriter. Spy assumes the SPAC's manager is aiming more for the chess strategy bit than the alcoholic frenzy depicted in the series.
As Trump's exit from the White House draws nearer, more ink will be spent writing about the controversial US President. His legacy, its effect on the world and the US in particular, will surely be debated for a very long time. The Twitter rants, the storming of Capitol Hill, the peculiar way he expressed himself, the constant lying – all add up to a sense of moral failure writ large. But with roaring stock markets, do his supporters care much? There is one area, where Spy sees utter and incontrovertible failure, thanks to the ever sharp eye of Robeco's Jeroen Blokland: the trade deficit. Remember the trade war with China? Trump set out to rebalance US trade. Instead, as he is about to leave office, the US trade deficit reached its second highest amount on record: $68.1bn in November. "Trade wars are easy to win." Well, maybe not.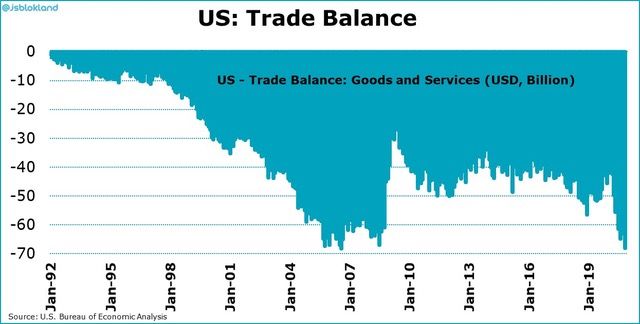 As one contemplates the year ahead, Spy was reminded of this, attributed to Bolitho: "Don't forget that the majority of people and the majority of opinions are nearly always wrong about everything, not always, but nearly always, and if you are ever in doubt and can't make up your mind, and have to make it up, there are long odds in favour of your being right if you take the opposite view from the majority."
Spy is not sure who originally said it, but 2020 proved this saying once again. "You can call something perfectly, hedge or predict an event, and the markets will still find a way to remind you how random and unpredictable it all is." If anyone is feeling sideswiped by the market action of last year – Spy is pretty sure you are not alone.
Until next week…