"We simply want to the close up the office and get out of here," one asset management executive of global British firm told Spy this week. "Most managers can't quite believe their luck. The year, which at one point looked nothing short of a disaster,  has actually proven to be rather profitable. The Brexit psycho-drama is almost at an end and with vaccines beginning to roll out, 2021 looks really rather appealing." And your number one prediction for 2021, ask Spy? "Mergers", is the pithy response. "Asset management used to be about joining the $1tn club, now, even that looks too small. Expect mergers a plenty." Perhaps Spy's loyal readers want to make a few predictions? Suggestions on a postcard, please.
And the sceptics keep on converting. The believers keep growing. The doubters are throwing in their towels. What are you talking about, Spy? Crypto of course. This has been a remarkable few months for Bitcoin and its peers. Alliance Bernstein became the latest Wall Street titan to acknowledge that that crypto may not only be here to stay but has a role to play in portfolios. Inigo Fraser-Jenkins, co-head of the portfolio strategy team at Bernstein Research, said the firm had previously ruled out bitcoin as an investment asset back in January 2018, soon after bitcoin had hit its all-time high close to $20,000.  But, post-pandemic changes to the policy environment, debt levels and diversification options for investors mean the asset manager now has "to admit [bitcoin]" does have a role in asset allocation, at least over the long term… This comes alongside Larry Fink, CEO of Blackrock, making waves by publicly stating that crypto is offering a challenge to the might and dominance of the Greenback. The genie seems well and truly out of the bottle.
Let's play a fun game to end off the year. Which US companies have done the best in the last 30 years. Compound Advisors crunched the numbers, so Spy did not have to. The numbers really are quite staggering. CA illustrates the performance of these stellar stocks by showing what a $10,000 investment in the IPO or start date 30 years ago would have returned for investors. Nobody is surprised to see Amazon at the top of the list having turned $10k into $21.3m. Look at Resmed, number 26 on the list, a healthy 32,130% return. But how about Jack Henry & Associates? A 212,322% return. Spy would love to see something similar for Asia – no doubt there are a bunch of stocks beyond Alibaba and Tencent that have also blown the lights out.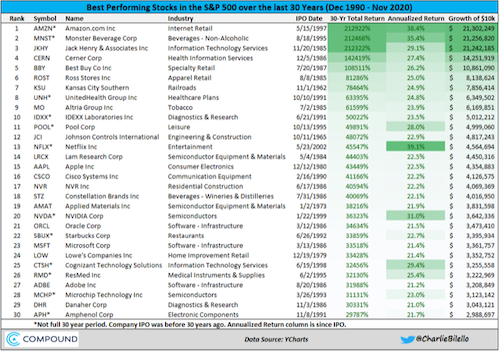 Spy, along with everyone else is sick to death of Covid. The news cycle has dulled the senses. Luckily for us, the team at Aberdeen Standard, have done some number crunching on the what the global vaccine rollout is likely to look like. There is plenty to be optimistic about, it seems. The top stat in their piece on Thinking Aloud, is that their team reckons 30% of the G20 population will be vaccinated by the end of 2021. Their economists rather pithily point out that adoption in China is not likely to be resisted, while France and the US are likely to have pockets of highly politicised strong resistance.
If there is one place that Spy can see people's building confidence in the global Covid recovery, it is in airlines. The ETF that tracks the global airline industry has had the most stunning inflows of assets. In March, the Global Airlines ETF, JETS,  had a mere $34m of assets in it. Today it has $2.78bn. The fund has nearly doubled since its March low and is now down "only" 30% for the year. It seems the market is telling Spy his holiday to Bali is going to be back on next year. For those long suffering tourism employees, there can be surely no greater Christmas present.
Standard Chartered handily publishes their top performing funds on their wealth platform each month. In their equity selection, one fund caught Spy's eye this week. Schroders's Climate Change Fund is up a whopping 44% this year, making it a top performer. The fund is no Johnny-come-lately spring chicken, having been launched 13 years ago in 2007. The team that runs the fund reckons $2tn of investment a year is going to be needed globally to tackle the world's carbon problem. This is one thematic, launched when there was far more scepticism than there is now, that is likely to carry on enjoying its time in the sun. The top holding in the fund is Vestas Wind Systems.
Spy can actually hear the drum roll. Hong Kong Connect, gets, er, more connected! China is looking at a so-called "southbound" channel in the Bond Connect program that would allow Chinese investors to trade offshore bonds on the Hong Kong market. While Hong Kong investors have been able to buy Chinese bonds since 2017, this would really send a signal that this is a two-way thing. With the number of recent SOE bond defaults, this chance to search for other opportunities seems most apposite for China-based investors. Not to mention good news for Hong Kong, too.
As it is December and Christmas looms on the horizon, Spy is going to leave you this week with not one, but rather two quotes to ponder over the weekend. The first is from the venerable Warren Buffet.  "A pin lies in wait for every bubble. And when the two eventually meet, a new wave of investors learns some very old lessons: speculation is most dangerous when it looks easiest." And the second comes from former chairman of Morgan Stanley Investment Management, Barton Biggs who said, "The truth of the matter is that the bottom is always, without fail, 10% below your worst-case expectation." Spy has yet to see these two proven wrong.
Until next week..