William Yuen, Invesco
While China has become an increasingly attractive investment destination, its ongoing tensions with the US remain to be a key concern for investors looking at Chinese assets.
Policies can be unpredictable and any change may suddenly impact a company's operations, according to William Yuen, Hong Kong-based investment director at Invesco.
"For example, what if Chinese companies suddenly cannot export certain goods to the US, or if a technology coming from the US cannot be incorporated into Chinese products? It makes the whole investment analysis research more unpredictable because we cannot predict politics," Yuen said in a virtual briefing.
Because of that, Yuen suggests focusing on domestically-focused businesses, which are less impacted by ongoing tensions.
"We tend to be more focused on domestic businesses because we do not want to get involved with predicting US-China relations."
Yuen co-manages the Invesco PRC Equity Fund, which invests in Chinese equities, including ADRs, A-shares and H-shares, according to its fund factsheet.
Although there are several industries that are tied to the domestic growth of China's economy, Yuen has a preference on the consumer theme, which he believes should provide the "best investment opportunities to deliver sustainable growth".
"We like e-commerce, media and entertainment, online games, social media, branded food and beverage companies. We also have a preference for pharmaceuticals, medical equipment and biotechnology," he said.
Consumer discretionary accounts for the largest sector allocation of Yuen's fund (34%), followed by communication services (20.8%) and financials (13.0%) as of the end of January, according to its factsheet.
The portfolio is concentrated, with the top 10 holdings already representing 53% of the its assets. In total, the fund only has about 30 names.
The Invesco PRC Equity Fund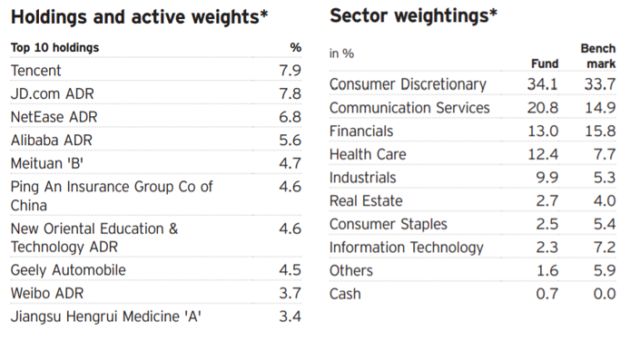 Yuen also co-manages an Asia strategy that focuses on the consumer theme in the region, which is the Invesco Asia Consumer Demand Fund.
VALUATION CONSCIOUS
Yuen favours high-quality companies or those that are run by good management, have strong balance sheets, strong R&D capabilities and have a competitive advantage over their peers.
He is also valuation-conscious, which led him to recently trim some positions in "new economy" stocks that have become more expensive.
"There were some holdings that belong to the so-called 'new economy', and we have trimmed or sold them due to excess valuations," he said.
As a result, he has been adding names that belong to the "old economy", which include commodities, materials and financials.
"But all of those decisions are based on company-specific reasons and attractive valuations. We are indifferent about investors' sector rotations in cyclical sectors, and these trends play very little into our overall investment decisions," he noted.
The Invesco PRC Equity Fund vs category average and benchmark