Andy Acker, Janus Henderson Investors
In the current scenario of 40-year high inflation and rising interest rates, there is a reasonable chance of a recession in the next 12-to-18 months, said Andy Acker, portfolio manager of JHI's Global Life Sciences Fund, in an interview with FSA.
To defend against this macroeconomic environment, the healthcare sector is more resilient than much of the rest of the economy, he said.
"While earnings for many companies in the market would decline significantly when there is an economic slowdown, the demand for healthcare tends to hold up much better," Acker explained.
Getting in at the right time
Within the sector, Acker sees opportunities in late-stage development or early-stage commercial companies, which are yet to be profitable.
In the current environment, many of these companies have been passed over because the market is not rewarding innovation unless the products are already on the market, he said.
But these companies are those in which JHI sees the most opportunity and the greatest value in the market today as their potential is being underappreciated.
"Generally, it takes three years for a company to become profitable. While those stocks have declined significantly, we believe they're substantially undervalued today," explained Acker.
He has managed the Global Life Sciences Fund since 2007, which invests at least 80% of its assets in stocks with a life sciences orientation.
He described the fund's investment process as a barbell approach, which means the top positions are in very defensive large-cap companies with low multiples, such as biotech pharmaceuticals, medical technology, life science tools and health insurers.
Also in the portfolio are companies that JHI believes have enormous potential that is not yet being reflected in the current market.
"As market conditions improve and their pipelines advance, we expect to see enormous upside with some stocks that we think have the potential to double or triple or even more if the products are successful," said Acker.
As of the end of April, the fund allocated 32.1% of its assets in the pharmaceuticals sector, 27.3% in the biotechnology sector and 14.5% in healthcare equipment.
The fund typically invests in large-cap companies, with 45.3% of the capital allocated to companies over $100bn, 12% to companies between $50bn and $100bn, and 19.6% to those from $10bn to $50bn.
The top holdings include health care and insurance company UnitedHealth Group, pharma firm AstraZeneca and biopharmaceutical company AbbVie.
"[Health insurers] are quite defensive as they generate enormous free cash flow in excess of their net income, so they have the cash to either make acquisitions or buy back stocks," said Acker.
He also believes insurers are relatively inflation resistant because they can adjust their pricing in the face of inflationary threats.
The Global Life Sciences Fund is classified as A2 USD share class in Singapore and H2 USD in Hong Kong.
Over the past three years, the fund reported a cumulative return of 18.85%, compared with the sector average of 34.81% and the index average of 18.23%, according to FE fundinfo.
Janus Henderson Investors Global Life Sciences Fund vs sector average vs index average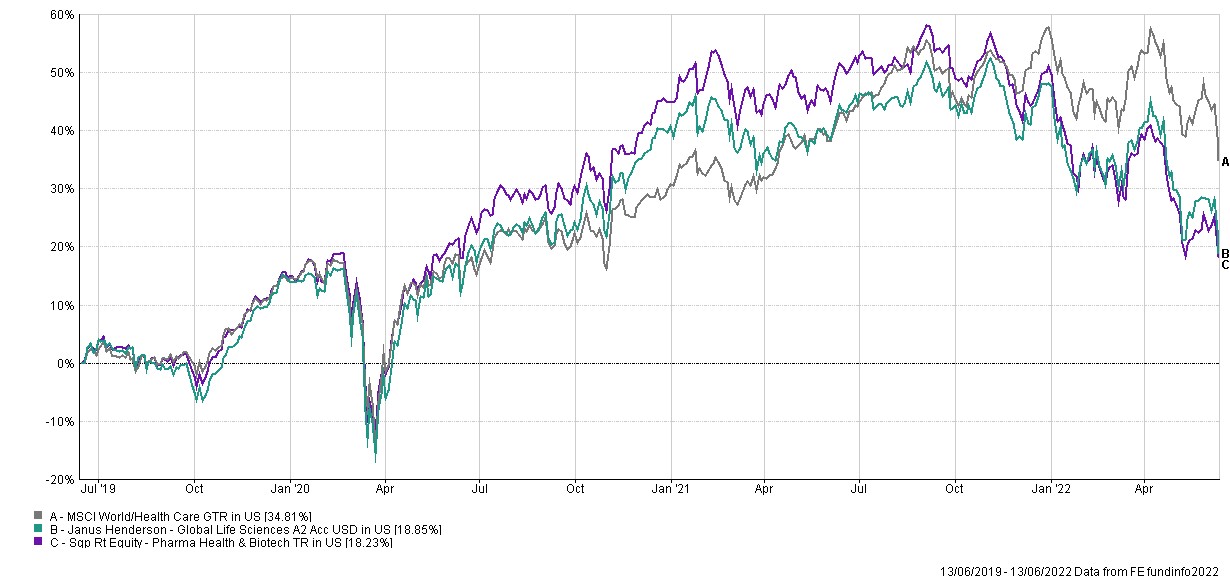 Taking a closer look in Asia
While the Global Life Sciences Fund managed by Acker has a bias towards companies in North America (80.8%) and Europe (16.6%), only 2.6% of its NAV is allocated to Japan and 0.16% to Apac ex-Japan.
"We have been cautious in China because the valuations there have been extremely high, especially relative to the US and Europe," said Acker.
Over the past year, some of the largest biotech stocks in the country have traded down 50 to 80%, he noted.
"The Chinese government has been a little bit unpredictable for investors, and there is the potential for delisting for these companies."
But he believes the market has been correcting itself to price in the delisting risks.
"We are still underweight on the region, but we are starting to see more value emerge in the market today and are taking a closer look right now."
Acker added that JHI is currently hiring an analyst to focus in the Apac region in the future.