Responding to rising inflation, and geopolitical tensions arising from Russia's invasion of Ukraine, Asian investors say they are buying more alternatives and equities, according to research by Bonhill Intelligence, part of Bonhill Group who are the owners of FSA.
"The most popular responses have shifted somewhat toward strategies less correlated to the major asset classes," according to the report.
Absolute return hedge funds snatched the top spot in terms of market sentiment, followed by Chinese and local equities.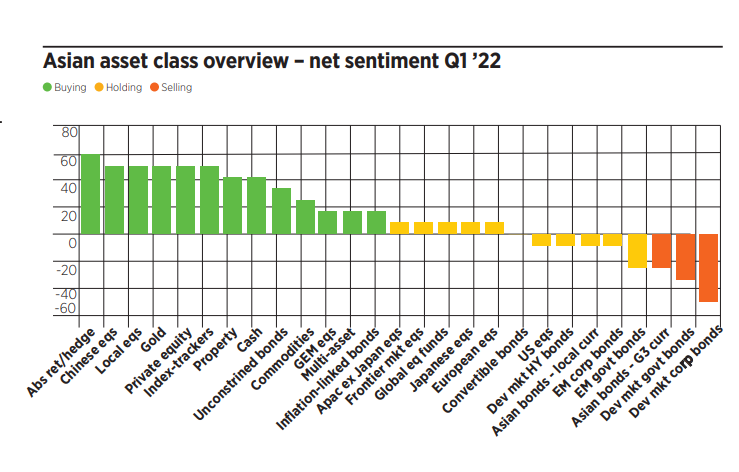 The market sentiments for gold, private equity, and property are also popular among investors.
Within the equities market, Japanese equities reversed its popularity in the last quarter of 2021 to take a dive this quarter, but remained slightly net positive.
European equities, which was the most popular asset class last quarter, saw a different story during the first three months of this year, with new investors' buying drying up.
While the buying/selling intentions for US equities were still net negative, the report saw the numbers of buyers pick up from the last quarter to around 25%, and believes there is still an opportunity for fund managers.
The fixed income space "remained obsolete" with both corporate and government bonds in the developed market continue to run down with few supporters.
The only two products in the fixed income space which investors favour were unconstrained bonds and inflation-linked bonds.
Bonhill Intelligence identifies 250 leading fund selectors, portfolio constructors and asset allocators in Hong Kong, Singapore, Thailand, and Malaysia. Each of them is directly involved at a senior level with the decision-making process that ends up with a third-party fund being bought. They are asked whether their intentions for a range of asset classes during the following 12 months.
Pan-regional differences
The report found Singaporeans are more pessimistic, compared with Hong Kong and Thai investors.
Hong Kong's favourite, global equity funds, was only the third favourite equity category among Singaporeans and is the least preferred equity in Thailand.
It also showed that although Hong Kong and Thai investors are still interested in Europe and Asia equities, it is not the case in Singapore.
But there is one thing that investors in all three regions can agree on, and that is they continue buying more alternatives, such as private equity, absolute return, and index trackers.